SP52
Llaves combinadas, 14 pzas
1/4" - 1-1/4"
---
---
Llaves fijas combinadas con inclinación en 15º para mayor eficacia
Fabricadas en acero cromo-vanadio endurecidas y templadas
Acabado pulido de alta calidad
Incluye funda para transporte de nylon
Tamaños: 1/4" - 1-1/4"
---
Comprar online
Buscar un distribuidor
Comentar este producto
18 comentarios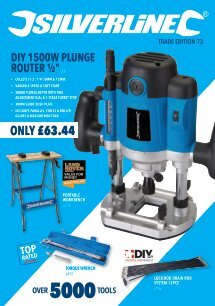 ---
Características técnicas
| | |
| --- | --- |
| Acabado - Empuñadura principal | Pulido espejo y galvanizado |
| Acabado | Pulido espejo y galvanizado |
| Endurecido | Endurecido y templado / 43 - 48 HRC |
| Peso | 2,643 kg |
| Diseño | Combinada con 12 estrías, ángulo de inclinación en 15° |
---
Descripción del producto
Llaves fijas combinadas de acero cromo-vanadio endurecidas y templadas. Inclinación en 15º para mayor eficacia. Acabado pulido de alta calidad. Funda para transporte de nylon. Incluye llaves AF de 1/4", 5/16", 3/8", 7/16", 1/2", 9/16", 5/8", 11/16", 3/4", 13/16", 7/8", 15/16", 1 y 1-1/4".
---
Contenido en el embalaje
Llaves combinadas, 14 pzas
Funda para transporte de nylon
---
Comentarios realizados por nuestros clientes
Por: Tony w
2016-08-22T00:00:00
Very great item from silverline these spanners have a great strong holder and the spanners themself are well made and fit nuts and bolts perfect
---
Por: Benjamin P
2016-08-22T00:00:00
I''ve been using this set extensively on my Austin Healey Sprite and they''ve done very well. Very nice (smooth, polished) surface finish, which looks good but also makes it easy to clean even stubborn stuff like waxoyl off them. I would recommend these. 5*
---
Por: Stephen R
2022-06-06T00:00:00
Really pleased with this spanner set. It certainly looks like it will last forever so I can understand why SIlverline are confident to offer a lifetime warranty! I have several SIlverline tools already and this set underlines why... quality at the right price point.
---
Por: John H
2020-04-27T00:00:00
Really well made & comprehensive spanner set with great soft roll holder. Ideal for working on my classic Land Rover & great value.
---
Por: Monego A
2019-11-19T00:00:00
---
Por: Tom H
2019-09-16T00:00:00
Great product in sturdy packaging, can''t be beaten for price!
---
Por: P m
2019-06-02T00:00:00
I bought these to rebuild a three series Landrover .They are comfortable to use and excellent value considering the number of spanner's with lifetime guarantee.
---
Por: Arthur H
2019-01-09T00:00:00
Ive used the Comination Spanner Set and feels Amazing to hold
---
Por: Arthur H
2018-12-04T00:00:00
Tools from Silverlinetools are Amazing Quality and feel so good to work with. Fits my CHEVY V8 DIESEL Pickup Truck Bolts perfectly. Thank You Silverlinetools for Amazing service
---
Por: Jason B
2018-03-13T00:00:00
I bought these after a long review of tools to start my new job as a diesel mechanic. I find these tools to be if the highest quality and the lifetime Warranty in them makes me feel that if there was a problem I can easily get a new replacement. I would recommend Silver line tools very highly.
---
Por: Matthew T
2017-02-16T00:00:00
Didn''t know what to expect when I ordered these but I was surprised when they turned up with a lifetime guarantee I was very happy the Chris wrk on them is top quality as well
---
Por: Andrew F
2017-01-14T00:00:00
Been working with the spanners today, they are good quality, have a excellent polished finish, with clear stamped sizes. Excellent fit on the components they were used on and are highly recommended.
---
Por: Francisco N
2016-11-21T00:00:00
For the price I paid,was not expecting much quality...I was wrong...Such a good product,you feel it by the weight...I use it on my bike and totaly recomend for home or professional use because this set of tools in my opinion are made to take a beating.Excellent product no doubt.
---
Por: Paul
2016-09-23T00:00:00
To be honest, I didn''t expect such a nice quality and finish for that price. Absolutely recommendable! Used them a lot (on a TR4IRS) and all stays spotless.
---
Por: Darren P
2016-09-20T00:00:00
Very impressed with the quality &amp range of spanners. Usually spanner sets skip 1 or 2 sizes in a range, i.e. 10, 11, 12, 13, 15, 17mm &amp they leave out sizes that aren''t used much like 16mm or 18mm in favour of the regularly used sizes but not this set. There''s no gap in sizes so there''s a spanner for every job &amp the roll up is robust enough to hold te spanners securely enough. All in all an extremely good quality set that is cheap in price but not cheap in quality &amp with a lifetime guarantee aswell!! The matte finish also gives them a quality look &amp feel. I don''t know how they do it?
---
Por: Juan E
2016-09-13T00:00:00
Best quality at the best price. Very strong and very cool
---
Por: Jim M
2016-08-22T00:00:00
For the money these are excellent spanners and will take hard work no problem
---
Por: James b
2016-08-22T00:00:00
Brilliant quality and very good price. Would highly recommend.
---
Garantía de por vida
Este producto Silverline Llaves combinadas, 14 pzas dispone de 30 días de garantía desde la fecha de compra contra defectos de fabricación y materiales defectuosos. Registre su producto online para extender el periodo de garantía de por vida. Todas las piezas defectuosas serán reparadas de forma gratuita.