TB05
Banco de trabajo resistente y plegable
150 kg
---
---
Acero robusto y resistente
Carga máxima de 150 kg
inclinar a 0°, 45° y 90°
2 secciones de 605 x 120 mm
---
Comprar online
Buscar un distribuidor
Comentar este producto
12 comentarios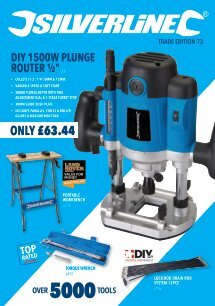 ---
Características técnicas
| | |
| --- | --- |
| Carga máxima | 150 kg |
| Acabado | Acero electropintado |
| Acabado - Empuñadura principal | Plástico |
| Peso | 6,34 kg |
---
Descripción del producto
Estructura de aluminio, gran superficie de trabajo con dos secciones de 605 x 120 mm. Las secciones ajustables de la mesa se pueden inclinar a 0°, 45° y 90°. Carga máxima de 150 kg. Requiere montaje.
---
Contenido en el embalaje
Banco de trabajo resistente y plegable
---
Comentarios realizados por nuestros clientes
Por: Philip w
2020-07-14T00:00:00
I purchased a TB05 heavy duty workmate, on receipt there were at least ,10 areas where the laminate was chipped,on removing the Dogs more laminate chipped off,the jaws bend or move apart when you lift your job off the metal base, you can''t put anything in the end as jaws won''t hold tight,very very disappointed in item
---
Por: Paul M
2020-05-28T00:00:00
Very good value for money, would recommend
---
Por: Paul M
2020-05-21T00:00:00
Good performance for the price quite lightweight
---
Por: Shaun S
2020-05-11T00:00:00
The workbench I received is sub standard at best and potentially dangerous and not fit for purpose. One of the pre assembled adjusting screws (the devices which move the working surface) had a nut which was not fully tightened. This nut secures the screw device to the bracket which holds the working surface. Because this nut is not fully tightened the working surface lifts up and the work piece becomes uneven and loose. It is impossible to access the nut to tighten it further. I cannot use this workbench for the purpose it is designed
---
Por: Shaun S
2020-04-26T00:00:00
When I used the workbench I discovered that one of the nuts on the screw bracket was not fully tightened. As part of a pre assembly it was impossible to access the nut to tighten properly. The consequence of this untightened nut is that the surface board on which you place the work piece raises up on one side when tightened. The outcome is as follows - the work piece is not level and also not secured tightly because it is at an angle and does not have a flat surface to sit on. I cannot effectively use this tool.
---
Por: David
2019-12-17T00:00:00
Rock solid workbench Assembly instructions could have been a little clearer, but for the money no compliant
---
Por: Oz P
2019-10-10T00:00:00
I''m very happy with this product. It went together extremely well - I have seen many reviews in various places saying that the instructions could be clearer but to be honest they were perfectly fine and no worse than anything you would get with a piece of IKEA furniture. It does everything I could ask of it, and the frame is certainly robust enough that I could see it lasting a long time. However the top is MDF and I imagine I''ll be replacing that pretty soon.
---
Por: Martin W
2019-06-24T00:00:00
Workbench is an excellent product for the price
---
Por: Owen
2019-05-13T00:00:00
There are a few choices out there but it came down the this one because the quality is good and value for money is spot on and its light to carry and it has 150 kg load rating to top if off.
---
Por: B c
2019-01-03T00:00:00
Easy to assemble but should have nylon nuts on the m6 bolts to stop them vibrating off when using vibrating power tools
---
Por: robin s
2017-09-20T00:00:00
---
Por: Chauvet J
2017-01-20T00:00:00
Bon produit facile a monté et très simple d''''utilisation. Je le recommande sans réserve
---
Garantía de por vida
Este producto Silverline Banco de trabajo resistente y plegable dispone de 30 días de garantía desde la fecha de compra contra defectos de fabricación y materiales defectuosos. Registre su producto online para extender el periodo de garantía de por vida. Todas las piezas defectuosas serán reparadas de forma gratuita.