WR03
Llaves inglesas ajustables, 3 pzas
150, 200 y 250 mm
---
---
Acero al carbono, forjado y galvanizado
Bocas con caras pulidas
Capacidad: 150 mm/17 mm, 200 mm/22 mm and 250 mm/27 mm
Rueda de ajuste
Agujero para cologar
---
Comprar online
Buscar un distribuidor
Comentar este producto
14 comentarios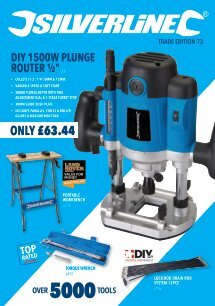 ---
Características técnicas
| | |
| --- | --- |
| Capacidad - Mordaza | 17 mm , 22 mm, 27 mm |
| Acabado | Galvanizado |
| Acabado - Empuñadura principal | Galvanizado |
| Endurecido | Endurecido y tremplado |
| Peso | 0,134 kg, 0,248 kg, 0,402 kg |
---
Descripción del producto
Llaves inglesas ajustables de acero al carbono, forjadas y galvanizadas. Boca ajustable con caras pulidas: 150 mm/17 mm, 200 mm/22 mm y 250 mm/27 mm.
---
Comentarios realizados por nuestros clientes
Por: Guillaume
2020-01-21T00:00:00
Jeu de 3 clés basiques. Achetées à prix très intéressant, celà suffira amplement aux bricoleurs occasionnels.
---
Por: philip c
2019-10-06T00:00:00
Had a leak from kitchen mixer tap.Purchased this Three Piece Wrench Set from Tool Station. Excellent Value, Good Solid Quality Wrench Set, that allowed me to complete the repair quickly, with no issues.
---
Por: Bob L
2019-06-26T00:00:00
Quality product at an excellent price. Unfortunately I too often put tools down and forget to retrieve them, so every now and then I have to replace them. It''s good to find quality tools at competitive prices. Well done Silverline!
---
Por: Nick H
2019-06-02T00:00:00
As described and worked fine
---
Por: Sajed
2019-01-08T00:00:00
Does the job and value for money, lifetime guarantee what more can you ask for
---
Por: Chris T
2018-11-25T00:00:00
Well made adjustable spanner in a useful range of sizes. Very good value.
---
Por: Steve P
2018-10-16T00:00:00
I was looking for a cheap adjustable wrench for light duty work on my caravan. I ordered this set of three wrenches from Amazon UK and paid less than a tenner for them. They arrived quickly and quite frankly I wasn''t expecting great quality at that price but they are better than the wrench I have at home which cost twice as much as what I paid for these three. The adjustment is smooth and there is only a small amount of play in the jaws, certainly no more than my expensive wrench. The jaws also have a measurement scale etched on the jaws which is usefull. I''m very impressed with these and would certainly buy Silverline tools again if these are anything to go by. Thank you.
---
Por: RAD
2018-07-24T00:00:00
Love this set. Simple but practical design. Superb build quality. Can''t imagine better set for the money
---
Por: George
2017-06-28T00:00:00
This is a good quality product, especially for price point. Does exactly as needed.
---
Por: John C
2017-06-21T00:00:00
These are a great value and they do the job
---
Por: John C
2017-06-14T00:00:00
So far these spanners have been capale of doing the job and up to the task. They wrre purchased at a bargain price and i like tjem.
---
Por: Nick
2017-03-31T00:00:00
Bought this set of adjustable wrenches for diy use, impressed at the quality, strong sturdy feel and able to take some hard use. For the price a great tool.
---
Por: Leo W
2016-09-19T00:00:00
The 3 pieces in the set appear and feel to be good quality and on initial use have not marked the faces. I am always dubious about buying cheaper tools but these seem to be better than the price would initially indicate PLUS you get a life time guarantee!! - you will not get that from a car boot sale!!!! Just like Arnie, "I will be back"
---
Por: Paul
2016-08-22T00:00:00
Fantastic set of wrench''s, good quality construction and no running around trying to get the correct size spanner, with so many sizes around these day''s, these wrenches are just the job.
---
Garantía de por vida
Este producto Silverline Llaves inglesas ajustables, 3 pzas dispone de 30 días de garantía desde la fecha de compra contra defectos de fabricación y materiales defectuosos. Registre su producto online para extender el periodo de garantía de por vida. Todas las piezas defectuosas serán reparadas de forma gratuita.