127655
Pistolet décapeur 2 000 W
550 ºC (UK)
---
---
2 réglages de température
Buses de type varié pour des applications de chaleur maîtrisées
Pour sécher ou décaper la peinture, façonner et thermorétracter le plastique et dégeler les tuyaux
Léger pour une manipulation facilitée
Fourni avec 4 buses : jet large, protection du verre, grattoir et réductrice
---
Achetez en ligne
Trouver un magasin
Évaluez ce produit
42 évaluations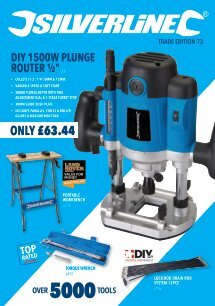 ---
Caractéristiques techniques du produit
| | |
| --- | --- |
| Finition | Plastique |
| Classe de protection | IP20 |
| Température max. | 550 °C |
| Vitesse variable | 2 réglages de température |
| Débit | 500 L/min |
| Poids du produit | 0,75 kg |
---
Caractéristiques principales
2 réglages de température. Température maximale de 550 °C. Pour le séchage ou le décapage de la peinture, le façonnage du plastique, le traitement de produits thermorétractables et le dégivrage des conduites d'eau gelées. Fourni avec 4 buses : jet large, protection du verre, grattoir et réductrice.
---
Contenu
1 x pistolet décapeur 2 000 W
1 x buse de protection du verre
1 x buse jet large
1 x buse grattoir
1 x buse réductrice
1 x manuel d'instructions
---
Évaluations de clients
par : Panagiotis M
2022-04-27T00:00:00
The tool itself is robust, very stable when placed upside-down, it seems durable. On first use ,i hoovered the opening to remove dust. I tested for 5 , 10 and 15 minutes on continuous use, to see if it gets too hot or if there''s anything wrong with it. I didn''t noticed any issue and it''s absolutely safe to use as long you are protecting it from dust.
---
par : Andrew N
2021-06-08T00:00:00
Great tool for decorating and car upholstery
---
par : Stephen E
2020-06-08T00:00:00
Bought the silver line heat gun and it cut down bye more than half time to strip wood and concrete painted window sills Best Buy ever
---
par : paul g
2020-06-01T00:00:00
good product with a 3 year guarantee, whats not to like.
---
par : Alan
2020-05-10T00:00:00
Excellent value for money, and it does the job.
---
par : James C
2020-04-30T00:00:00
Reasonable price and quality
---
par : Mark H
2020-04-11T00:00:00
Bought a hot air gun to replace one which passed away. Comes with plenty of nozzles and performs as well as any I have had in the past. Competitive price too. One happy customer.
---
par : Saleem
2020-02-20T00:00:00
Excellent performance the pieces at the end hold on very tight allowing you to peak the paint with one hand. Easy fast and effective
---
par : Mike T
2019-11-14T00:00:00
Does exactly as required. Used to apply shrinkdown sleeping on cables and performs well. Would recommend item and Toolstation next day delivery for £10 plus.
---
par : William
2019-11-04T00:00:00
Excellent value for money and easy to use. Works exceedingly well. Would recommend.
---
par : Keith G
2019-10-20T00:00:00
Great item has made an old man happy and saved on using mountains of sand paper.
---
par : Chris A
2019-10-13T00:00:00
Great product, great price! Did the job, stripping paint off doors, door frames and window frames. The included attachments come in handy too. Can''t recommend enough!
---
par : stuart c
2019-08-30T00:00:00
this tool has had so much use since i piuchased it.It has been a very valuable tool to my collection , some jobs i couldnt do withouit it , i love it
---
par : Tim
2019-08-08T00:00:00
Had the previous model finaly gave up the ghost after 5 years! Does what it says on the tin and happily recomend if looking for a budget heat gun.
---
par : Geoff P
2019-07-02T00:00:00
Used this product and it worked exactly as I hoped it would.It has also saved me a lot off money by doing its job.
---
par : Angeline B
2019-05-04T00:00:00
This is a very good heat gun and does what its meant too and the accessories are a great bonus
---
par : david s
2019-04-24T00:00:00
---
par : John D
2019-04-22T00:00:00
At least half the price of similar products. Just what I needed. Have used it a few times in the last few weeks and it has been brilliant.
---
par : Gwynfor R
2019-01-27T00:00:00
Super value for money. Very high quality product, with attachments. It wasnt my first choice but as others were'nt available I had to buy this as I needed it on the day. I'm very pleased with it and I shall look at other Silverline products first before others now.
---
par : Wayne O
2018-12-19T00:00:00
---
par : Ian Q
2018-09-21T00:00:00
A good hot air gun for paint removal and general DIY. Comfortable to use with a well designed soft grip and well balanced.
---
par : Miss L
2018-09-13T00:00:00
Fantasic value for money! Stripped through 4 layers of paint and a layer of varnish with no problems at all. Would highly recommend this product.
---
par : Mr B
2018-04-20T00:00:00
Initial overview is pretty positive. Used for a vehicle re-wiring project and gets up to heat quickly. Two heat settings if you need though the first was sufficient for my needs. It is rather big for a heat gun so getting it into tight spaces might be a struggle depending on the job you want to do.
---
par : gary s
2018-01-09T00:00:00
good piece of equipment for the DIYer
---
par : rebecca w
2017-07-01T00:00:00
Fantastic product at a fantastic price. As good, if not better than other leading more expensive makes. Highly recommended
---
par : Rebecca W
2017-06-24T00:00:00
As good as other named and more expensive brands that I have used. I would certainly recommend this heat gun.
---
par : Timothy B
2017-06-05T00:00:00
Good two speed heat gun with a slightly sensitive trigger mechanism. The scraper tools could be made more robustly (the large scraper is made in two parts and the spot welds joining them simply separated in service) The three year guarantee is well worth having and the Toolstream staff, who operate the guarantee, are helpful and efficient.
---
par : Plamen m
2017-05-21T00:00:00
I''m really happy from the item . every one who worry for something don''t proper heat more then other Brant which pretend are good of all tools . Thank you
---
par : Rob
2017-03-18T00:00:00
Very happy with the product, cheap price and a powerful heatgun
---
par : K h
2017-03-02T00:00:00
Fantastic value good quality
---
par : Donald J
2017-02-28T00:00:00
Excellent product at a very good price used it to strip varnish and paint of doors it''s two heat settings gives complete controll of the heat required .I would recommend this product to anyone who looking to purchase a heat gun
---
par : aziz
2017-02-17T00:00:00
The product is well worth its value, if anything i believe it would still sell even if they raised the price but hey its amazing I''m glad i have purchased it and hope it lasts well forever if it was up to me haha the 3 Yr guarantee is just a bonus tbh
---
par : Geoff Z
2017-02-10T00:00:00
ideal gun with it''s 2 heat settings, perfect for removing paint from woodwork
---
par : Kieran T
2017-01-05T00:00:00
I have been using this hor air gun for a few weeks now. I have used it on a number of differant tasks and I have to say I am very pleased with my purchase. The air gun is powerful enough to kick out a decent anount of heat, and can operate without stress.
---
par : james r
2016-09-14T00:00:00
great performing gun at a silly price works better than a vast a mount of expensive machines been there done that
---
par : HARRY C
2016-09-14T00:00:00
This is the best tool I have ever used for removing old paint, so very easy to do.
---
par : John P
2016-09-13T00:00:00
Performance comparable with products costing several times the price. No problems over extended period of time.
---
par : Les P
2016-09-13T00:00:00
Very good product.Easy to use and control the heat.
---
par : Gary C
2016-09-12T00:00:00
Bought this as a replacement for my old gun that burnt out mid job .it''s very good and was cheaper than other brands but gave 3 years warranty as oposed to the usual 1 year can''t get better. Have other silverline gear all been good gear
---
par : Luke M
2016-08-15T00:00:00
Best bit of kit at great price, not the first silver line product I''ve purchased as I like the tools of this company.
---
par : Rob J
2016-08-15T00:00:00
THis has to be one of if not the best heat guns i''ve ever bought, the fact you can stand it up makes life so much easier for doing soldering projects that require the use of both hands. Makes a great shrink wrapper as well &amp that includes capsules for wine bottles
---
par : James B
2016-08-08T00:00:00
Purchased this from a local stockist. As it was only for a one off job, I selected this model primarily because of value for money and for accessories that came with it. It performed very well and I had no problems using the gun, an added feature that I was not aware off when purchasing was the 3 year guarantee. This was my first purchase of Siverlinec tools but it will not be my last.
---
Garantie 3 ans
Ce produit Silverline est garanti pendant une période de 30 jours à partir de la date d'achat contre tout vice de matériaux ou défaut de fabrication. Vous pouvez obtenir une garantie à vie en enregistrant votre produit en ligne. Tout bien présentant un défaut sera réparé ou remplacé gratuitement.