225127
Embouts hexagonaux à entraînement 3/8", 7 pcs
Hexagonaux 3 - 10 mm
---
---
Douilles en chrome vanadium entièrement poli
Embouts hexagonaux en acier S2 trempé et revenu
3, 4, 5, 6, 7, 8 et 10 mm
---
Achetez en ligne
Trouver un magasin
Évaluez ce produit
7 évaluations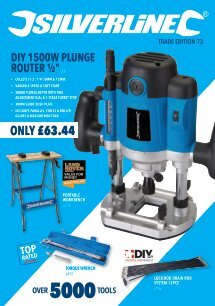 ---
Caractéristiques techniques du produit
| | |
| --- | --- |
| Finition | Embouts satinés en chrome vanadium entièrement poli |
| Trempé | Trempé et revenu |
| Poids du produit | 0,323 kg |
---
Caractéristiques principales
Embouts hexagonaux en acier trempé et revenu avec fini satiné, montés sur douilles à entraînement carré en chrome vanadium poli. Comprend des embouts hexagonaux de 3, 4, 5, 6, 7, 8 et 10 mm.
---
Contenu
Jeu de 7 embouts hexagonaux (3, 4, 5, 6, 7, 8 et 10 mm)
---
Évaluations de clients
par : Jack C
2019-06-10T00:00:00
This is just one of many bits of Silverline now in my toolbox. I''ve been very impressed with Silverline tools, especially for the price point. So much so that I rarely look at other brands these days if there''s a Silverline offering available. Bought these for the 7mm to do my brakes - did the job, no rounding off which I was worried about because they were done up excessively tight by the previous owner! Would definitely recommend!
---
par : Ash
2018-12-15T00:00:00
I am very fond of this little set. It looks good quality and it is very durable
---
par : Ali
2018-07-26T00:00:00
I''m professional mechanics use silverline tools for the price this tool''s is very good and done the job.no complane.
---
par : Barry R
2017-11-28T00:00:00
Absolutely awesome tools as always from silverline!!!! Will always shop with silverline and recommend them to all I know !! Thank you silverline !!
---
par : Laurie N
2017-04-05T00:00:00
Only used two of the bits so far for bicycle maintenance. most have been perfect, but for pedals that require a good bit of elbow grease and is awkward to tighten whilst everything is trying to spin, the hex drive used has shown some signs of premature wear after just one use.
---
par : Tom P
2017-02-15T00:00:00
Well made and great value for money
---
par : Justin S
2016-09-09T00:00:00
Really can''t moan at the price of these for the quality! Up there with the best with out a doubt. All the sizes in one handy storage pack too. Definitely recommended
---
Garantie à vie
Ce produit Silverline est garanti pendant une période de 30 jours à partir de la date d'achat contre tout vice de matériaux ou défaut de fabrication. Vous pouvez obtenir une garantie à vie en enregistrant votre produit en ligne. Tout bien présentant un défaut sera réparé ou remplacé gratuitement.