238104
Varlope n° 7
Fer 60 x 2,4 mm
---
---
Corps du rabot en acier et poignées en bois de rose
Vis de réglage en laiton
Fer de 2,4 mm d'épaisseur pour usage intensif
Largeur du fer : 60 mm
---
Achetez en ligne
Trouver un magasin
Évaluez ce produit
5 évaluations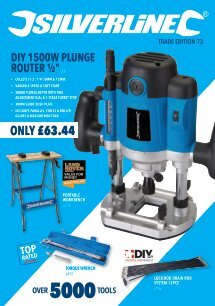 ---
Caractéristiques techniques du produit
| | |
| --- | --- |
| Poignée/manche - primaire - finition | Bois de rose |
| Poignée/manche - secondaire - diamètre | 40 mm |
| Poignée/manche - secondaire - diamètre | 40 mm |
| Largeur de la lame | 60 mm |
| Largeur de rabotage | 60 mm |
| Poids du produit | 3,75 kg |
| Méthode de réglage | Vis en laiton |
| Trempé | Oui |
---
Vidéos
---
Contenu
---
Évaluations de clients
par : guillermo botas romero
2018-05-31T00:00:00
Nuy buena relación/ calidad precio, muy buena herramienta pero no son correctas las medidas de la cuchilla: grosor ofertado 3 mm. pero la cuchilla suministrada pasa justo de los 2 mm.
---
par : Stephen Shortland
2017-02-05T00:00:00
Blade out of square and blunt, blade bolt not locking. Both fixed, but base of plane has a small chunk missing from it. I didn''t expect great quality, but had hoped for better than I got.. Silverline no help as I was expected to return it at my own expense under warranty.
---
par : Stephen Shortland
2017-01-29T00:00:00
Seems to be a solid, well built Plane base but the blade was 4mm out of square and the Holding Screw thread is no good. Cleaned up the blade and changed the screw and (so far) all is ok. Can''t complain for the price, although when I notified Silverline, they wanted to inspect the product - at my expense!
---
par : simon gill
2016-09-26T00:00:00
The base is square, the cast is heavy. Cant say how soft the blade is yet. I paid £30 delivered, this is a lot of tool for the money. its early days so it could fall apart, but if they honour thhe guarantee even thats not a problem. Being asked to review a tool within a week of buying it doesnt give much time for dissappoinment, based on what ive seen so far Im pleased.
---
par : Bryan Smyth
2016-06-29T00:00:00
just arrived to day, checked to see how flat the surface was, just to be disappointed. set on a cast iron surfacing table l can get two pieces of A4 paper underneath with ease.
---
Garantie à vie
Ce produit Silverline est garanti pendant une période de 30 jours à partir de la date d'achat contre tout vice de matériaux ou défaut de fabrication. Vous pouvez obtenir une garantie à vie en enregistrant votre produit en ligne. Tout bien présentant un défaut sera réparé ou remplacé gratuitement.