263570
Marteau piqueur électrique 1 500 W
1 500 W (UK)
---
---
Poignée rotative sur 360° réduisant les vibrations
Porte-mèches à culot hexagonal de 30 mm
Pour les matériaux de maçonnerie et l'asphalte
Mallette résistant aux chocs avec roulettes et système de verrouillage multiple
Burins et clés inclus
---
Achetez en ligne
Trouver un magasin
Évaluez ce produit
34 évaluations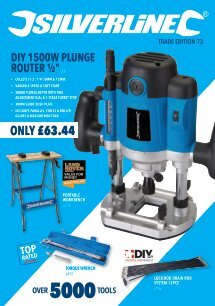 ---
Caractéristiques techniques du produit
| | |
| --- | --- |
| Poignée/manche - primaire - finition | PA6 |
| Classe de protection | IP20 |
| Puissance | 1 500 W |
| Force d'impact | 45 Joules |
| Coups/impacts par minute | 1 900 coups/min |
| Poids du produit | 14,3 kg |
---
Caractéristiques principales
Puissant et efficace, le marteau piqueur électrique de Silverline, avec une fréquence de frappe de 1 900 coups par minute, rend facile les travaux sur la brique, les blocs, l'asphalte et le béton.
La poignée latérale rotative sur 360° et la poignée arrière à gâchette confèrent une excellente préhension pour une posture de travail sûre et ergonomique. Chacune d'elles sont caoutchoutées pour améliorer le contrôle et le confort, et pour aider à réduire les vibrations. Le marteau piqueur est facile et rapide à régler et il est compatible avec des pics standards de 1-1/8" (29 mm), qui sont maintenus en position par un mécanisme de goupille à ressort.
Travaillant avec un courant de 230 V, ce marteau piqueur robuste est facile à manipuler et à régler, et il procure une action de burinage efficace de 1500 W, le rendant parfait pour les travaux de démolition de taille moyenne. Il est particulièrement pratique dans les zones étroites qui sont inaccessibles avec un compresseur, grâce à sa conception compacte.
Dans certaines situations, vous allez peut-être vouloir alimenter votre machine sur un générateur ou un transformateur du chantier. Ceci est généralement possible, bien qu'il faille s'assurer que la cote de la source d'alimentation soit au moins le double de celle de la machine, et que l'alimentation fournie soit d'une tension et fréquence compatibles.
Le marteau piqueur est fourni avec 1 x burin plat (30 x 410 mm), 1x burin pointu (30 x 410 mm), 2 x clés hexagonales, 1 x clé, 1 x flacon d'huile, 2 x balais de charbon de remplacement et une mallette de transport robuste en acier. Compatible avec tous les ciseaux et pics de 1-1/8" (29 mm), comme les produits 868735 et 633765 de Silverline.
---
Contenu
1 x Marteau piqueur électrique 1 500 W
1 x Paire de balais de charbon
1 x Clé de 23 mm
2 x Clés hexagonales (5 mm et 6 mm)
1 x Flacon d'huile (sans huile)
1 x Burin plat
1 x Burin pointu
1 x Manuel d'instructions
1 x Mallette de transport
---
Évaluations de clients
par : Ben c
2020-06-08T00:00:00
Fantastic piece of machinery, easily broke up 10inch thick concrete without struggling. Would recommend.
---
par : David K
2020-05-21T00:00:00
I bought this to break thick concrete on my driveway - I'll be honest I thought it might struggle. How wrong was I - it has got through 6/8 inch thick poured concrete without a problem, not sure how long the breaker bit will stay sharp, but they are not too expensive to replace when needed. For less than £200 it is a great piece of kit and I would highly recommend for moderate domestic use. Pays for its self in first day of use.
---
par : Thomas J
2020-04-08T00:00:00
We have used this for the last couple of months. It has worked exceptionally well. We will definitely continue using these.
---
par : Maurouard A
2020-03-06T00:00:00
Fissure du carter moteur aprés 2 heures de fonctionnement . Trés décevant ..
---
par : Maurouard A
2020-02-28T00:00:00
Après 2 heures d''utilisation , une grosse fissure est apparue sur le carter moteur .
---
par : James
2019-10-01T00:00:00
Used this to break up a garden concrete path about 5" thick and 15ft long. Got the job done fine. I can''t comment on reliability as this is the only job i used it for.
---
par : A M
2019-06-28T00:00:00
Bought it to excavate an old fence post. Worked well, took a fraction of the time if I''d had to use a sledgehammer and chisel. Easy to swap the two chisels over. Nice case.
---
par : Ben T
2018-12-16T00:00:00
Get in! Back of the net! What an absolutely awesome purchase of a tool that has performed perfectly for the light medium work planned. Currently the breaker has gone through an area of 8 sq metres of 5 - 6 inch concrete with relative ease in 4-5 hours with a couple of tea breaks thrown in ;) It will need to do a diy job about 3 times the size and the same type of concrete in coming months, which before I was sizing up to be completed professionally but now....I can''t wait! Don''t hesitate but this!
---
par : colin w
2018-11-14T00:00:00
Excellent product, very powerfully
---
par : colin w
2018-10-23T00:00:00
this hammer is more powerfully than many of the leading brands, would recommend it to other.
---
par : Gavin S
2018-09-24T00:00:00
Excellent value tool. Used it to break up a sandstone wall and its concrete foundation. Did the job no bother. This tool is heavy but I suppose it has to be to carry out its purpose. Would recommend.
---
par : Seamus B
2018-09-05T00:00:00
---
par : Seamus B
2018-09-05T00:00:00
Very pleased with this tool.
---
par : Michael R
2017-07-23T00:00:00
It made good work of breaking up old concrete from around fence posts. Heavy bit of kit but I suppose that is par for the course for such equipment. Very pleased.
---
par : Reynom
2017-07-16T00:00:00
Did the job of breaking up old concrete around fence posts. Heavy bit of kit. Helps build up muscles! Yes, very pleased with it.
---
par : Mark
2017-07-10T00:00:00
Decided to purchase rather than hire as was a very good price and it meant I could do a little bit at a time on the project rather than try and do all ASAP. I have been very impressed by the build quality and the power. Makes easy work of very strong concrete. Very happy with my purchase.
---
par : John H
2017-05-05T00:00:00
Very effect, easy to use breaks down hard stone walls in matter of seconds
---
par : chris
2017-04-17T00:00:00
---
par : Doug r
2017-03-01T00:00:00
Fantastic tools great seller fast delivery well worth a try
---
par : Doug r
2017-02-19T00:00:00
It''s a pleasure to do buisness with you fast delivery great product this is the second 1 I have bought will do buying again thanks
---
par : Mr D
2017-02-12T00:00:00
Excellent product , extremely well made , very good value
---
par : K m
2017-01-16T00:00:00
Very happy with breaker, good substantial bit of kit and very good value for money.
---
par : Rod B
2016-09-26T00:00:00
Great tool easy to use straight from the box. Achieved what i wanted it to do take down old wall and go through rock to get footings into ground. Good value for money.
---
par : brian a
2016-09-13T00:00:00
I buy a number of silverline tools &amp have been very satisfied with them. My work mates also keep asking to use them. B A Ridley
---
par : Bob O
2016-09-12T00:00:00
Very heavy and difficult to use has limited use
---
par : Nigel O
2016-09-12T00:00:00
I have hired breakers that are nowhere near this good!
---
par : Dave W
2016-09-12T00:00:00
I simply wouldn''t have been able to break up our old fence posts and concrete bases without this tool and an angle grinder. A superb tool that takes literally a few seconds under it''s own weight to break open concrete. Well done Silverline!
---
par : Michael B
2016-09-12T00:00:00
Couldn''t go wrong for the price and warranty, works well.
---
par : Alan M
2016-09-12T00:00:00
Decided to purchase this unit instead of renting as this would then enable me to work on my 3mx3mx0.5m concrete patio whenever I had the time. Started work on a Friday and completed within one day leaving me the weekend to remove all the rubble. The breaker was effective in all aspects and has proved worth its weight in gold as it has not only saved me time and money but has now been used by friends and relatives to do jobs that have been daunting in the past but made extremely easy with the right equipment. Cannot believe how much work this breaker has performed and without a hitch. Taking to my sons next weekend to demolish a wall. Cannot wait. Value for money with quality and performance included.
---
par : Adrian T
2016-09-12T00:00:00
Brilliant tool. Doe''s exactly what I wanted it to do and I am very happy with it. Would highly recommended it. Thank you.
---
par : Mel b
2016-09-12T00:00:00
---
par : Albert m
2016-09-12T00:00:00
As used for a diy project, this breaker did not require a 110v transformer being 240v .It works out cheaper than hiring one from a shop. It works very well and am pleased with it
---
par : lee p
2016-09-12T00:00:00
I bought this for breaking up a thick concrete path, it did that alright, it also did every other job I put it to. After it has been used for about an hour, doesn''t have to be in one go, check all the Allen bolts are still tight, if I recall there are 2 different sizes. All in all a very good and relatively well made tool for the price.shop around to get the best price, I got mine from Amazon warehouse.
---
par : Simon R
2016-08-08T00:00:00
really surprised how good this breaker is considering it is not a huge amount of money. Have been hiring breakers but easily this has paid for itself and chisels both still really sharp. Couldn''t be happier with it.
---
Garantie 3 ans
Ce produit Silverline est garanti pendant une période de 30 jours à partir de la date d'achat contre tout vice de matériaux ou défaut de fabrication. Vous pouvez obtenir une garantie à vie en enregistrant votre produit en ligne. Tout bien présentant un défaut sera réparé ou remplacé gratuitement.