303159
Ciseaux pour tour à bois, 8 pcs
8 pcs
---
---
Poignées longues en bois blanc pour une prise à deux mains
Tiges et tranchants en acier à outils
Pour les tours à bois et le façonnage du bois
Longueur : 360 mm
---
Achetez en ligne
Trouver un magasin
Évaluez ce produit
10 évaluations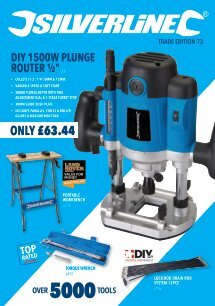 ---
Caractéristiques techniques du produit
| | |
| --- | --- |
| Matériau - protection | Polypropylène transparent |
| Matériau - pointe | Acier au carbone |
| Finition | Lame laquée |
| Poignée/manche - primaire - finition | Bois de frêne |
| Poids du produit | 1.3 Kg |
---
Caractéristiques principales
Poignées longues en bois blanc pour une prise à deux mains. Tiges et tranchants en acier à outils. Pour les tours à bois et le façonnage du bois. Longueur : 360 mm.
---
Contenu
8 ciseaux pour tour à bois
---
Évaluations de clients
par : Mat
2020-06-15T00:00:00
I made a home made lathe for occasional use. These chisels are the perfect accompaniment as all the other chisel packs were over a £100.
---
par : Scott
2020-05-07T00:00:00
Amazing product good quality tools
---
par : Alan w
2020-05-01T00:00:00
Very well made comfortable to handle
---
par : Ory A
2020-02-07T00:00:00
The tools are very good for the price
---
par : Michael d
2020-01-04T00:00:00
The bench belt and disc sander I am so pleased with the quality and the performance is fantastic and wouldn''t hesitate to recommend it to any one 100%quality.
---
par : ENON M
2019-09-30T00:00:00
Excellent rapport qualité prix !
---
par : Frank
2019-09-03T00:00:00
Great chisel we''ll worth the money have payed more for chisels but these are a far better quality 5 star
---
par : EUGENIO N
2017-12-11T00:00:00
I am using them with my lathe, they''re very good!
---
par : mark w
2017-06-02T00:00:00
A reasonably priced set of lightweight chisels,ideal for the beginner but more than up to then job.
---
par : Frank D
2017-03-24T00:00:00
Having just started wood turning since my school days, I bought this set of chisels due to price alone as didn''t know whether or not this was something I was going to invest a lot of time and money into. I have now used these chisels for a few different jobs and have to say for the price they really are quite good, I was doubtful they would hold an edge and remain sharp but they have not disappointed. There are better chisels out there without a doubt, but these do the job just fine. Excellent value and would highly recommend for beginners.
---
Garantie à vie
Ce produit Silverline est garanti pendant une période de 30 jours à partir de la date d'achat contre tout vice de matériaux ou défaut de fabrication. Vous pouvez obtenir une garantie à vie en enregistrant votre produit en ligne. Tout bien présentant un défaut sera réparé ou remplacé gratuitement.