430787
Outil multifonction 300 W
300 W (UK)
---
---
Action oscillante avec angle ajustable
Vitesse variable à 6 réglages
Poignée ergonomique permettant de réduire les vibrations
Idéal pour une multitude de tâches y compris la coupe, le ponçage et le meulage
Fourni avec une lame, un grattoir, un plateau auto-agrippant, 2 feuilles abrasives et une clé hex
---
Achetez en ligne
Trouver un magasin
Évaluez ce produit
70 évaluations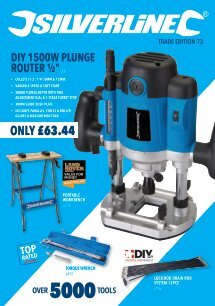 ---
Caractéristiques techniques du produit
| | |
| --- | --- |
| Finition | Plastique |
| Classe de protection | IP20 |
| Puissance | 300 W |
| Vitesse variable | Oui |
| Vitesse à vide | 15 000 - 23 000 min-1 |
| Poids du produit | 1,4 kg |
---
Caractéristiques principales
Outil oscillant multifonction à vitesse variable (6 réglages) et poignée ergonomique permettant de réduire les vibrations. Idéal pour une multitude de tâches y compris la coupe, le ponçage et le meulage. Fourni avec une lame, un grattoir, un plateau auto-agrippant, 2 feuilles abrasives et une clé hexagonale.
---
Contenu
1 x outil multifonction 300 W
1 x plateau support de ponçage
1 x lame de coupe plongeante
1 x lame grattoir
2 x feuilles abrasives (grain 80 et 120)
1 x clé hexagonale
1 x boulon et rondelle pour installation d'accessoires
1 x manuel d'instructions
---
Évaluations de clients
par : Phil C
2022-04-21T00:00:00
Very good diy tool well made and decent quality for the price, like most diy products they are not designed for heavy use,the attachments could be sturdier and better quality but they do the job and should do many years of service
---
par : Martin B
2022-02-06T00:00:00
Excellent value multi Tool for the DIY''er - with a three year warranty you''ll not get a better machine for the price.
---
par : michael b
2022-01-24T00:00:00
great tool does everything needed , great price
---
par : george n
2021-12-20T00:00:00
Ive wanted one of these for a while now, bought this for working in the bathroom, so far I have used it to help scrape paint off of the door as well as the sanding function for the same door. It is easy to use, not too noisy & dont vibrate too much which is important to me as I have arthritis. Silverline tools are at the lower end of the price range but I have always found them to be reliable & of good quality.
---
par : Paul W
2021-09-06T00:00:00
This is an amazing tool irrespective of price, but at this price point it''s fantastic. I never realised how much I needed it until I had it-trimming below door linings to fit wooden flooring, sanding fine detail when refinishing furniture.
---
par : Peter C
2020-06-17T00:00:00
---
par : Peter C
2020-06-17T00:00:00
---
par : Nick C
2020-06-09T00:00:00
I needed this tool to make a few Wood cut adjustments on a job I was doing, However due to it's brilliant versatility I found I was able to complete other jobs I'd not considered this tool for, quick and easy. Oh and it's paid for itself already.
---
par : Neil Q
2020-06-06T00:00:00
Works well for basic tasks around the home and garden.
---
par : Clive J
2020-06-04T00:00:00
This tool is very good for the price. It is very power although a bit on the heavy side but worth every penny !
---
par : Clive J
2020-05-28T00:00:00
Very impressed, found it heavy but very powerful & easy to use. Very good for the money
---
par : Barry M
2020-05-21T00:00:00
Super multi-tool at a super price, plenty powerful enough for your general diy, including slicing off a corner of skirting to fit a door frame in double-quick time. Just remember to do up the tool attachment key nice and tight and away you go!
---
par : Robert T
2020-05-16T00:00:00
I bought the 300w DIY Multi Tool through Amazon and have been very pleased with it. I used it more than I thought I would and has done what it said on the tin. Excellent
---
par : anthony o
2020-05-16T00:00:00
what a great tool to have does pretty much everything you want without having to buy different tools .how did I manage without one . get yours now.
---
par : MICHAEL T
2020-05-12T00:00:00
---
par : Simon
2020-05-03T00:00:00
Very good product,easy to use,I was very impressed the first time I used it.
---
par : DAVID K
2020-04-29T00:00:00
Good product for the money. Bit dissapointed I thought it had the quick release but ordered the one with the allen key to install components. Otherwise can''t fault it. Perfect for an apprentice DIY guy !
---
par : Fred H
2020-04-28T00:00:00
Have got round to using it and different blade to one supplied have easily taken a sliver of bottom of door so it no longer sticks. Well pleased so far with product
---
par : Robert A
2020-04-27T00:00:00
Excellant piece of equipment does what it says on the tin purchased for the scraper facility .Made light work of removing several layers of paint on a metal fence
---
par : Ian
2020-04-22T00:00:00
This is a good quality tool which did everything I asked of it.
---
par : Ken
2020-04-17T00:00:00
Bought this multi tool to trim some skirting in situ. Job completed very quickly and cleanly. I'm sure there are many other jobs that will now be easier.
---
par : Lee B
2020-04-09T00:00:00
Low cost perfect tool for loads of uses.
---
par : Richard E
2020-03-04T00:00:00
Exactly what i wanted to do a specific job
---
par : keith b
2020-02-18T00:00:00
this little tool is great -
---
par : David L
2020-01-26T00:00:00
I should''ve bought one of these years ago. It''s so useful. I used this to remove a plastic tile edging trim when extending the tiling in my bathroom for an over bath shower. I just plunge cut into it with the wood cutting blade. I wanted to put a new trim in and extend up to the ceiling with the tiles. I used a grout removal blade to remove the plastic left from the trim and tile adhesive behind the existing tiles to allow me to put the new extended trim behind the tiles. Holding it on place with a good grab adhesive. This job would be awful without this excellent little tool, it did it in no time and I never damaged any of the tiles. Very highly recommended tool for a multitude of jobs.
---
par : Mark C
2020-01-24T00:00:00
Looks good value for money. Blades need to be fitted down extremely tightly to ensure that they don't slip and damage alignment pins. Lower review because this still could happen in the future.
---
par : Ray
2020-01-20T00:00:00
Excellent tool. I purchased the attachments with it. Great for cutting wood where a saw won''t fit. Grinder attachment removes grout between ceramic tiles quickly and easily. Good sturdy tool. Well pleased with it
---
par : Pat M
2020-01-18T00:00:00
Brilliant versatile tool, how did I manage without one!
---
par : Paul h
2020-01-17T00:00:00
Fantastic useful tool to have in your shed really great value for money, great power equals tools with a vaster price tag, easy interchangeable tools, and comes with a 3 year guarantee
---
par : Stephen R
2020-01-16T00:00:00
Bought the multi tool to cut out a piece of rotten timber frame, made the job quick and easy and you can get a fairly accurate cut. No doubt this tool will come in handy again and very reasonable price
---
par : Philip b
2019-12-18T00:00:00
I would recommend this multi tool, does everything that one costing three times as much. Ideal for the keen diyer
---
par : Richard B
2019-12-16T00:00:00
First time out the box today but worked like a dream. Very solidly built and handled the task of removing grout with ease. Great bargain and very pleased!
---
par : Philippe D
2019-12-03T00:00:00
---
par : John S
2019-11-23T00:00:00
I need to reduce a window sill so that I can close a swollen window. I hope that this tool does the job.
---
par : John w
2019-11-16T00:00:00
Works fine, needed to cut off window ledges. The only tool that could be used to cut straight edges. Very pleased with the silver line tool.
---
par : Simon K
2019-11-16T00:00:00
I bought this tool to chase out grout in my bathroom. Tool worked well and completed the job with no problem. Good value for money.
---
par : Ralph M
2019-11-01T00:00:00
A great tool at a great price. Really handy for a multitude of DIY jobs around the house.
---
par : Moubarak D
2019-10-31T00:00:00
Powerful tool. It helped my with some DIY home upgrades and saves me tone of money.
---
par : mr v
2019-10-24T00:00:00
ideal for pecise cutting etc
---
par : Moubarak D
2019-10-24T00:00:00
powerful machine and efficient speed control made it so easy for my to get the job done. only the blade was not so premium and dented while cutting wood with soft nails.
---
par : Robert H
2019-10-19T00:00:00
Bought to access pipework inside a stud wall and also to access pipework behind an MDF panel. No problem with the plasterboard but struggled with the MDF. Even bought a specialist blade for the MDF.
---
par : David
2019-10-11T00:00:00
Great tool with excellent extra blades
---
par : Geoff H
2019-10-10T00:00:00
Neat little tool, just right for minor DIY jobs. Takes standard cutters.
---
par : robert
2019-09-26T00:00:00
very well made light weight cut our rotten wood in seconds like using a power chisel / scraper made life easy took minutes rather than hours with hammer and chisel fantastic
---
par : David H
2019-09-25T00:00:00
Great tool sorted the job out in minutes in hard to reach places. Saved me struggling and possibly damaging the work
---
par : Haydn E
2019-09-12T00:00:00
A very solid and well made product. The accessories that come with the basic multi tool are very robust. The different power settings enable great cutting power. This is a fantastic addition to my toolbox.
---
par : Rodger S
2019-09-07T00:00:00
As a good DIYer this is the first time using this type of tool and it has proved very useful indeed.
---
par : Kevin H
2019-09-03T00:00:00
I purchased a Silverline multi tool to perform surgery on an oak post needed to support a Granite breakfast bar. The job required a neat , straight cut into the post to generate a slot. The multi tool was inexpensive, came with a saw, scraper and sanding attachment and did the job easily. The saw attachment cut into the hard oak with no problems. The Multi tool has a one month return to reseller warranty and ALSO a three year parts and labour warranty for defective quality. So far, however, the quality of the tool has surpassed my expectation and I am very happy with the acquisition of a useful tool for those tricky DIY jobs.
---
par : Claire A
2019-07-22T00:00:00
Superb value, adjustable speed and sturdy construction. Can''t be beaten for value.
---
par : Stuart M
2019-07-12T00:00:00
Purchased this item in order to cut some corrugated iron and wood in a confined space which did allow the use of conventional saws. The Multi Tool was easy to set up and use, enabled me to complete the task quickly and solved my problem. Have already recommended to friends and relations.
---
par : Alain65
2019-06-22T00:00:00
Cet outil permet de réaliser des tâches impossibles avec une meuleuse. Il permet des angles divers sans problème. Que ce soit pour le bois, le plastique, le fer, le plâtre, etc., cet appareil convient parfaitement.
---
par : Roly A
2019-06-10T00:00:00
Great value tool - simple to setup and does exactly what you need. Included options useful and got the cutting job done quickly. Very pleased
---
par : Graham
2019-05-31T00:00:00
The use of the multi tool allowed me to easily remove a tile from a plasterboard partition wall to access a plumbing leak....leak fixed tile replaced, saved a fortune as alternative would have been a complete re tile.....the multi tool was easy to use cut through the grout and plasterboard with ease....and then used it to cut the copper pipe.... marvelous!
---
par : Michael P
2019-05-31T00:00:00
Great value for money and easy to use made better with the speed control. Just what I wanted to replace my burnt out tool at competitive prices.
---
par : Boyd M
2019-05-31T00:00:00
Excellent product, excellent price
---
par : Barry C
2019-05-29T00:00:00
since receiving this tool I find it just as good as dearer products and find the quality very good
---
par : Boyd M
2019-05-24T00:00:00
Probably one of the handiest tools I have ever bought at an excellent price
---
par : Michael P
2019-05-24T00:00:00
Great product at a competitive price just what I needed to replace my burnt out tool that I''ve had for years. Easy to operate and better with speed control.
---
par : Brian J
2019-04-11T00:00:00
Great tool. Can''t believe the price. Does the job just as well as tools costing four times the price.
---
par : ALAN L
2019-01-26T00:00:00
only used twice but very pleased withthe performance so far.
---
par : Stephen R
2019-01-24T00:00:00
Having wanted one of these for a while I found this Tool at a reasonable price. I don''t always expect a great deal from a low priced power tool, but I am thoroughly impressed with the versatility of this Multi Tool. I have already used it on a few projects and, after a little practice, found it very easy to use and control. Feels good in the hand and the vibration transfer in minimal. Plenty of attachments which wil come in handy. Want one for aa a DIYer? Then this is it! Don''t forget the generous 3 year warranty.
---
par : malcolm j
2019-01-18T00:00:00
This tool just makes my life so much easier. I''ve used it for several different jobs and its quick, easily manoeuverable and doesn''t take up tons of space. I wouldn''t want to be without it now.
---
par : Michael S
2019-01-05T00:00:00
Very good value for money. The only problem I''ve found is that the blade tends to shake loose so it has to be screwed in very tight.
---
par : Colin G
2018-11-30T00:00:00
Highly recommended for the price. Great Tool.
---
par : Alec H
2018-11-07T00:00:00
Very pleased with the product and also the efficiency of your company thanks
---
par : Keith B
2018-10-06T00:00:00
I wish that I had known about this piece of kit sooner. It is powerful, straightforward and easy to use. It will replace a number of other devices.
---
par : M K
2018-03-29T00:00:00
Good quality at a reasonable price
---
par : M K
2018-03-29T00:00:00
Arrived on time Good quality for price
---
par : Francis R
2018-02-22T00:00:00
Adjustable &amp light to hold, will take the many fitments available. Excellent value for the money
---
par : David R
2017-12-01T00:00:00
Purchased this item to remove some tiles that had cracked. did the job perfectly have other jobs lined up but have not got around to them yet. Great item.
---
Garantie 3 ans
Ce produit Silverline est garanti pendant une période de 30 jours à partir de la date d'achat contre tout vice de matériaux ou défaut de fabrication. Vous pouvez obtenir une garantie à vie en enregistrant votre produit en ligne. Tout bien présentant un défaut sera réparé ou remplacé gratuitement.