473526
Conformateur
---
---
En plastique robuste et durable
Pour reproduire avec précision des profils et contours complexes
Pour des profils de 250 mm de long et 45 mm de profondeur maximum
---
Achetez en ligne
Trouver un magasin
Évaluez ce produit
12 évaluations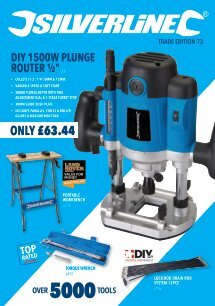 ---
Caractéristiques techniques du produit
| | |
| --- | --- |
| Graduation | Métrique et impériale |
| Poids du produit | 0,409 kg |
| Matériau - construction secondaire | Aimants |
---
Caractéristiques principales
Pour prendre les profils avec précision en vue de leur transfert sur un matériau à couper. Fabriqué en plastique de haute qualité. Profondeur maximale du profil : 45 mm.
---
Contenu
---
Évaluations de clients
par : Mike W
2020-03-21T00:00:00
Absolutely spot on, exactly what I needed for my laminate flooring
---
par : Rob w
2020-03-10T00:00:00
Great piece of kit used several times does the same job as the more expensive profile gauges .at the price of a couple of beers can't get vexed
---
par : Terry D
2020-03-01T00:00:00
---
par : Pete H
2020-01-15T00:00:00
Superb gadget helped me cut some wall tiles really accurately as if done by a professional
---
par : Pete H
2020-01-08T00:00:00
This contour gauge was exactly what I needed to help me cut some wall tiles accurately to fit nicely around some cupboards & wall plug sockets. It made an easy to bodge job look as if it had been done by a professional - so much so my wife thought I''d got someone in to do it !
---
par : peter b
2019-09-11T00:00:00
high standard product at a very reasonable price
---
par : Fred B
2019-01-03T00:00:00
This is a really well-made tool which I should have acquired years ago, accurately reproducing moulding curves and details, shortening jobs by hours and adding to the pleasure of the work.
---
par : Robert w
2017-10-11T00:00:00
Bought this for laying some new tiles in bathroom, works very well around some difficult items saves time and tiles. Very good
---
par : Florian R
2017-07-15T00:00:00
A really great tool to speed up the work. The forming works really easy, you do not have to use much pressure but the form is quite stable. The width of the product is also wide enough to get the form of almost everything that is necessary.
---
par : david u
2017-03-07T00:00:00
used this product a few time since purchase and all in all it works well
---
par : Maximilian S
2017-02-24T00:00:00
I am very happy with the profile gauge, the pins stay where they are most of the time when tracing around them but thinner pins (higher resolution) would be nice because small details like rounded corners are often not measured to a useful extent.
---
par : salesse
2017-02-10T00:00:00
easy to you use and very well product
---
Garantie à vie
Ce produit Silverline est garanti pendant une période de 30 jours à partir de la date d'achat contre tout vice de matériaux ou défaut de fabrication. Vous pouvez obtenir une garantie à vie en enregistrant votre produit en ligne. Tout bien présentant un défaut sera réparé ou remplacé gratuitement.