546524
Tournevis à usage général, 6 pcs
6 pcs
---
---
En chrome vanadium
Pointes noircies et trempées
Manche bicolore antidérapant
Tournevis plats évasés 3 x 75 mm, 5 x 100 mm et 6 x 100 mm
Tournevis Pozidriv PZ0 x 75 mm, PZ1 x 100 mm et PZ2 x 100 mm
---
Achetez en ligne
Trouver un magasin
Évaluez ce produit
7 évaluations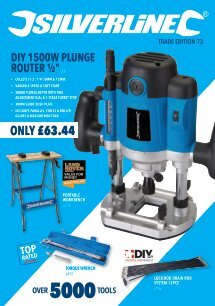 ---
Caractéristiques techniques du produit
| | |
| --- | --- |
| Finition | Lames chromées satinées |
| Poignée/manche - primaire - finition | Confortable |
| Trempé | HRC50-55 |
| Matériau - pointe | CRV, phosphate noir |
| Poids du produit | 0,37 kg |
| Longueur de la tige | 75 mm (x 2), 100 mm (x 4) |
---
Caractéristiques principales
Tournevis en chrome-vanadium avec pointe noircie et trempée. Manche ergonomique bicolore antidérapant. Tournevis plats évasés 3 x 75 mm, 5 x 100 mm et 6 x 100 mm. Tournevis Pozidriv PZ0 x 75 mm, PZ1 x 100 mm et PZ2 x 100 mm.
---
Contenu
1 X Tournevis plat ( 3 x 75 mm)
1 X Tournevis plat ( 5 x 100 mm)
1 X Tournevis plat ( 6 x 100 mm)
1 x Tournevis Pozidriv (N°0 x 75 mm)
1 x Tournevis Pozidriv (N°1 x 100 mm)
1 x Tournevis Pozidriv (N°2 x 100 mm)
---
Évaluations de clients
par : Robert D
2020-04-14T00:00:00
This is a good value set of screwdrivers, covering the most common size screws and heads. Comfortable in the hand, and a good weight. Magnet tips.
---
par : Martin B
2020-03-13T00:00:00
I think the title says it al! I''ve had the product a couple of weeks and used them more times than I can count. Sure grip decent size handle.provides the necessary torque for someone like myself i.e. getting on a bit
---
par : Jake J
2020-02-11T00:00:00
I purchased the 6 piece hand screwdriver set as my mix matched set was slowly getting smaller and smaller as I kept losing then or they eventually broke so I thought it was time to finally replace them with a new matching set. After searching for sometime for a set that wouldn''t cost too much but were still good quality I finally found the silver line set. A very good choice I must say, with a comfortable and ergonomic feel to them I''m confident they will last me years. Needless to say I''m very pleased with my purchase and would recommend them. A*
---
par : Fernando M
2019-12-02T00:00:00
Muy buena herramienta,a muy buen precio
---
par : Fernando M
2019-11-24T00:00:00
Muy buenas herramientas a muy buen precio.Aconsejo la compra de esta marca
---
par : Brian r
2019-07-09T00:00:00
I've just kitted my tool box out with silver line tools. All my products turned up fast and are a high standard. I will definitely be buying more tools for my collection and the added bonus of a guarantee makes things even more sweeter. So happy I chose silver line tools.
---
par : Nicholas C
2018-03-13T00:00:00
Nice set of screwdrivers. Hard tips and a good grip. Good value at the price.
---
Garantie à vie
Ce produit Silverline est garanti pendant une période de 30 jours à partir de la date d'achat contre tout vice de matériaux ou défaut de fabrication. Vous pouvez obtenir une garantie à vie en enregistrant votre produit en ligne. Tout bien présentant un défaut sera réparé ou remplacé gratuitement.