633545
Coffret dudgeonnière, 9 pcs
9 pcs
---
---
Pour tuyaux souples de cuivre et d'aluminium
Fournis : 1 x étrier, 1 x presse avec matrice 45° et 7 x matrices
Matrices de 3/16", 1/4", 5/16", 3/8", 7/16", 1/2" et 5/8"
Compatible avec le mini coupe-tube Silverline (MS125)
---
Achetez en ligne
Trouver un magasin
Évaluez ce produit
8 évaluations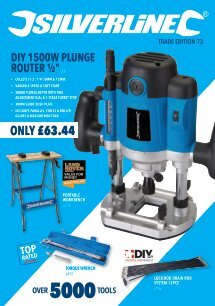 ---
Caractéristiques techniques du produit
| | |
| --- | --- |
| Capacité - mâchoire | 5/8" |
| Finition | Chromé |
| Poignée/manche - primaire - finition | Chrome |
| Trempé | Oui |
| Poids du produit | 0,905 kg |
---
Caractéristiques principales
Matrices en acier au carbone avec étrier et presse avec matrice chromés. Permet de réaliser des évasements simples ou doubles sur tuyaux souples de cuivre et d'aluminium. Fournis : 1 x étrier, 1 x presse avec matrice 45° et 7 x matrices de 3/16", 1/4", 5/16", 3/8", 7/16", 1/2" et 5/8". Coffret de rangement en plastique.
---
Contenu
7 x Matrices de 3/16", 1/4", 5/16", 3/8", 7/16", 1/2" et 5/8"
1 x Étrier
1 x Presse à matrice
1 x Manuel d'instructions
---
Évaluations de clients
par : Chris G
2020-05-23T00:00:00
Used this to flare the pipes on my 96 civic and couldn''t have been happier with the results. It didn''t split the pile like I know some kits can do and flared it perfectly. Would highly recommend
---
par : Jamie
2020-05-18T00:00:00
Really good value tool easy to use and does a great job
---
par : Jordi O
2019-02-01T00:00:00
easy to use, great quality, and the most important, WORKS FINE
---
par : Mr L
2018-06-25T00:00:00
this tool does not do the job it is made for very bad tool I have a lot of silverline tools but this is no good should be returned
---
par : Pacheco
2017-06-14T00:00:00
Seul difficulté : l''ajustement de la longueur de tube pour un double évasement. Pas de notice pour ça. Sinon, la notice est très clair.
---
par : Mathias
2017-05-20T00:00:00
Bon produit, quelques défauts ds le moulage de l''évaseur sinon le tout à est bien fonctionnel.
---
par : Graham B
2017-02-16T00:00:00
Before you buy, remember this pipe flaring kit is ONLY for the softer metal brake pipes (Copper and aluminium). That said if you treat this product correctly it will do the job with no problems. It is quick and convenient being able to flare the end of a brake pipe that is still attached to the vehicle. Great value and would recommend this product.......treat it sensibly!
---
par : Sean P
2016-08-30T00:00:00
Although it completed the task, it was a little hit and miss as there is no gauge to ensure the pipe flare is correctly sized.
---
Garantie à vie
Ce produit Silverline est garanti pendant une période de 30 jours à partir de la date d'achat contre tout vice de matériaux ou défaut de fabrication. Vous pouvez obtenir une garantie à vie en enregistrant votre produit en ligne. Tout bien présentant un défaut sera réparé ou remplacé gratuitement.