675037
Pied à coulisse à vernier
150 mm
---
---
En acier haute teneur en carbone
Résolution de 0,02 mm
Vis de verrouillage moletée
Coffret de rangement
---
Achetez en ligne
Trouver un magasin
Évaluez ce produit
11 évaluations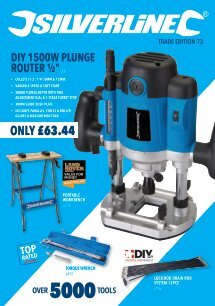 ---
Caractéristiques techniques du produit
| | |
| --- | --- |
| Finition | Rectifié, finition des bords lisse |
| Poids du produit | 0,150 kg |
---
Caractéristiques principales
Pied à coulisse à vernier en acier haute teneur en carbone à résolution de 0-150 x 0,02 mm. Quatre prises de mesure possibles : mesures internes, externes, profondeur et épaulements. Coffret de rangement.
---
Contenu
Pied à coulisse à vernier 150 mm
---
Évaluations de clients
par : Fernandez
2020-06-05T00:00:00
I love this Vernier Caliper. Its measure is precise and help me in every activity. I am a beginner but I recommand this type of product for everyone: mechanical, DIY... Measure is precise and quality of metal very good! However the plastic box is useless and bad quality.
---
par : Ian B
2020-05-09T00:00:00
Great little tool, well presented and accurate!
---
par : ANGELOS M
2020-05-07T00:00:00
behind the small price, precise metering and good workmanship can instantly be seen
---
par : Hylton
2020-03-24T00:00:00
I bought the Silverline calipers to use on my boat. They are great and easy to use, even better to see two people use the same ones since I got mine.
---
par : Michael
2019-09-17T00:00:00
It worked exactly how I expected. That''s all there is to say. Solid, precise and well made.
---
par : Tim
2019-04-26T00:00:00
The idea for me buying this vernia calipers was to maintain accurate work while reducing the number of battery devices sent to landfill when they stop working.. it''s well made and feels good to use fantastically accurate and with a little care will last for many years.. I''ll be buying more tools from the range soon
---
par : Marcus M
2019-04-14T00:00:00
Horrendous quality for an accurate measuring instrument. Ended up buying a second hand one off Ebay of a different manufacturer.
---
par : Erwin
2018-12-06T00:00:00
Quality is okay for hobby but not for professional use. Good part is the long life guarentee which is the main reason I bought it. Overall quality okay but not perfect.
---
par : Miguel Á
2017-06-14T00:00:00
Relación calidad precio muy buena. Garantía excepcional
---
par : Ahmet I
2017-04-25T00:00:00
solid product, pretty useful and cheap, but arrived pretty dirty and with scratches... But would buy it again
---
par : Paul B
2016-12-01T00:00:00
Good tool used it a few times and seams to be accurate
---
Garantie à vie
Ce produit Silverline est garanti pendant une période de 30 jours à partir de la date d'achat contre tout vice de matériaux ou défaut de fabrication. Vous pouvez obtenir une garantie à vie en enregistrant votre produit en ligne. Tout bien présentant un défaut sera réparé ou remplacé gratuitement.