675062
Cloueuse pneumatique clous tête d'homme 32 mm
Calibre 18
---
---
Corps en aluminium léger et poignée caoutchoutée
Livrée avec un raccord rapide mâle 1/4"
Gâchette de sûreté pour éviter les décharges accidentelles
Pour clous tête homme de calibre 18 de 10-32 mm de long
Idéale pour les travaux de second oeuvre
---
Achetez en ligne
Trouver un magasin
Évaluez ce produit
4 évaluations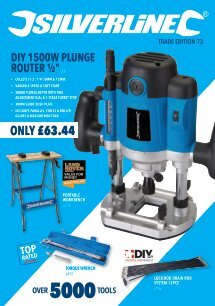 ---
Caractéristiques techniques du produit
| | |
| --- | --- |
| Consommation d'air | 4 - 5 cfm (1887,789 - 2359,737 cm3/s) |
| Taille du raccord | Connecteur rapide 1/4" |
| Poignée/manche - primaire - finition | Caoutchouc |
| Matériau - construction secondaire | Aluminium |
| Poids du produit | 1,089 Kg |
---
Vidéos
---
Caractéristiques principales
Cloueuse pneumatique légère à poignée en caoutchouc et gâchette de sûreté. Idéale pour les travaux de second oeuvre. Enfonce des clous de calibre 18 de 10-32 mm de long. Livrée avec un raccord rapide mâle 1/4".
---
Contenu
Cloueuse pneumatique clous tête d'homme 32 mm
Connecteur rapide 1/4"
---
Évaluations de clients
par : Ramon breed
2019-01-05T00:00:00
The silverline minibradnailer is an amazing tool. I havn''t had a singel problem with it.
---
par : Finn KW
2017-03-25T00:00:00
I would recommend this tool to anyone who wants a value for money nailer. It may not be finest nailer on the market, with tool free adjustment on the body. But it''s not real haste to change the pressure of the airline to dial in the power. If you are looking for a robust tool that is fit for purpose at an amazing good price then this is the tool for you. I've been using it for a couple of weeks and I can''t complain about anything. It is supplied (but not fitted) with a PCL 19 connector which doesn''t suit the rest of my setup so I fitted a High Flow 25 connected which was a breeze.
---
par : Krzysztof Pior
2016-11-20T00:00:00
Quite compact but capable of doing the job. So far tried firing few 15mm nails into different woods and worked just fine. Users manual is a joke. Not a single word how to load nails, how to lubricate the tool (oil included which is a plus) so no good for newbies. Can''''t tell about reliability as just did few nails to test compressor and the gun. Overall looks very good for the price except the manual.
---
par : Brian M Turner
2016-09-27T00:00:00
I have quite a few SILVER LINE TOOLS and find them generally speaking good value for money. This etem has been working well untill now and just allow air to escape in the body as though a seal is giving out. I have added oil as advised and some times this corrects the faul. Any advise would be helpful
---
Garantie 3 ans
Ce produit Silverline est garanti pendant une période de 30 jours à partir de la date d'achat contre tout vice de matériaux ou défaut de fabrication. Vous pouvez obtenir une garantie à vie en enregistrant votre produit en ligne. Tout bien présentant un défaut sera réparé ou remplacé gratuitement.