675072
Douilles E4 - E24, 14 pcs
E4 - E24
---
---
Chrome-vanadium
Trx EX - E4, E5, E6, E7, E8, E10, E11, E12, E14, E16, E18, E20, E22 et E24
---
Achetez en ligne
Trouver un magasin
Évaluez ce produit
7 évaluations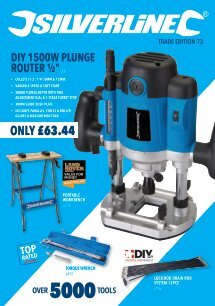 ---
Caractéristiques techniques du produit
| | |
| --- | --- |
| Poids du produit | 0,640 kg |
---
Caractéristiques principales
Douilles Trx EX en chrome-vanadium poli avec carré conducteur. Le jeu comprend douilles 1/4" : E4, E5, E6, E7, E8 ; douilles 3/8" : E10, E11, E12, E14 ; douilles 1/2" : E16, E18, E20, E22 et E24.
---
Évaluations de clients
par : Robert R
2019-09-25T00:00:00
Excellent quality used them once to change brake calliper on my Vauxhall. Very happy.
---
par : Alex
2019-08-23T00:00:00
Jeu de douilles comprenant les principales taille utilisé et garantie à vie très bon matériel
---
par : David N
2018-04-15T00:00:00
Used my sockets for the first time and thay are great thay are fantastic well made and strong will be buying a lot more silverline tools from now on thay are also amazing value for money
---
par : Gabriel A
2017-05-18T00:00:00
Ya tengo varias herramientas de esta marca y como siempre la relación calidad/precio es excelente. Utilicé uno de los vasos para retirar una tuerca torx que ya estaba algo mellada y la extraje sin ningún problema. Sin duda muy recomendable.
---
par : Kobus v
2017-02-28T00:00:00
We are very happy with the tool, we''ve just done a motor engine using it, works well.
---
par : Mickael.T
2016-11-12T00:00:00
Tools very good quality, low cost !
---
par : David F
2016-10-10T00:00:00
Bought this to carry out repairs to engine/gearbox. Accurate fit, excellent quality and good overall finish. Has had more use than I had initially expected and is still as new, very durable. As a former mechanic whose kit is mainly Snap on/Britool/Elora, I have found the Silverline products I purchased over the last 2-3 years(1/2" socket set, ratchets, spanners) to be of excellent quality and reliability, no failures thus far. A little heavier made than brands previously mentioned, but great value for money and will buy Silverline again without question.
---
Garantie à vie
Ce produit Silverline est garanti pendant une période de 30 jours à partir de la date d'achat contre tout vice de matériaux ou défaut de fabrication. Vous pouvez obtenir une garantie à vie en enregistrant votre produit en ligne. Tout bien présentant un défaut sera réparé ou remplacé gratuitement.