868549
Gabarit de perçage pour vissage oblique
6, 8 et 10 mm
---
---
Usiné à partir d'aluminium monobloc
Permet de réaliser des assemblages uniformes
Permet de percer à un angle de 15°
Fourni avec des guides de 6, 8 et 10 mm
Les perçages peuvent être dissimulés à l'aide de chevilles adaptés
---
Achetez en ligne
Trouver un magasin
Évaluez ce produit
17 évaluations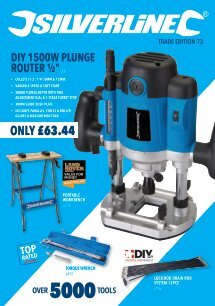 ---
Caractéristiques techniques du produit
| | |
| --- | --- |
| Finition | Poli, revêtement résistant antirouille |
| Méthode de fabrication | Taillé et fraisé |
| Poids du produit | 0,163 kg |
---
Caractéristiques principales
Usiné à partir d'aluminium monobloc. Permet de réaliser des assemblages uniformes. Permet de percer à un angle de 15°. Fourni avec des guides de 6, 8 et 10 mm. Les perçages peuvent être dissimulés à l'aide de chevilles adaptés.
---
Contenu
Gabarit de perçage pour vissage oblique
Guides de 6, 8 et 10 mm (x 6)
---
Évaluations de clients
par : Robin
2020-04-02T00:00:00
Cheap and easy to use. Few test pieces to refine the toll position for the ideal pocket and then it's easy and repeatable. Guides could be a tighter tolerance on drills to improve accuracy. But for the price. Can't complain.
---
par : Peter G
2020-03-06T00:00:00
Innovatives Produkt, ein Muss für jeden Heimwerker. Simpel in der Anwendung und damit sehr Empfehlenswert.
---
par : Michael T
2019-08-14T00:00:00
Fits nicely in the pocket easy to use and a fantastic piece of kit would recommend to anyone
---
par : Graeme S
2019-05-04T00:00:00
Well made - precise - excellent value for money.
---
par : Tom
2018-12-14T00:00:00
This Jig has great quality. It''s simple to use and the different adapters that come with this Jig make it flexible to use. I recommend it . You can buy other brands but they more expensive and don''t have anymore benefits as the Silverline Pocket-Hole Jig
---
par : Marc
2017-09-27T00:00:00
Nice piece of equipment. Does a good job at an economical price
---
par : Bill M
2017-06-10T00:00:00
This is my first pocket-jig. I''m new to woodworking and found this very easy to understand and use. It''s added anew level of capability to my projects, and I''ll be using it a lot. The lifetime gaurentee is an added bonus and a mark of the confidence silver line have in their products.
---
par : Michael H
2017-04-02T00:00:00
Bought this jig to do two repairs. Did those and realised how simple it made other joining jobs seem. Now I have started making toolboxes, jewellry boxes, bookcases and all sorts of projects. No glue required .This piece of kit is so, so SIMPLES to use. Helps even the basic DIYer get perfect joints. Life is so Happy. Something similar advertised on TV for £99.98 Toolstation sell them for £5.55. Get on down.
---
par : Jeff
2017-03-18T00:00:00
Great item does the job spot in
---
par : Danielle K
2017-03-16T00:00:00
I was looking for a product that was easy to use and I could take with me. Some jig''s that I''ve seen have built in clamps but that limits the size wood you can use of twists and breaks off! I like building small things for my house and this tool is helpful! Thanks!
---
par : Pete W
2017-03-10T00:00:00
Wish I had bought this years ago. Lovely & useful little bit of kit.
---
par : james p
2017-03-10T00:00:00
Good little tool that really is helpful. Makes joints so much quicker and accurate too
---
par : Peter F
2017-03-09T00:00:00
Excellent quality of construction, it was purchased as a back-up to the standard Dowelling-jig but not needed for the current project but I can envisage using it in the not too distant future.
---
par : Pete W
2017-03-03T00:00:00
Great little addition to toolkit. Perfect holes every time. Wish I had bought it years before.
---
par : Matt P
2016-10-10T00:00:00
It is a great value bit if kit.
---
par : Mike
2016-09-27T00:00:00
A very useful tool. Once I had worked out how to use it I found it very easy to use and accurate enough for my purposes. (DIY). I am not sure (unless you are a professional needing to produce pocket holes all day long) why you would spend any more. Good value for money.
---
par : mike T
2016-09-26T00:00:00
Nice piece of equipment. Does a good job at an economical price
---
Garantie à vie
Ce produit Silverline est garanti pendant une période de 30 jours à partir de la date d'achat contre tout vice de matériaux ou défaut de fabrication. Vous pouvez obtenir une garantie à vie en enregistrant votre produit en ligne. Tout bien présentant un défaut sera réparé ou remplacé gratuitement.