868762
Mallette de 204 accessoires assortis pour perceuse
204 pcs
---
---
Avec 51 forets acier rapide titanés, 42 forets acier rapide finition noire
14 forets de maçonnerie, 18 forets à bois, 3 forets de centrage
47 embouts de vissage, 10 tourne-écrous, 3 butées de profondeur, 4 scies-cloches
1 adaptateur à scie-cloche, 3 chasse-clous, 3 guide-vis, 1 pointeau
1 fraise conique, 1 jauge à trous, 1 porte-embout et 1 clé allen
---
Achetez en ligne
Trouver un magasin
Évaluez ce produit
17 évaluations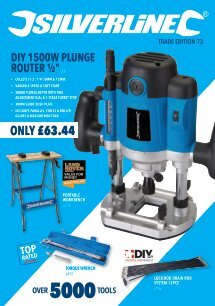 ---
Caractéristiques techniques du produit
| | |
| --- | --- |
| Taille du raccord | De tailles variées |
| Poids du produit | 3,970 kg |
| Rangement | BMC |
---
Caractéristiques principales
51 forets acier rapide titanés, 42 forets acier rapide finition noire, 14 forets de maçonnerie, 18 forets à bois, 3 forets de centrage, 47 embouts de vissage, 10 tourne-écrous, 3 butées de profondeur, 4 scies-cloches, 1 adaptateur à scie-cloche, 3 chasse-clous, 3 guide-vis, 1 pointeau, 1 fraise conique, 1 jauge à trous, 1 porte-embout et 1 clé mâle.
---
Contenu
.
.
.
.
.
.
.
.
.
.
.
.
.
.
.
.
.
.
.
.
.
.
.
.
.
.
.
.
---
Évaluations de clients
par : Michael
2016-10-23T00:00:00
---
par : Simon S
2016-10-19T00:00:00
Most of the pieces are excellent but some of the masonry drill bits are poor quality.
---
par : James H
2016-10-12T00:00:00
Bought this when moving house to accommodate the various DIY jobs I would be undertaking. The wide selection of accessories is brilliant for such a reasonable price. They have also been through a fair amount of work around the house and have passed the test of lots of use.
---
par : Giuseppe F
2016-10-10T00:00:00
Tanti strumenti utili per il fai da te, valigetta comoda e funzionale, il tutto ad un prezzo davvero competitivo.
---
par : Harold B
2016-10-10T00:00:00
This has been one of the best value sets I have ever bought would recommend
---
par : Chris c
2016-08-30T00:00:00
This set has every drill bit you would need and more it is excellent value if you were to buy everything in the set one pice at a time it would cost a small fortune
---
par : Stuart k
2020-06-12T00:00:00
First two prices I've used have worn very quickly. And a drill bit has bent before even using it. When I pulled it from the box it bent. Not great at all. Will see what happenes with the other prices but so far it's not looking like a high quality set.
---
par : Kevin O
2020-02-05T00:00:00
An excellent product. Everything you could want and more in one box to tackle all those jobs. A great present for any DIYist maybe!
---
par : Andrew G
2019-12-11T00:00:00
This was bought for family as they kept borrowing my set. So far really impressed
---
par : craiig c
2018-12-21T00:00:00
great selection of bits for price, shame case is not suitable, far too flimsy, clasps do not clip back together once opened/unfolded, even before anything has been removed/replaced.
---
par : George C
2018-05-20T00:00:00
Since getting the set everything I''m looking for is in the one place and easily identified.
---
par : David H
2017-10-07T00:00:00
what a great set of drills and accessories ive used this kit lots of times since my purchase and its great I recommend this kit to any one who loves diy etc.
---
par : Brian t
2017-05-06T00:00:00
The set has almost all the drill bits you would need some longer masonry bits would be better in my line of work but that''s the only bad thing I can say, Been using this for a couple of weeks they are still sharp and thought would recommend this for trade and diy, If you have this set just for the home you will not need to ever buy another drill bit again
---
par : Salvatore L
2017-02-09T00:00:00
Excellent product. Contains all that a diy enthusiast needs for their project. Packaged in a well organised carry case highly recommend it.
---
par : Connor B
2017-01-19T00:00:00
perfect for anyone how has just moved in to a new house contains everything you need to get you out of a pickle.
---
par : Alex
2017-01-13T00:00:00
The carry case is well designed, you can open either end like a normal case or open the whole thing out so everything is on display, however, often when opening I find that one or two of the drills have dropped out of position and are rattling around. Not a major issue mind you, happens with most cases. I haven''''t used most of the tooling yet, but the drills do what you''''d expect, cutting through wood and steel with no problem. No loss of sharpness yet either after medium use. The spade bits and holesaws are a useful inclusion and will prove handy in future as needed, save me buying additional sets of drills. Just about everything you could need for home DIY and most commercial applications at a decent price.
---
par : Dylan L
2016-11-19T00:00:00
I have a number of Silverline tools and have been disappointed with none of them so far. They have all been robust and durable (I do a lot of DIY and work on cars/motorbikes. I had an ageing drill bit set that came with an AEG drill I bought a few years ago and many of the smaller bits had snapped on me so I decided to give this Silverline set a try with it containing just about anything &amp everything I think I may ever need. Well, so far it has not disappointed, working great with everything I have thrown at the various bits. I do use cutting fluid with the smaller bits to help stop them overheating but nothign has broken yet and all have performed well. The bits are all finished to a high standard, not having any random swarf hanging on them and all are straight &amp true. Overall, I am very happy and at the price you would be really silly not to give them a try.
---
Garantie à vie
Ce produit Silverline est garanti pendant une période de 30 jours à partir de la date d'achat contre tout vice de matériaux ou défaut de fabrication. Vous pouvez obtenir une garantie à vie en enregistrant votre produit en ligne. Tout bien présentant un défaut sera réparé ou remplacé gratuitement.