868868
Pince à circlips 5-en-1
160 mm
---
---
En acier chrome-vanadium
Sert à la pose et au retrait de circlips internes et externes
Fournie avec 4 mâchoires interchangeables
2 mâchoires droites, 1 à 45° et 1 à 90°
Poignées en polypropylène avec protections antidérapantes
---
Achetez en ligne
Trouver un magasin
Évaluez ce produit
31 évaluations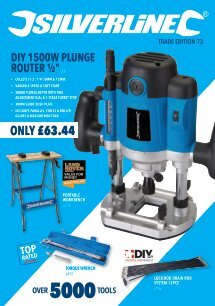 ---
Caractéristiques techniques du produit
| | |
| --- | --- |
| Capacité - mâchoire | 20 mm |
| Poignée/manche - primaire - finition | Plastique |
| Poids du produit | 0,105 kg |
---
Caractéristiques principales
Pince en acier chrome-vanadium servant à la pose et au retrait de circlips internes et externes fournie avec 4 mâchoires interchangeables : deux droites, une à 45° et une à 90°. Poignées en polypropylène avec protections antidérapantes.
---
Contenu
Pince à circlips 5-en-1
4 mâchoires
---
Évaluations de clients
par : David M
2020-05-03T00:00:00
I needed to remove one circlip and refit to fix my bike, and the plier''s had paid for themselves Job done. These plier''s are four in one , four different heads, not the strongest out there but with a bit of care should do the job for years to come.
---
par : Phil K
2020-04-30T00:00:00
The ends are a little miss-matched and the overall tool is not the most robust. But ultimately they did the job I bought them for and I''m sure for the light usage that I require, they''ll last a lifetime
---
par : James
2020-04-25T00:00:00
Circlip pliers do the job you need them to do, good price especially for a lifetime guarantee, remember to register the product, never know if it''ll come in handy years down the line!
---
par : Matt S
2020-04-17T00:00:00
Good product used a couple of times on my car; additional jaws make certain jobs easier to access.
---
par : Jorge
2019-11-13T00:00:00
---
par : Jorge
2019-11-06T00:00:00
---
par : Graham
2019-10-30T00:00:00
Exactly what I wanted and delivered in a timely manner. Definitely recommend this firm and their products.
---
par : christophe
2019-10-09T00:00:00
we clever tool, you can deal with all circlips with one tool, and easy to change
---
par : Yvon
2019-10-03T00:00:00
---
par : C F
2019-08-30T00:00:00
only £2 33 on Amazon and lifetime GT what,s not to like!
---
par : C F
2019-08-23T00:00:00
very happy with the tool job done.
---
par : Toni R
2019-08-10T00:00:00
Very good quality products with reasonable prices for DIY builder like me. Very satisfied for lifetime guarantee which gives lot of confidence to purchase Silverline tools.
---
par : Alan
2019-04-18T00:00:00
Excellent product multi head system saves having a tool box Full of circlip pliers handles all sizes and strengths of circlips
---
par : Brendan
2019-04-12T00:00:00
Excellent kit with easily interchangeable heads for different types of circlips, both internal and external. Good value.
---
par : Adrian W
2018-07-20T00:00:00
These arrived promptly and are useful for my DIY car and bike repairs. They seem to be well made and solid and are now part of my toolbox.
---
par : Chris G
2018-04-19T00:00:00
Picked these up cheaply to help with a DIY bike repair. Did the job that was intended and will no doubt come in handy for future repairs or other household jobs. As always, you get a great warranty with Silverline so can''t go too wrong.
---
par : Richard J
2018-03-24T00:00:00
These do the job great. Needed to remove circlip from door handles to replace springs. These are great for the task.
---
par : john d
2017-06-07T00:00:00
Great tool for a great price.
---
par : oneal
2017-06-02T00:00:00
Just as it says on the tin. Good quality tools made live a lot easier.
---
par : henry
2017-04-27T00:00:00
pratique pour un usage occasionnel, on peux enlever tout type de circlips
---
par : Bees
2017-04-03T00:00:00
good simple plyers wich will do the job!
---
par : Kyle A
2016-11-27T00:00:00
The circlip pliers are great value for the very cheap price and they do the job as fixed pliers but for a much cheaper price.
---
par : willie f
2016-11-12T00:00:00
just what i''''ve always wanted!
---
par : David R
2016-10-31T00:00:00
I never thought I''''''''d ever need this tool! But,now that I''''''''ve got it I''''''''m putting it somewhere safe. I''''''''d have been ''''''''snookered'''''''' without it.
---
par : Paddy H
2016-10-10T00:00:00
stable multi-functional tool for small Money. nothing wrong. I would buy it immediately again.
---
par : Sam
2016-10-10T00:00:00
Very good quality and with the lifetime warranty can''''t be beaten.
---
par : Simon
2016-09-26T00:00:00
---
par : Robert K
2016-09-26T00:00:00
The circlip pliers are just what I was looking for at an extremely good price. They have four different heads to cover all my requirements. Would definitely recommend this product.
---
par : Niall O
2016-09-26T00:00:00
Good product. Suitable for both external/internal cir-clips. Packaging handy for storage.
---
par : Terry
2016-09-13T00:00:00
Great value product with easy quick change heads for multi uses.
---
par : John T
2016-09-06T00:00:00
Universal tool covers all aspects of dealing with circlips with a Silverline bargain price
---
Garantie à vie
Ce produit Silverline est garanti pendant une période de 30 jours à partir de la date d'achat contre tout vice de matériaux ou défaut de fabrication. Vous pouvez obtenir une garantie à vie en enregistrant votre produit en ligne. Tout bien présentant un défaut sera réparé ou remplacé gratuitement.