999666
Projecteur rechargeable 1 million de candelas
118 lumens
---
---
Corps résistant au chocs, usage intensif
Poignée double position permettant une utilisation en style pistolet ou torche
Batterie hermétique intégrée
Éclairage 118 lumens
Chargeur secteur et chargeur voiture inclus
---
Achetez en ligne
Trouver un magasin
Évaluez ce produit
16 évaluations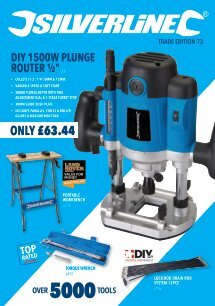 ---
Caractéristiques techniques du produit
| | |
| --- | --- |
| Nombre de batteries/piles | 1 |
| Type de batterie/pile | Batterie 6 V 3 Ah |
| Longueur du câble | Câble d'alimentation - 1 m Câble du chargeur 12 V - 90 cm |
| Fonction 01 | Luminosité max. |
| Puissance lumineuse / lumens | 1 million /118 lumens |
| Puissance | 3,5 W |
| Finition | Lisse |
| Poids du produit | 1,131 kg |
---
Caractéristiques principales
Projecteur ultra-lumineux d'une puissance d'un million de candelas à batterie hermétique intégrée. Poignée double position permettant une utilisation en style pistolet ou torche. Corps de la torche hautement résistant aux chocs. Ampoule 6 V. Chargeur secteur et chargeur voiture inclus. Longueur 206 mm.
---
Contenu
Projecteur rechargeable 1 million de candelas
Manuel d'instructions
1 x chargeur secteur UE/GB
Câble/chargeur 12 V
Lanière de transport
---
Évaluations de clients
par : Nigel C
2018-06-04T00:00:00
I picked the torch up from our local collection point brought it home gave it a charge up and by crikey is it bright. Great for taking in the car incase of emergency or ideal for campers or caravans/fishermen etc.Really pleased I have one of these.
---
par : John P
2017-04-12T00:00:00
The torch is very useful in dark corners when I am repairing items. It has a very bright light and is handy to hang up when I am working
---
par : Philip C
2017-04-06T00:00:00
I wanted a torch that was very bright, had a stand, was light (Excuse the pun) to carry around &amp didn''t need batteries after every couple of uses. I found one and this is it. It''s brilliant (No pun intended) thank you! One very pleased customer.
---
par : Robert P
2017-04-01T00:00:00
Very pleased with this torch, versatile with stand, hanging loops. flat base and good hand grip. Powerful beam and long battery life.
---
par : James
2017-02-01T00:00:00
This is great, it''''ll light up any dark corners of your life! Get prepared for the rolling blackouts, we''''ll defiantly be buying another!
---
par : George C
2017-01-26T00:00:00
Working on the car recently I found that even in daylight the torch was invaluable to see and work underneath.No more blind guessing where parts were.
---
par : Charles C
2016-10-10T00:00:00
The torch failed after two months and has been discarded as it was not fit for purpose.
---
par : Dennis B
2016-10-10T00:00:00
Bought two last December, one for my son, really for emergency use, power cuts etc. Just a charge once a month keeps it functional, a nice piece of kit &amp always have light when most needed.
---
par : Edward G
2016-10-10T00:00:00
This item has proved invaluable, and I can say with all honesty that it was worth every penny.
---
par : Edward C
2016-09-28T00:00:00
First class product, with strong materials of construction .Held charge well no problems so far.
---
par : Jennifer P
2016-09-27T00:00:00
This item is brilliant. It gives excellent light and does exactly what it says on the box. A must for any household.
---
par : John R
2016-09-26T00:00:00
excellent rechargeable torch, used regularly and holds charge well.
---
par : Nigel C
2016-09-26T00:00:00
Bought the torch originally to carry in the car and now it goes everywhere with us. I am really pleased with it and it is so bright and powerful.
---
par : MR H
2016-09-26T00:00:00
this is a very good quality light i have bought silverline products previously this is probably the best it is well thought out for all eventualitys overall a very well priced tool and very robust I had a much dearer one previously which in comparison with this one was utter crap .. very pleased with this purchase....thank you silverline
---
par : john s
2016-09-26T00:00:00
Great torch, long lasting battery life BUT when the bulb went, trying to replace it was not made easy through on line or phone enquiries. So I gave up. Easier to put it in a corner and think about buying another brand where I can get a bulb if I have to.
---
par : Margaret l
2016-08-30T00:00:00
We are very pleased with this purchase.
---
Garantie 3 ans
Ce produit Silverline est garanti pendant une période de 30 jours à partir de la date d'achat contre tout vice de matériaux ou défaut de fabrication. Vous pouvez obtenir une garantie à vie en enregistrant votre produit en ligne. Tout bien présentant un défaut sera réparé ou remplacé gratuitement.