CT20
Mini-pince coupe-boulons
Longueur 200 mm - Mâchoires 5 mm
---
---
Mâchoires en chrome-vanadium
Poignées en plastique avec attache de fermeture
Action composée à fort effet de levier
Capacité max de coupe 5 mm
---
Achetez en ligne
Trouver un magasin
Évaluez ce produit
14 évaluations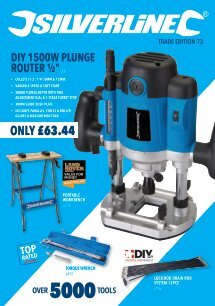 ---
Caractéristiques techniques du produit
| | |
| --- | --- |
| Taille de la lame | 15 mm |
| Largeur de la lame | 4,5 mm |
| Capacité - mâchoire | 2,5 mm |
| Finition | Cadre au phosphate noir |
| Poignée/manche - primaire - finition | Moulé |
| Trempé | Oui |
| Matériau - poignée/manche - secondaire | Polypropylène |
| Matériau - construction secondaire | Acier pressé |
| Matériau - pointe | CS |
| Méthode de fabrication | Forgé / acier pressé |
| Poids du produit | 0,243 kg |
| Style | Coupe au centre |
---
Caractéristiques principales
Mâchoires en chrome-vanadium. Action composée à fort effet de levier, poignées en plastique avec attache de fermeture.
---
Contenu
---
Évaluations de clients
par : Paul R
2020-05-10T00:00:00
These cutters are excellent quality for the price. I bought them to cut chicken wire so that I could protect my potatoes from foxes. They cut through the wire easily so I am more than happy with them
---
par : Dave
2020-04-03T00:00:00
Does exactly what I need it to for a pretty reasonable price! Overall very happy with my purchase
---
par : Steven T
2020-01-29T00:00:00
Great price and good quality. Does the job well
---
par : Tasha
2019-09-10T00:00:00
Does what it's supposed to and very well. It can cut through wire fencing very well if you're strong enough. The grip slid off the handle and was rather oily but once cleaned up and glued back on works a treat now! Just go careful with the glue
---
par : Grahame P
2019-04-18T00:00:00
Bought them to cut through fencing . 140mts of it and it''s still going strong. Small enough to carry in a back pocket and not so clumsy as to get in the way or be to heavy . With a life time warranty what more can you ask for.
---
par : Bernie
2018-02-24T00:00:00
Great product at a good price. Does just what it says on the tin. Very pleased with this purchase.
---
par : John H
2017-09-29T00:00:00
Good tool great value, work really well
---
par : Carl
2017-05-09T00:00:00
What can I really say. They lasted a whole 2 weeks so solid quality. I only cut 1.6mm wire so I expected them to last a little longer.
---
par : DELAVENNE O
2017-04-24T00:00:00
I was very pleasantly surprised by this clamp, it was very useful for my work of masonry, the quality is very good
---
par : F G
2017-04-03T00:00:00
I needed a small pair of bolt cutters for one job - these were just the answer. I tested the cutters on a clout nail and they worked successfully so the job for which they''re needed will be no problem: a bargain to boot!
---
par : John e
2017-02-07T00:00:00
Not a bad product but I find it quite hard to cut thick wire as not really much leverage and does not open very wide , it would be far better getting a larger pair as these are very limited and side cutters would be better , so go for larger ones , but a reasonably good product for price
---
par : Peter H
2016-10-10T00:00:00
The mini bolt cutters are a boon when pliers will not do the job. They are now always in my toolbox.
---
par : Matt A
2016-09-19T00:00:00
I use these mostly for cutting wire reinforcing on coolant hoses, and cutting rivet stems to length - they save a lot of hassle and are also useful to get into tight spaces.
---
par : Peter H
2016-08-22T00:00:00
Reliable, easy to handle, sharp and effective wire cutters. I would buy again if yet another pair disappeared from my workshop.
---
Garantie à vie
Ce produit Silverline est garanti pendant une période de 30 jours à partir de la date d'achat contre tout vice de matériaux ou défaut de fabrication. Vous pouvez obtenir une garantie à vie en enregistrant votre produit en ligne. Tout bien présentant un défaut sera réparé ou remplacé gratuitement.