MS124
Kit cintreuse usage intensif, 3 pcs
---
---
Poignée en acier tubulaire et corps en aluminium moulé robuste
Pour cintrer jusqu'à 180° les tubes en cuivre et aluminium de 15 et 22 mm et inox de 15 mm
Convient à la plupart des tuyaux de plomberie, chauffage et réfrigération
Utilisable montée sur établi, serrée dans un étau, pour des cintrages plus faciles
Fournie avec des guides en aluminium anodisé de 15 et 22 mm
---
Achetez en ligne
Trouver un magasin
Évaluez ce produit
16 évaluations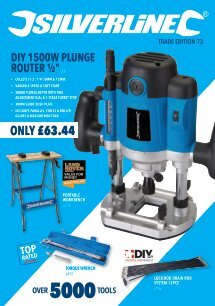 ---
Caractéristiques techniques du produit
| | |
| --- | --- |
| Angle | Max 180° |
| Capacité - tuyau | Tubes en cuivre à 15 mm et 22 mm |
| Finition | Thermolaquage |
| Poignée/manche - primaire - finition | Thermolaquage |
| Méthode de réglage | Poignées |
| Poids du produit | 3,95 kg |
---
Caractéristiques principales
Cintreuse à guide pour usage intensif avec poignée en acier tubulaire et corps en aluminium moulé robuste. Pour cintrer jusqu'à 180° les tuyaux en cuivre et en aluminium de 15 et 22 mm ainsi que les tuyaux en acier inoxydable léger de 15 mm. Utilisable montée sur établi, serrée dans un étau, pour des cintrages plus faciles.Fournie avec des guides en aluminium anodisé de 15 et 22 mm. Compatible avec les guides pour cintreuse Silverline.
---
Contenu
1 x Cintreuse
1 x Guide pour tuyaux de Ø 15 mm
1 x Guide pour tuyaux de Ø 22 mm
---
Évaluations de clients
par : John W
2021-01-12T00:00:00
I have tried all ways of bending pipe using this pip bender all to no avail. The pipe just crinkles. What am I doing wrong and how do I get a good bend I have had to revert to across my knee
Hi Mr Wood, Thank you for your review and we're sorry to see you're having some issues. I have forwarded your review onto our customer services team who should contact you soon to provide some help with this tool. Many thanks, Silverline Tools
---
par : John I
2018-04-30T00:00:00
The bender wrinkled the copper tube every time I tried today use its. I gave taken it back for a refund.
---
par : Chris K
2018-04-10T00:00:00
Rubbish tool, the tool ripples pipe on 15mm and 22mm. flats the bend or at best ovals the pipe, professional plumbers have tried this tool and had same outcome. I would rather use fittings than waste anymore pipe making poor bends! The best place for this is on my scrap pile as it was to late to return this to the shop when I got around to using it. Very dissatisfied,! I had to select 1 star rating as 0 was not available.
---
par : David I
2017-06-11T00:00:00
---
par : M Q
2017-04-27T00:00:00
Absolutely do the job needs to be done. I love it and recommend it to all.
---
par : Alan k
2017-04-24T00:00:00
Very well priced product. However it does leave small ripples on the 1/2 inch pipe.
---
par : Stephen N
2017-01-05T00:00:00
Good quality Worked well with aluminium
---
par : Peter O
2016-10-26T00:00:00
I am using the bender in France where the walls of the copper pipes are slightly thicker than in the UK - I was concerned there might be problems with some of the benders I looked at but as soon as I received the Silverline product I knew it was robust enough and up to the task. I have not been disappointed and, to date, have never had a problem with any Silverline products in my toolbox. As usual, a good product for a good price.
---
par : James k
2016-10-11T00:00:00
---
par : Andy M
2016-10-11T00:00:00
An excellent value piece of kit. Easily bent some 15mm chrome plated copper pipe with no damge to the surface. Quality belies the price.
---
par : Chris L
2016-10-10T00:00:00
these are a good quality,sturdy reasonably priced set of benders
---
par : Bill S
2016-09-27T00:00:00
I''ve had his bender for a while now and its been worth every penny. It''s pulled me out the s*** a few times allowing me to make up varying bends to follow the contours of walls etc.
---
par : Matt
2016-09-26T00:00:00
Very good and a good price
---
par : Dave L
2016-09-06T00:00:00
Very good product and easy to use.
---
par : joseph b
2016-09-05T00:00:00
This is just what I needed, having to plumb a bathroom.Worked fine just had to tighten the hex screw a few times on the roller and a bit of muscle needed for 22mm bends, that''s normal..Good price for bender. .Have used professional benders through work in the past ,This is fine for DIY projects.Happy with my purchase.
---
par : Jonathan
2016-09-03T00:00:00
Solid piece of kit, works very well for both 15 and 22mm pipes - recommended.
---
Garantie à vie
Ce produit Silverline est garanti pendant une période de 30 jours à partir de la date d'achat contre tout vice de matériaux ou défaut de fabrication. Vous pouvez obtenir une garantie à vie en enregistrant votre produit en ligne. Tout bien présentant un défaut sera réparé ou remplacé gratuitement.