123456
Torcia ricaricabile 2 milioni di candele
300 lumen
---
---
Involucro resistente agli urti resistente
Impugnatura girevole per pistola o l'uso di stile tradizionale
Lampada alogena e batteria ricaricabile / 4AH 6V
Uscita 300 lumen
Caricabatterie di rete e in-car incluso
---
Acquista Online
Trovare un negozio
Valuta questo prodotto
18 valutazione/i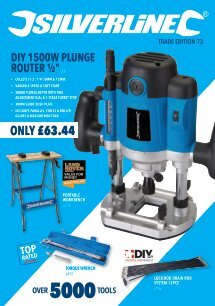 ---
Caratteristiche prodotto
| | |
| --- | --- |
| Quantità batteria | 1 |
| Tipo di batteria | Batteria ricaricabile 6 V / 3 AH |
| Lunghezza cavo | Caricabatteria da presa - 1 m, filo caricabatteria da 12 V - 90 cm |
| Funzione 01 | Luce intensa |
| Candele/Lumen | 2 milioni/ 300 lumen |
| Potenza | 5,5 W |
| Finitura | Liscia |
| Peso prodotto | 1.395 kg |
---
Caratteristiche chiave
Ad alta intensità di 2 milioni di candela torcia potere con integrata, sigillata batteria ricaricabile 6 V / 4 AH. Maniglia si regola per tenere una presa convenzionale o con impugnatura a pistola. Supporto consente il funzionamento a mani libere. Involucro resistente resistente agli urti con tracolla staccabile. Lampadina alogena e lente in vetro temperato. Alimentazione e caricabatterie per auto incluso. Lunghezza 220 mm.
---
Contenuto della scatola
1 x Torcia ricaricabile 2 milioni di candele
1 x Cinghia
1 x Caricabatteria per auto
1 x Caricabatteria e adattatore EU/GB
1 x struzione
---
Valutazioni da parte dei clienti
da M Hunter
2019-01-07T00:00:00
Silverline say this will last for an hours use when fully charged. Wrong. Mine lasts 19 minutes and then goes out.
---
da Rob Jones
2017-12-15T00:00:00
---
da maurice gaston
2017-10-10T00:00:00
maurice GREAT ITEM. BIT ON THE LARGE SIDE BUT SMASHING FOR LARGE AREAS.
---
da robert morgan
2017-04-20T00:00:00
very satisfied with my silverline rechargeable torch 2millioncandle power. good product , well made ,Good value, nice price
---
da Peter Croft
2017-03-30T00:00:00
Excellent quality. So bright. Good handles. Comes with carrying strap and connection to charge in car lighter socket.
---
da Nitesprite
2017-03-14T00:00:00
Robust, heavy duty torch with excellent light output. Positive on/off switch unlike others I have tried, comes with adjustable handle + stand. Great value for money in my opinion. Not had the torch long enough to weigh up battery life but good instructions for prolonging the life of the battery.
---
da ALEXANDER McCOLM
2017-03-04T00:00:00
This is a really handy torch to have handy around the house , as we are subject to power cuts over the winter months,also handy to carry in the car.
---
da Lorna van Zyl
2017-02-04T00:00:00
Good beam, but not maybe the best on market. I like the stand. The downside is its weight, it is heavy to carry when out walking.
---
da Patricia joslin
2017-01-13T00:00:00
This is a great purchase and saw we experience a lot of power cuts where we live ''''''''''''''''tis torch enables to be able to find our away around.
---
da Claire
2017-01-13T00:00:00
Excellent product, very powerful light! Very useful handle/stand. Easy to recharge. Great product and service.
---
da Jeremy J Lassen
2016-12-13T00:00:00
The Silverline rechargeable torch is a very useful and well designed unit, I bought mine via H Tech one of their resellers. The torch''''s hanging strap means that it can be located anywhere on a wall in the garage/shed etc, also, the carrying handle and the sit-up stand are perfect for setting the torch to illuminate a specific area.Unfortunately, my first unit failed during the warranty period, but I contacted Silverline via Amazon''''s ''''contact the vendor link'''' and I received a free replacement unit within a few days. Very good service and I am a satisfied customer.
---
da Diane Froggett
2016-12-03T00:00:00
This torch is much better than it looks on-line, it is heavy duty and has a brilliant beam, I am sure my brother-in-law will be pleased with his Christmas gift this year.
---
da joe
2016-11-28T00:00:00
easy to use, several charging options,
---
da Anthony Ball
2016-11-22T00:00:00
Product arrived quickly and was exactly what I needed, to use as a portable spotlight for an amateur dramatic production. You could even mention this idea in your promotional litriture.
---
da Mark Gunn
2016-11-16T00:00:00
Good torch, comes in handy for walkin dog in these dark nights, can''''t wait to take it camping with us next week and see if full potential, only downside is I had to make a bigger strap to loop it over my shoulder.
---
da Sheila Broadfoot
2016-10-20T00:00:00
Fantastic so easy to use. Bright as a million candles
---
da Ed Turner
2016-10-10T00:00:00
The torch works well and appears to have a reasonably long life after charge. It would benefit from the on off switch being close to the handle on the torch
---
da Steve Baker
2016-09-05T00:00:00
I actively look for the Silverline make now due to the quality, price and guarantee. This torch is typical of things I have bought recently and has all the attributes above.
---
Garanzia
Questo prodotto Silverline Torcia ricaricabile 2 milioni di candele è garantito per un periodo di giorni dalla data di acquisto contro qualsiasi difetto di materiale o di fabbricazione. Puoi registrare il tuo prodotto 3 anni online. Un articolo difettoso sarà riparato o sostituito senza spese.