128999
Fresatrice lamellare 900 W
900 W (UK)
---
---
Solida guida in alluminio con un angolo che varia tra 0º e 135º
Quadrante e pulsante di blocco
Legno duro e legno dolce
Porto di estrazione della polvere con sacchetto raccogli polvere
Compatibile con lamelle di dimensioni #0, #10 e #20
---
Acquista Online
Trovare un negozio
Valuta questo prodotto
17 valutazione/i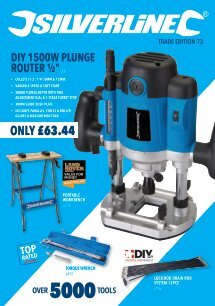 ---
Caratteristiche prodotto
| | |
| --- | --- |
| Diametro lama | 100 mm |
| Altezza | 0 - 30 mm |
| Protezione IP | IP20 |
| Potenza | 900 W |
| Velocità a vuoto | 10.800 giri/min. |
| Estrazione polvere | Sì |
| Peso prodotto | 3,55 kg |
| Campo conico | 0 - 135° |
| Profondità max. di taglio | 0 - 19 mm |
| Materiale - guardia | Guida alluminio |
---
Caratteristiche chiave
Nessun utensile più della fresatrice lamellare 900 W può aiutarti a raggiungere i risultati migliori al prezzo più conveniente.
Per i vari tipi di giunzione non c'è nessun utensile migliore della fresatrice lamellare. L'idea di creare una "tasca" e di inserirvi una lamella che agisce come cerniera stazionaria venne a un falegname svizzero nel lontano 1956. La nostra fresatrice lamellare utilizza questa stessa tecnica con l'aiuto però di un motore da 900 W, cosa che permette di portare a termine un lavoro in tempi brevi e con il minimo sforzo.
Le caratteristiche di questo utensile professionale ti donano la sicurezza necessaria per portare a compimento lavori di ebanisteria e di falegnameria al meglio.
I perfezionisti potranno sfruttare al meglio la precisione della regolazione della profondità di taglio tra 0 e 19 mm, mentre la solida guardia in alluminio con un'angolazione che varia tra 0° e 135° permette un'ampia varietà di tagli.
Compatibile con lamelle Silverline da 0, 10 e 20 (245065, 457012 e 598520).
---
Contenuto della scatola
1 x Fresatrice lamellare 900 W
1 x Chiave esagonale
1 x Sacchetto per la polvere
1 x Guardia
1 x paio di spazzole di ricambio in carbonio
1 x Manuale di istruzioni
---
Valutazioni da parte dei clienti
da Robbie H
2017-02-01T00:00:00
Great price but biscuits are a bit tight
---
da Peter A
2016-10-10T00:00:00
The first one was broken in one day but sevice is great ! the second one is still going !!
---
da SEGUIN A
2016-09-15T00:00:00
Good product, easy to use
---
da Norman D
2016-09-12T00:00:00
I bought the 900W biscuit jointer to help me with large picture framing. Because of the cost of buying frames or having them made, I decided to have and go and make them myself. However it was difficult to joint the large frames with traditional methods so I decided to purchase the biscuit jointer. It has proved a very easy tool to use, it is robust but manageable and I have so far successfully produced half a dozen perfect frames. I have bought several Silverline products in the past so knew it would be reliable, well made and a good price.
---
da Peter
2016-09-12T00:00:00
Good working robust machine
---
da Steve S
2016-09-12T00:00:00
Excellent value for money would suit a DIY person easy to use used it several times and still gives a good clean cut would recommend this product especially at the price
---
da derek h
2021-06-09T00:00:00
made my diy jobs so much easier brilliant tool
---
da Ron
2020-06-01T00:00:00
Worst quality tool I have ever purchased. When I received it, it would not retract after cutting a buiscuit slot. Dissassembeled it to see problem and the tool hase been fitted together with what seems to be an angle grinder as the sliding fitting was binding Tried to get warranty service but Silverline want me to return it to UK at my expense which would cost close to the cost of the tool. Will throw it in the garbage as it is not usable, even dangerous. Will never buy another Silverline tool.
---
da Shaun M
2019-12-25T00:00:00
Polite,business-like ,fast delivery not the cheapest but good quality.
---
da Dave
2019-08-22T00:00:00
I am only a hobby wood worker and this is my first attempt at biscuit joinery. This is the bees knees so easy to use. It seems solidly made and so far I happy with it.
---
da Keith t
2019-05-31T00:00:00
Bought one of these about 2 weeks ago familiarised myself with it and my conclusion of it is that alot of improvements to the quality of it without much cost would make it alot better machine 1 put a decent blade in it 2 put a metal bottom plate not plastic on it 3 make the depth gauge relate to biscuit sizes i.e. 0 10 20 Not much really is it without much cost
---
da Mike P
2018-11-30T00:00:00
I brought this because it was very reasonably price and after doing a lot of research fitted in with what I do in my workshop, the Biscuit Joiner is 900 watt which is plenty of power, the tool is very well build and the feel when using it is very comfortable, the setting are well mark on the cutter and the instruction for use are layout very well and easy to understand, also a lot of videos on the internet and silverline have there own channel on YouTube . The power cord or wire is over six feet which is plenty long enough, the cutting for the biscuits is spot on and the dust bag does the job Just build some cupboards for the workshop and I am more than pleased. I would recommend this tool to anyone thinking of buying or replacing an older tool.
---
da Gordon C
2018-10-05T00:00:00
Have only used it three times but it does what I want it to do. Sturdy tool.
---
da Jesus M
2017-05-31T00:00:00
---
da Martin w
2017-04-12T00:00:00
Great tool really pleased with it .
---
da M.wykes
2017-04-07T00:00:00
Absolutely useless made 12 joints and motor seized up had not registered for warranty as Christmas present and too old from date of purchase to register don''t know about industrial quality it''s not worth the space it takes up in the workshop
---
da Mike L
2017-03-16T00:00:00
For the price a good sturdy machine that feels it will stand the test of time used in the DIY environment. Reasonably easy to adjust the settings but do not rely on the scales provided. This really applies to all low end machines. A good ruler used accurately will produce good results. The depth adjustment is not marked with the "0", "10", "20" biscuits sizes but 0,2,4,12,19,7,5. Haven''t worked why but settled on a number that gave me a close fitting for the biscuit size I was using. I found I had to adjust the depth stop slightly to ensure a good fit but again this was a fairly easy thing to do. It produces a clean cut. So far the blade seems fine but have only used it with softwoods so far. All in all a good machine for the price and a lot better than some of the more expensive machines I looked at. One Happy Chappie.