226092
Scaletta
475 mm - 2 scalini
---
---
Tubo di acciaio con piedini antiscivolo
Ampi gradini antiscivolo
Altezza della piattaforma di max 475 mm
Carico massimo 150 kg
Dimensioni da piegata 375 x 65 x 880 mm
---
Acquista Online
Trovare un negozio
Valuta questo prodotto
9 valutazione/i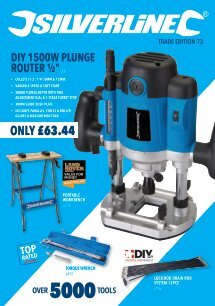 ---
Caratteristiche prodotto
| | |
| --- | --- |
| Capacità - peso | 150 kg |
| Tempo di montaggio | 5 secondi |
| Finitura | Verniciata a polvere |
| Peso prodotto | 3,75 kg |
---
Caratteristiche chiave
Scaletta pieghevole in acciaio tubolare con 2 ampi gradini antiscivolo. Impugnatura morbida e piedini antiscivolo. Pieghevole per una facile conservazione. Carico massimo 150 kg. Peso 3,75 kg. Altezza della piattaforma max 475 mm. Dimensioni da piegata 375 x 65 x 880 mm. Certificata per uso domestico secondo la EN14183:2003.
---
Contenuto della scatola
1 x Scaletta con impugnature di gomma a due gradini e 4 piedini
1 x Istruzioni di sicurezza
---
Valutazioni da parte dei clienti
da Raj P
2020-06-25T00:00:00
The front legs of the step stool stays on the ground at a steep angle, piercing the plastic feet. Eventually it will end up damaging the flooring with several marks.
---
da Tamas G
2020-01-02T00:00:00
I would recommend this product for anyone how wants to get things done with a small ladder like this.
---
da Tamás
2019-12-26T00:00:00
Very good product. Very good size. Good construction. Recommended.
---
da Diane S
2019-12-01T00:00:00
Being quite small I decided to purchase a set of small steps so started searching online for a stylish set to put in my kitchen. I wanted a lightweight but sturdy set to access the top cupboards safely. These steps are great and ticked every box. As an added bonus they came with a lifetime guarantee. Great result!
---
da Graham W
2019-08-27T00:00:00
Great little step ladder - very sturdy yet lightweight so very easy to move and erect.
---
da Sue E
2019-01-28T00:00:00
Folds flat and really strong. Good price.
---
da Mark S
2017-03-16T00:00:00
Step ladder is really useful and great value
---
da Miss J
2017-02-16T00:00:00
We have been delighted with these ladders they are very light but stable and ideal for tucking away in the kitchen. We would recommend them to anyone who may need to reach into high cupboards or clean windows
---
da Diane L
2016-10-11T00:00:00
Very useful steps, right hight for most of my jobs. Good size platform to stand on, but takes up no room when folded. Recomend to anyone.