249765
Utensile rotante multifunzione 135 W
135 W (UK)
---
---
Controllo a velocità variabile e blocco mandrino
2 anelli di serraggio 2,4 mm e 3,2 mm
Utensile multifunzione di precisione per lavori di dettaglio, smerigliatura e lucidatura
Con foro per appendere e un kit di 43 p.zi di cilindri abrasivi e dischi,
mole per smerigliare, spugne lucidanti e una custodia resistente
---
Acquista Online
Trovare un negozio
Valuta questo prodotto
58 valutazione/i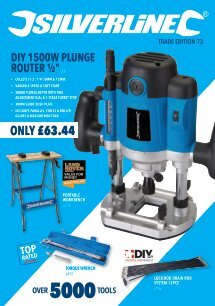 ---
Caratteristiche prodotto
| | |
| --- | --- |
| Protezione IP | IP20 |
| Potenza | 135 W |
| Velocità variabile | Si |
| Velocità a vuoto | 8000-32500 giri/min. |
| Peso prodotto | 0,66 kg |
---
Caratteristiche chiave
Utensile rotante multifunzione con attacchi per tagli dettagliati, levigatura, lucidatura, ecc. Controllo di velocità variabile e blocco fuso. 2 anelli per mandrino da 2,4 mm a 3,2 mm. Con foro per appendere. Velocità a vuoto 8000-32.500 giri/min. Include un kit di 43 p.zi di cilindri abrasivi e dischi, mole per smerigliare, spugne lucidanti e una custodia resistente.
---
Contenuto della scatola
1 x Utensile rotante multifunzione 135 W
1 x Punta da trapano da 3 mm
1 x Punta da trapano da 2 mm
1 x Mandrino a disco
1 x Punta diamantata a sfera
1 x Mandrino con feltro
1 x Punta diamantata conica
1 x Spazzola in acciaio
1 x spazzola in nylon
10 x Pietre abrasive (varie punte)
3 x Dischi abrasivi
8 x Dischi da taglio
2 x Ruote lucidanti da 25 mm
2 x Ruote lucidanti da 12 mm
1 x Mandrino a tamburo
4 x Tamburi abrasivi
2 x Anelli metallici 2,4 mm e 3,2 mm
1 x Chiave
1 x Manuale d'istruzioni
1 x Custodia
---
Valutazioni da parte dei clienti
da Darren W
2020-04-26T00:00:00
I purchased this tool to help with restoring my caravan. It's just what I need to repair damage to fibreglass.
---
da Lewis M
2020-03-29T00:00:00
Works but not very good quality. Good customer service and support
---
da Bernard B
2019-11-26T00:00:00
Used click & collect-superb service. Tool exceeds my expectations. Sturdy tool and all in a case with the tools to go with it.
---
da David T
2019-10-31T00:00:00
Excellent versatile tool. Does exactly what I bought it for. Delighted.
---
da mr b
2019-08-08T00:00:00
nice little tool that is very controlable in tight spaces just right for the tight spots of cleaning up small carbs
---
da Steve M
2019-07-22T00:00:00
Bought with one job in mind however was able to use it on two other jobs I hadn't even thought of. Should have bought one years ago. Brilliant!! Instructions aren't great I started off using the wrong shroud.
---
da rennie p
2019-07-16T00:00:00
it doesn''t get in its title , multi-function, for no reason, this tool is really revolutionary, and so versatile, have yet to find a job, it not capable of doing.
---
da Billy l
2019-06-01T00:00:00
The dremel I brought is a great little took if your starting out wood working as it''s cheap yet good quality it''s a little chunky to hold to start with but once you get used to it it''s easy to use
---
da Aqua P
2018-11-22T00:00:00
Gotta still learn what certain router bits have as implications to plastics and what speeds are best and stuff but I already made good use of this machine! Cutting PVC, routing holes, sanding edges, removing internal ledges that are otherwise impossible to get rid of...
---
da chris j
2018-11-03T00:00:00
easy peasy lemon squeezy , should have brought one ages ago
---
da Daniel T
2018-11-01T00:00:00
I was pleasantly surprised by this rotary tool. I was under the impression that I was settling for a cheap tool for craft purposes - but it doesn''t feel like settling at all. The tool is well-crafted, has a comfortable grip, and has a range of power that lends smooth control to a range of little jobs. I''ve cut metal and resin comfortably and under full control using ordinary cutting disks, and it has the precision of tip for edging and drilling as well. The provided accessories are a reasonable basic range for a variety of tasks - I went weeks without needing to dig into my huge-range-of-rotary-tool-tips box. The range of chucks isn''t quite as large as I''d like for my (craft) purposes; 2mm is about the minimum whereas I would often like to use a 1mm drill bit. That very minor niggle doesn''t alter the fact that this tool is an excellent bargain, and I''ll be glad to buy from Silverline again.
---
da asim
2018-09-26T00:00:00
I''ve always wanted a dremel for diy crafts around the house. Or like inside a laptop to cut away some plastic etc. Of. Course dremel is a brand like stanley. Anywho ive always thoughtrotary tools were expensive. Till i actually looked in the catalogue. Theres a fair amount of bits. But i didnt recieve all of the ones in the pic on box. However staff in shop showed inside another box the same amount of bits
---
da Jonathan H
2018-09-12T00:00:00
Great little kit with an excellent bit kit. Great for those hard to access areas in the home during a DIY project. Great value for money. Totally recommend this product from SilverLine.
---
da Steve H
2018-07-16T00:00:00
What a lifesaver! This tool was bought to help me remove a couple of seized cylinder head bolts on my motorbike. In addition to my armoury of other tools this rotary tool was invaluable. I also purchased the flexi shaft extension tool with it which enabled me to get into tight nooks and crannies. I''d thoroughly recommend it for the price paid. It is not a tool that you can ''hammer'' but if looked after will serve you well.
---
da Peter s
2018-06-19T00:00:00
Great rotary tool, fits easily in hand for ease of use,variable speed is a bonus helps for hard or easy work , good selection of accesories included all backed up with a great warranty of 3 years
---
da Ian H
2018-05-30T00:00:00
Replaced my old silver line rotary tool with exactly the same model as it had an excellent balance of power and control for fine sanding jobs on wood plastic and metal. I tried other models but they were not up to it.
---
da ben h
2018-05-01T00:00:00
For the money it can't be beaten.
---
da CRAIG N
2017-11-26T00:00:00
Bought this because it does everything I''ve used silver line tools before and theve never let me down ,even got some for my dad and he says the same having bikes you need something you can relay on and these fit the bill exactly, what you get in this kit is fantastic loads of different attachments that will keep the average diy''er amused for hours it''s well made and comes in a protective case to protect it highly recommend.
---
da Berrie v
2017-10-23T00:00:00
This easy to use multitool is perfect for fine detail work. It fits perfectly in my hand. I will have a lot of fun with the multitool in ths future and will finish a lot of my projects with the multitool.
---
da Rob W
2017-09-17T00:00:00
Bought this tool instead of a Dremel mainly because it was a fraction of the price. I do have several Silverline tools and like them, this rotary tool is of excellent quality. The case and storage section is pretty flimsy and really needs to be re-engineered and could come with more accessories. However the tool itself is powerful and well balanced, excellent for hobby use.
---
da martin p
2017-07-21T00:00:00
Excellent item it is perfect for my moddeling jobs. I would recvomend it.
---
da Dan V
2017-07-10T00:00:00
I was seriously impressed when I received this great piece of kit. A reliable, variable speed rotary tool is hard to find at a reasonable price but, Silverline have achieved it with this product. It comes packaged in a tough plastic carrier with more than enough attachments to get you going right out of the box. Whether your a craftsman, DIYer or hobbyist - this is the 135w Multi-Function Rotary Tool for you.
---
da John
2017-05-20T00:00:00
This is my first Silverline powertool, after good experiences with a Silverline diamond cutting disc for my grinder I decided to try the multi function rotary tool. My other power tools are usually more expensive brands, but I wanted to see what a cheaper tool would get me. I was quite impressed by the accessories and plastic case included. The case is a bit small, it is hard to squeeze the cord in, and not much space for many more attachments that you might have. The tool itself feels pretty sturdy. I like the ability to change the speed. The buttons have a decent feel to it. The outside of the tool feels like decent quality plastic, no rubber or other fancy materials. It is a bit bulky, especially near the tip this is a problem for detail work. The flex shaft might be helpful. The tool does not get hot while using it. I started at lower RPMs to get a hang of it. The tool is less powerful at low speeds, and the speed drops when you push too hard and you need to reduce pressure to prevent damaging the motor. Nowadays some expensive tools have electronic speed control that try to maintain a constant RPM by providing more power under load, this one obviously does not. The spindle lock button is a bit fiddly. The spindle needs to be turned more than I expected before you can depress the button. I only put in the tools hand tight without the included wrench, but sometimes they came loose. The power cord is a tad on the short side when you have it plugged in on the floor. Half a meter extra would have been nice. Nevertheless, considering the price of the tool I think it is a very fair deal, I will definitely consider Silverline tools again in the future when I need something new.
---
da Elias K
2017-04-18T00:00:00
My first impressions are excellent. If this tool proves it self in terms of reliability as well, than I think you got another loyal customer.
---
da Les M
2017-04-16T00:00:00
I found the tool easy to set up and use and completed the job I required of it without a problem.
---
da Gaby W
2017-04-04T00:00:00
---
da Barrie P
2017-03-24T00:00:00
First class Tool perfect for the work I need it for, also very good service, would be happy to recommend.
---
da Barrie P
2017-03-17T00:00:00
This is a very good Tool it is perfect for the work I need it for. I highly recommend this product, and the service has been first class.
---
da Mark
2017-02-07T00:00:00
Was a little wary about buying this after reading some reviews.Though overall most were positive.Came supplied in a molded case with a few bits to get me started.Adjustable speed.Comfortable to use.So far I am pleased with the performance.
---
da Dave o
2017-02-04T00:00:00
It was just what I was looking for and did the job well
---
da Ediks d
2017-01-30T00:00:00
Looks like good tool. So far so good
---
da tony w
2017-01-26T00:00:00
real good value product,well made and easy to use,good selection of tools and comes in a nice compact carry case.
---
da Mark H
2017-01-21T00:00:00
This is a well put together tool that has plenty of power and unlike some of its competitors, fits the hand nicely. Easy to use, I like the adjustable speed control for different tasks. I could list some or the variety of jobs it can help you with, but invariably, you will find more!
---
da Daran T
2017-01-20T00:00:00
Great piece of kit for the money, good quality and high speed Only used once up to now, but worked a treat in a tight space
---
da Hilary A
2017-01-14T00:00:00
This little machine is proving very useful. It is nicely put together with so many uses, and is great value for money compared with like products. It comes highly recommended.
---
da J M
2016-11-07T00:00:00
Used only a few times mostly with the flexi drive. Like it a lot and would recommend, unlike others who have reviewed this I have no problems with the locking pin, but then I only pinch tighten the collet finger tight and do not use the spanner provided. Unfortunately no instructions with the flexi drive and it was only when the spring shaft fell to the floor I worked out how to connect it.
---
da J M
2016-10-31T00:00:00
Love it have used cordless ones in the past but they had no power in them so bought this. Used for polishing and wire brushing and had no problems with it. Read previous reviews about how the locking pin keeps breaking. I have had no such problems but then again I am only pinching up the locking nut by hand so not using the tool provided. Have found this to be tight enough.
---
da Paul B
2016-10-02T00:00:00
On starting the Rotary Tool, I became aware of a loud screeching noise from the front (chuck) end of the tool. My first reaction was to return under the 3 year warranty, but with a non refundable shipping cost over half the cost of the tool, I decided not to. Noticing the screech could be stopped by squeezing the tool over front bearing housing, my 40 years of experience as an Engineer in the Ball and Roller bearing industry strongly suggested that the front bearing was skidding inside its housing. Stripping the tool down confirmed this. The amount of free clearance was not great and I was able to pack out the bearing housing with a strip of paper (0.1mm thick), width = bearing width, length = circumference of bearing. On reassembly no screeching, the problem was cured. The rotary tool now runs perfectly and is a valuable addition to my tool kit. If it had not been for this issue, I would have awarded 5 stars rather than 3.
---
da Dennis
2016-09-26T00:00:00
This is my second 135 Multifunction Tool. My first lasted many years and did much work before finally wearing out. Has plenty of power for those little tasks. The Spindle Lock Button needs a solid press to prevent it from slipping when inserting a new tool but that''s my only criticism. I will still give it five stars.
---
da Roy R
2016-09-13T00:00:00
Very useful tool has many uses could not do some jobs without it
---
da Mat
2016-09-13T00:00:00
Good quality inexpensive tool. Comes with a lot of pieces and accesories.
---
da mrs j
2016-09-12T00:00:00
I am very satisfied with the product and feel it is very good value for money
---
da R B
2016-09-12T00:00:00
It is small and very controllable making it ideal for fiiddly jobs that normal tradition tools cannot manage whilst at same time powerful enough to cope with many jobs that one would think were impossible to manage. I would certainly not want tobe without it.
---
da stephen j
2016-09-12T00:00:00
this is a very useful tool and has many uses and lots of accessory''s .
---
da Tahariq D
2016-09-12T00:00:00
I have had this multi tool for more than 2 years,and i purchased this to replace a Dremal and i can say that this on a par with the Dremal,or if uou take in consideration the cost of ourchase and the free extended guarantee then this is in my opinion better value.
---
da Mr j
2016-09-12T00:00:00
Good quality at a great price and fast delivery
---
da stephen b
2016-09-12T00:00:00
This is my 3rd multy tool the first 2 being Dremmels.This one is not only cheaper but far better and more reliable
---
da Ray
2016-09-12T00:00:00
Great product, great price, very happy.
---
da Steve
2016-09-12T00:00:00
Great for polishing my watches and jewellery
---
da Mat
2016-09-12T00:00:00
Good useful tool, I had no issues, working as expected. Comes with lots of accesories.
---
da John B
2016-09-05T00:00:00
What a great piece of kit to have to hand for some of those tiny jobs where a hand tool would be nigh-on impossible to use - I just love it !!
---
da Peter G
2016-08-30T00:00:00
Great all round tool as the name implies. No job too small or too big for this beauty.
---
da David T
2016-08-18T00:00:00
I bought this after my last, much more expensive branded rotary tool gave up the ghosty with what I thought was modest use. My Silverline product has been put to some harsh, prolonged use over the last few months and has excelled at cutting, sanding and sharpening and I have been exceptionally impressed with the quality of the tool and accessories. I would not be without it and it has represented excellent value for money and I will definately look at other Silverline products following on from this experience.
---
da Bob
2016-08-17T00:00:00
I bought this from Toolstation, lasted about 20mins on light load &amp died. Toolstation replaced it without a problem. The new one seems fine and did the job I bought it for. Good value tool.
---
da Hugo L
2016-08-15T00:00:00
This tool is well made and solid. It is easy to use and has proved very useful for small jobs. So far the accessories are lasting well. There are a good range of accessories available from Silverline and I am looking forward to trying some.
---
da Kamran
2016-08-11T00:00:00
Cheap and cheerful. A tiny under powered a little noisy and vibration but well worth it for the price.
---
da David
2016-08-09T00:00:00
Great tool for small DIY jobs and hobby crafts. Excellent price compared to the leading brand but seems just as effective so far.
---
da Anthony B
2016-03-16T00:00:00
Bought a previous model in 2004 still going strong as good as new just started to acumulate accesories for itbetter than dremel