251239
Set di coltelli e lame 51 p.zi
51 p.zi
---
---
Impugnature in alluminio
Custodia con strisce magnetiche per sorreggere le lame
Pietra affilante al carburo di silicio
Include 7 impugnature in alluminio, 37 lame assortite e 5 punte di ago
---
Acquista Online
Trovare un negozio
Valuta questo prodotto
9 valutazione/i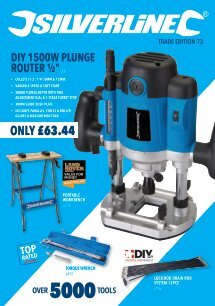 ---
Caratteristiche prodotto
| | |
| --- | --- |
| Finitura | Liscia con impugnatura zigrinata |
| Peso prodotto | 0,682 kg |
---
Caratteristiche chiave
Impugnature in alluminio. Affilati e particolarmente facili da maneggiare per lavori che richiedono particolare accuratezza. Custodia con strisce magnetiche per sorreggere le lame. Include 7 impugnature in alluminio, 37 lame assortite e 5 punte ad ago con pietra di affilatura.
---
Contenuto della scatola
6 x portalame per bisturi il alluminio con impugnatura zigrinata
---
Valutazioni da parte dei clienti
da Jason A
2020-02-12T00:00:00
Bought this set as a keen model builder. Does everything that I need. The amount of blades included are all I need and with the additional sharpening stone keeps all blades nice and sharp. The quality of all contained in box, and including box, is exceptional value for the price asked.
---
da Jason A
2020-02-11T00:00:00
I don''t have many tools, at all, but my recent purchase was the "Silverline Hobby Knife Set - 51pce". So far what I have used it for I am extremely happy with. The construction is solid and all blades provided are VERY sharp and do what they are meant to do. Also, the sharpening stone provided allows you to keep them so. As long as you are NOT intending to use this set to whittle a 12 seated dinning table from a solid oak tree then I say buy this set. Many years of "Hobby" and "intelligent" use can be had from this set. The price is very agreeable too.
---
da Brian s
2020-01-23T00:00:00
A great product just what I was looking for
---
da Graham
2019-10-04T00:00:00
This is a fantastic set and well worth the small cost required to purchase it.
---
da Graham
2019-09-27T00:00:00
This is without a doubt the best craft blade set available it has a blade for every occaision.
---
da Kevin H
2019-01-01T00:00:00
This was a Christmas Present from my daughter and really appreciated! I make models as a hobby and this set of sharp knives will make my task considerably easier, the case is very helpful too as it means everything is together. There is also a sharpening stone for when the blades lose their edge. All in all I am very happy with this set - a good Christmas present!
---
da Stephen B
2017-03-11T00:00:00
The box has a great selection of blades the handles are the best that I have used in a long time. Shame the maximum number of stars is 5 because thus kit is worth a lot more for selection and value for monaey
---
da Clive S
2017-02-15T00:00:00
Good and useful for many things other than hobby use. Good value
---
da neil l
2016-10-25T00:00:00
this product, for the price, is head and shoulders above anything else. i am a constant modeller in all mediums and the range of handles and blades means that i am never searching for something to use in those fiddly places all modellers seem to find. would recommend to everyone