268819
Trapano SDS Plus 1500 W
1500 W
---
---
Trapano, martello battente e modalità scalpello a roto-stop
Mandrino SDS Plus e mandrino standard da 13 mm
velocità variabile e frizione di sicurezza
Capacità di foratura: legno 40 mm, muratura 32 mm, acciaio 13 mm
Include mandrino con chiave, kit di accessori e custodia sagomata per soffiatura
---
Acquista Online
Trovare un negozio
Valuta questo prodotto
23 valutazione/i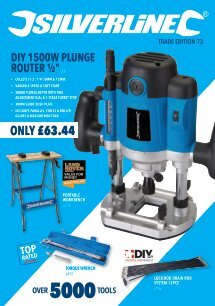 ---
Caratteristiche prodotto
| | |
| --- | --- |
| Protezione IP | IP20 |
| Potenza | 1500 W |
| Forza d'impatto | 5,5 J |
| Colpi/impatti al minuto | 0 - 4350 bpm |
| Velocità a vuoto | 0-880 giri/min. |
| Dimensioni mandrino | 0 - 13 mm |
| Tipo di mandrino | SDS Plus |
| Velocità variabile | Si |
| Capacità foratura - max. in legno | Ø 40 mm |
| Capacità foratura - max. in acciaio | Ø 13 mm |
| Peso prodotto | 5,5 kg |
---
Caratteristiche chiave
Il trapano SDS Plus ha subito un'evoluzione negli anni che lo ha portato ad essere l'utensile robusto e affidabile che è oggi. L'acronimo SDS deriva dal tedesco "Steck-Dreh-Sitz", che significa "inserire, avvitare e fissare".
Mandrino con sistema di fissaggio con morse per tenere in posizione le punte e gli accessori.
Trapano SDS Plus con potente motore da 1500 W, creato per l'utilizzo con impostazione a percussione su muratura. Mandrino da 13 mm, impostazione scalpello e impostazione di trapanatura convenzionale per realizzare diversi tipi di lavoro.
Forza di impatto 5,5 J e 5,5 kg di peso. Velocità variabile tra 0 - 880 min-1 e cadenza di impatto fino a 4.350 ipm. Frizione di sicurezza per evitare danni alle punte e ai pezzi o ferimenti all'operatore.
Compatibile con punte per muratura, scalpelli SDS Plus e scalpelli appuntiti, inclusi i prodotti 930164 e 633750. Il trapano SDS Plus è dotato di punte 3 per muratura (8, 10 e 12 mm), scalpello, scalpello appuntito, mandrino autoserrante 13 mm, guardia anti polvere e custodia per il trasporto sagomata per soffiaggio.
---
Contenuto della scatola
1 x Trapano SDS Plus 1500 W
1 x Mandrino con chiave
1 x Punta da scalpello SDS plus
1 x Punta da scalpello piatta SDS plus
1 x Punte SDS plus (8 mm, 10 mm, 12 mm)
1 x Chiave mandrino
1 x Contenitore di grasso lubrificante
1 x Guardia antipolvere
1 x Manuale di istruzioni
---
Valutazioni da parte dei clienti
da Cliff V
2020-03-12T00:00:00
I found the product reasonable priced, good quality and easy to use good value for money
---
da geoffrey
2020-03-08T00:00:00
---
da Derick D
2020-02-22T00:00:00
Only just purchased this drill and have used it for a few days but seems to be as efficient as my previous Bosch sds plus. The over advantages of silverline are the lot cheaper price and also the 3 year guarantee to give peace of mind. So far would recommend
---
da John P
2019-08-27T00:00:00
A handy product for the average D I Y person. It is quite easy to handle and copes well with the usual round the house tasks. One disappointment is that I paid £85 for my machine just 3 weeks ago and now it is down to £75. 99!! Shan't be so quick to buy a Silverline product in future.
---
da James M
2019-05-31T00:00:00
just the job great piece of kit
---
da Duncan S
2019-05-24T00:00:00
I bought the drill mainly for the chisel function to help chip out a trench in concrete. I was expecting a slow task but was surprised at how well the drill worked. I have drilled a few tough holes but the unit is pretty heavy so it will only come out for the heavy tasks. For the price though this is a good investment.
---
da Hesham h
2018-12-14T00:00:00
Not bad suitable for wall Very strong Not heavy
---
da Michael H
2018-06-29T00:00:00
A sturdy and powerful tool indeed. So far I have used the drill and Hammer features with very encouraging results. Not too heavy, has easy to use features, trigger sensitive speed control and ranges easily from big jobs to small. A very good drill.
---
da Christopher J
2017-10-29T00:00:00
---
da Derek G
2017-05-22T00:00:00
I bought this SDS drill for its power, I found I sometimes struggled using an 800W SDS drill with Diamond Core Drill, especially using 107mm, 117mm, and 127mm core drills. This 1500W has the power to drill any hole. It is fine for breaking up screen floors and breaking down brick wall. This 1500W SDS plus drill will save me lots of time and money. D. Guy
---
da Michael R
2017-03-13T00:00:00
I recently purchased the Silverstorm 1500w SDS Plus Drill as my Makita SDS was a little out dated/under powered. As my previous drill was three times the price of the Silverstorm one I did not hold much faith for the Silverstorm. How wrong I was, this drill performs every task I throw at it, whether it be chiseling through 4 inch thick concrete or drilling out 14mm holes for anchor bolts into masonry. I would strongly recommend this drill to anyone who requires the use of such a drill. I will most definitely be purchasing more Silverstorm tools in the future after this experience!
---
da Lee P
2017-03-02T00:00:00
I bought this for a house renovation, I had to remove plaster and render from all the walls for insulation, I already have a Bosch hammer sds and needed a one job drill so my son could help me.The chisel action on this is much better than my Bosch, what a suprise! I have finished all the walls and its still going strong. the only down side to this drill is that when you drill using the hammer action is it spins too quick for the hammer to work properly so you have to turn the speed down a notch or two, oh dear never mind! all in all a brilliant drill for the money and three years guarantee.
---
da Adrian D
2017-02-04T00:00:00
Had one of these before but from another make. Unfortunately it and most of my stuff were destroyed in a flood. Good little cheap work horse, does what it says in the box, you get what you pay for.
---
da Keith D
2016-11-16T00:00:00
Hope this is more reliable than previous model which burnt out after only three 12mm dia holes. Silverline not interested.
---
da Peder P
2016-09-19T00:00:00
---
da Ross S
2016-09-13T00:00:00
I am an electrician with 20 years experience and decided to buy a cheaper drill when my bosch breaker blew up, this drill is every bit as good as that one at a fraction of the cost!!!! it''s solid and packs a real punch when chasing , would definitely recommend for tradespeople on a budget !!
---
da james h
2016-09-12T00:00:00
purchased this sds drill to use hammer chisel to remove floor tiles. this is a good drill does the job with ease, did not run it continusely allowed to cool for a few minutes. would be good if it had a boulster chisel.
---
da Richard D
2016-09-12T00:00:00
I''ve use my Silverstorm 1500W SDS now several times and found it to be a perfect tool for my requirements. It chops through brickwork, chases out really well and is great at removing old plaster. Also handy for those drilling jobs that require a bit more power.
---
da Alastair P
2016-09-12T00:00:00
So far I''ve used this drill for lots of different jobs - from a 6-inch extractor fan hole to drilling holes in mortar to breaking out chunks of concrete in preparation for a door. No problems at all; drill just keeps on going :) Only minor gripe is the lack of a fixed position hammer mode (which would have been useful when I was chipping up floor tiles). Not the end of the world, though - especially for the price.
---
da Melvyn j
2016-09-12T00:00:00
---
da Jason P
2016-08-08T00:00:00
Excellent tool. Since purchased used at least twice a week
---
da Mariusz
2016-08-08T00:00:00
---
da Phil t
2016-08-08T00:00:00
Very good valve, it got me out of trouble when I needed to drill some concrete and knock down a wall. For the price I think it was great!!