312279
Affilatrice per punte 95 W
95 W
---
---
Guida di perforazione incorporata
Affila le punte per trapano facendole diventare come nuove
Veloce e facile da usare
Affila punte HSS e in acciaio al carbonio di ø 3 - 10 mm
ø ruota : 60 mm
---
Acquista Online
Trovare un negozio
Valuta questo prodotto
7 valutazione/i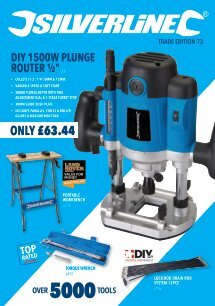 ---
Caratteristiche prodotto
| | |
| --- | --- |
| Finitura | Plastica ABS |
| Velocità a vuoto | 1350 giri/min. |
| Peso prodotto | 1 kg |
| Diametro ruota | 60 mm |
---
Caratteristiche chiave
Affila le punte per trapano facendole diventare come nuove. Affila punte HSS e in acciaio al carbonio di ø 3 - 10 mm. Guida integrata.
---
Contenuto della scatola
1 x Affilatrice per punte elettronica 95 W
---
Valutazioni da parte dei clienti
da Phil H
2021-05-08T00:00:00
I am very impressed with this machine. I have used it to put a sharp edge on four sets of HSS twist drills and it has worked perfectly. So quick and easy to use. Took a little longer to re-grind a badly chipped 8mm drill but it ended up perfect. It will sharpen imperial sized drills as well. Definitely recommended.
---
da DAVE F
2020-05-20T00:00:00
GREAT LITTLE TOOL FOR YOR WORKSHOP ,AT THIS PRICE CANNOT BE BEETEN.
---
da Stewart
2019-12-04T00:00:00
Arrived on time and as described. Seems to sharpen as it should.
---
da leroy j
2019-06-22T00:00:00
dommage que l on ne trouve pas la meule de rechange car la mienne et usée
---
da DAS S
2018-04-23T00:00:00
Hello, First of all I want to tell that I got this not so long ago and played with it half a day. It''s working great except that it do not make a new pike, but intead of, do two side of the drill with no center. I''m certainly not using it properly even if I read and try to apply the intructions from the notice. I got back and forward on the 2 sides by 20° as explained, but this is not close the redo a pik in the center of the drill, still does two sides without pik in the middle. So at the end, the drill is not usable anymore... Maybe I need to practice more. Finally, it really does sharpening of the drill.
---
da colpin
2017-05-20T00:00:00
Bonjour, j''avais bien besoin de cet outil la , car mes forets étaient un peu trop usés, maintenant, ils revivent et travaillent très bien, grâce à l''affutage réussi par cet outil, Merci !
---
da Alan A
2017-01-11T00:00:00
This is one of a number of tools I have bought from Silverline. The quality is always first class, complete with a brilliant guarantee which can easily be completed on line.Cannot fault this company