326579
Trapano-avvitatore 18 V
18 V
---
---
Batteria a litio 1,3 Ah e caricabatteria intelligente 3-5 ore
Mandrino autoserrante di 10 mm
Impostazioni coppia 16+1 e funzione di cambio di senso di rotazione
Capacità di foratura: legno 20 mm, acciaio 8 mm
Include indicatore di carica a LED e luce di lavoro
---
Acquista Online
Trovare un negozio
Valuta questo prodotto
15 valutazione/i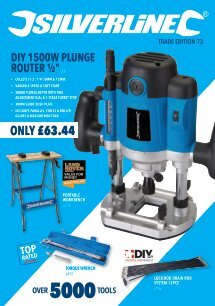 ---
Caratteristiche prodotto
| | |
| --- | --- |
| Finitura | Plastica |
| Protezione IP | IPX42 |
| Potenza di uscita | 18 V |
| Potenza | 18 V |
| Tipo di batteria | 18 V litio 1,3 Ah |
| Carica batteria | 3-5 ore |
| Velocità a vuoto | 0 - 650 giri al minuto |
| Coppia Max | 22 N m |
| Dimensioni mandrino | Capacità mandrino 0,8 - 10 mm |
| Coppia variabile | 16+1 |
| Quantità batteria | 1 |
| Peso prodotto | 1,182 kg |
---
Caratteristiche chiave
Trapano-avvitatore con caricabatteria intelligente e batteria a litio 1,3 Ah. Mandrino autoserrante di 10 mm. Impostazioni coppia 16+1 e funzione di cambio di senso di rotazione. Impugnature in gomma stampata e indicatore a LED integrato. Freno elettrico. Luce da lavoro a LED. Numero giri a vuoto 0-650. Capacità di foratura: legno 20 mm, acciaio 8 mm. Coppia max. 22 N m. Tempo di carica 3 - 5 ore. Include batteria, caricabatteria e alimentatore PSU.
---
Contenuto della scatola
1 x Trapano-avvitatore 18 V
1 x Batteria al litio 1,3 Ah
1 x Caricabatteria 3-5 ore
1 x Manuale
---
Valutazioni da parte dei clienti
da ANDREW B
2020-03-18T00:00:00
drill does all I ask of it and at a very competitive price.
---
da Alex
2019-12-20T00:00:00
It works well enough but chuck has edged teeth which don''t hold anything smaller than a 4 properly. Don''t why they made them like that.
---
da Barry B
2019-10-24T00:00:00
---
da Dexter
2019-06-07T00:00:00
Solid build, compact, plenty of power and long lasting charges. Couldn''t be happier.
---
da mike r
2018-04-18T00:00:00
Over the years I have come to trust products from Silverline and this drill driver continues with my confidence in their product line - works perfectly
---
da Geoff H
2017-11-20T00:00:00
Small and compact, powerful, lightweight and easy to use.
---
da Hugo P
2017-07-20T00:00:00
Superb tool, smooth action chuck, strong motor and a Lithium battery... Excellent value!
---
da Mark H
2017-05-26T00:00:00
The driver is great, especially with the li-on battery. But the best thing is the service and support from the company. EXCELLENT.
---
da john S
2017-05-26T00:00:00
I have used the drill mostly for small holes and screws,but It stood up well when asked to drive a 32 mm forstner bit.A little noisy under load though
---
da West
2017-05-01T00:00:00
Excellent value does the job
---
da Ahmed
2017-04-10T00:00:00
Good value money. it''s ok for domestic work . Working fine
---
da David w
2017-02-23T00:00:00
Bought the unit 2015,not used that much the charge is never very good.jan 2017 the charge lights don''t go out a fault somewhere.discharges in short time Told the battery is not covered by 3 yr warranty by silver line when contacted ,the charger is. If it''s battery problem you have to buy new battery which is as much as unit and have to pay to send it away for decision which may not be economical in any event might as well just discard it
---
da MACIEJ K
2017-01-13T00:00:00
ideal screwdriver powerful and handy charge the battery very quickly I am very happy
---
da flavien s
2016-11-07T00:00:00
tres bon materiel pour des petit travaux
---
da William M
2016-10-26T00:00:00
Great value and a really neat and easy to hold battery drill. Very handy to keep in the tool box without adding too much weight or bulk.