380349
Pompa a staffa
0-100 psi (0-7 bar)
---
---
Manometro di facile lettura
Supporto in ferro per una maggiore stabilità
Testa a valvola multipla Presta, Schrader e Dunlop
Lungo tubo flessibile 2 m
Adatta a gonfiare gommoni, parabordi o pneumatici
---
Acquista Online
Trovare un negozio
Valuta questo prodotto
5 valutazione/i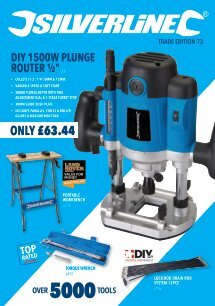 ---
Caratteristiche prodotto
| | |
| --- | --- |
| Precisione | +/- 5% |
| Finitura | Cilindro anodizzato, alloggiamento manometro |
| Impugnatura - principale - finitura | Liscia |
| Psi/Bar | 100 PSI max |
| Peso prodotto | 0,794 kg |
---
Caratteristiche chiave
Adatta a gonfiare gommoni, parabordi o pneumatici. Dimensioni compatte, piede robusto. Testa a valvola multipla Presta, Schraeder e Dunlop. 0 - 7 bar.
---
Valutazioni da parte dei clienti
da James
2020-05-12T00:00:00
A very good track pump for the price! I was surprised how quickly I could inflate my bicycle tyres using it. The gauge isn''t as accurate as I''d like and waves around a bit but gives a rough indication of the pressure. The hose is very long giving lots of reach, and has two holes, one for a Schrader valve, one for a Presta valve, which is very useful. The lifetime warranty also gives great pease of mind.
---
da Debbie
2019-04-20T00:00:00
Good quality.Easy to use.No set up.Does tyres with little effort .Lifetime guarantee uf you register item on line
---
da Bill W
2018-11-14T00:00:00
prompt delivery and efficient service. The product works, is robust and I particularly like the long hose connector. There are no instructions and the valve lock works in reverse. Very satisfied with product and service
---
da Mr P
2017-05-26T00:00:00
Surprisingly effective, once you get used to the illogical way that the connector attaches to the valve! Instead of the lever being down when locked on, it is the other way around - sticking out. This is usually when you put the connector on, pushing the lever down to lock it on. Not so with this pump, totally the opposite. Why?
---
da Karl B
2017-03-16T00:00:00
Excellent product. Good customer support. No complaints.