427558
Ingrassatore pneumatico 400 cm³
280 mm
---
---
Solida testa pressofusa e tubo in acciaio cromato
Pressione in uscita 60-190 bar (900-2700 psi)
Pressione di esercizio dell'aria 2-6,3 bar (30-90 psi)
Si può riempire o riempire con cartucce da 400 cm³
Include connettori rapidi britannico ed europeo 1/4", beccuccio flessibile e beccuccio rigido
---
Acquista Online
Trovare un negozio
Valuta questo prodotto
6 valutazione/i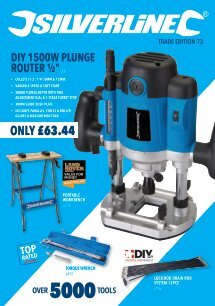 ---
Caratteristiche prodotto
| | |
| --- | --- |
| Dimensioni cartuccia | 400 cm³/280 mm |
| Dimensioni raccordo | Baionetta maschio 1/4" |
| Finitura | Verniciata |
| Impugnatura - principale - finitura | Verniciata |
| Peso prodotto | 1,47 kg |
---
Caratteristiche chiave
Ingrassatore pneumatico con solida testa pressofusa e tubo in acciaio cromato. Si può riempire o riempire con cartucce da 400 cm³. Include connettori rapidi britannico ed europeo 1/4", beccuccio flessibile e beccuccio rigido. Lunghezza cartuccia 280 mm. Include connettori rapidi britannico ed europeo 1/4". Max. consumo di aria 113 l/min.
---
Contenuto della scatola
1 x Ingrassatore pneumatico
1 x Beccuccio flessibile
1 x Beccuccio rigido
1 x Adattatore britannico
1 x Adattatore europeo
1 x Manuale di istruzioni
---
Valutazioni da parte dei clienti
da David P
2019-05-10T00:00:00
Used the gun on my field tractor, trailer and lawn tractor as soon as I got it filled and hooked up to my compressor. They have been rather overlooked for some time due the arduos, long and tiring job using a manual lever operated gun. So simple to use and grease was seen to issue from all bearings in minutes.
---
da jayne
2018-10-13T00:00:00
Found this a real asset over the normal hand pump gun.just push on the end and pull the trigger and its done ! even the hard to reach nipples become easy as once your on the nipple you are not fighting to pump as you would with an ordinary gun well recommended
---
da Luke
2018-03-20T00:00:00
Have not have one problem with this tool and a good price
---
da Tim H
2017-10-15T00:00:00
Really happy with the air grease gun, makes life so much easier. Used everyday since purchasing with no problems. Like the fact that it comes supplied with fittings and a 3 year warranty.
---
da Pauline W
2017-02-24T00:00:00
Hello We purchased our first one from Amazon in December and grease poured out of every opening!! but not the nozzle. Amazon sent us another free of charge on the 5th February, which we have used once and so far it seems okay. Very impressed with Amazon''s treatment of this purchase. We also registered this product on line for the three year guarantee and also chased up with a further e mail, but to date no response, so we would appreciate acknowledgement of this.
---
da Donnacha S
2016-12-20T00:00:00
Excellent quality tool works really well, fast and efficient. Only sorry did not get tool sooner.