589681
Multimetro digitale
CA e CC
---
---
Per testare continuità (con cicalino), diodi e transistor a giunzione bipolare
Tensione: CA 200-500 V, CC 200 mV - 500 V
Corrente continua 2000uA - 5 A, resistenza 200-2000 K ohm, hFE 0-1000
Include cavi
Funziona con 1 batteria da 9 V (PP3)
---
Acquista Online
Trovare un negozio
Valuta questo prodotto
6 valutazione/i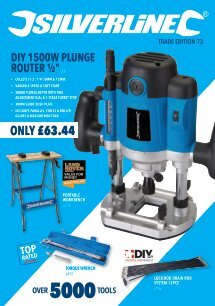 ---
Caratteristiche prodotto
| | |
| --- | --- |
| Tensione CA | 200 - 500 V |
| Quantità batteria | 1 |
| Tipo di batteria | 9 V |
| Tipo di display | LCD |
| Funzione 01 | 200mV - 500V CC in intervalli di 2000mV / 200mV / 20/200/500V. 0 - 500V CA in intervalli di 200/500. 2000uA - 5A CC in intervalli di 2000MicroA/200mA/20mA/5A. 0 - 2,000k Ohm in intervalli di 200/ 2000/20k/200k/2000k/hFE. Sinusoidale/continuità/diodi |
| Capacità - carico max | 500 V |
| Corrente continua | 2000uA / 200uA / 20mA / 200mA / 5A |
| Tensione CC | 200 mV - 500 V |
| Resistenza | 2000k / 200k / 20k / 2000 / 200 Ohm |
| Peso prodotto | 0,111 kg |
| Intervallo\Capacità | 200 mV - 500 V |
---
Caratteristiche chiave
Multimetro digitale portatile per misurare il voltaggio di CC e di CA, corrente continua e resistenza. Testa anche diodi e transistor a giunzione bipolare (NPN e PNP). Display digitale per una lettura facilitata. Include cavi. Funziona con 1 batteria da 9 V (PP3).
---
Contenuto della scatola
1 x Multimetro digitale
1 x Scheda dati di sicurezza
1 x set di cavi
---
Valutazioni da parte dei clienti
da Hendrik
2020-04-13T00:00:00
Super multi meter, using is simple and a lot of opportunities, good price! So 5 star rating!
---
da Hendrik W
2020-04-06T00:00:00
I bought the digital Multimeter and what a good one, lot of choices to use it! 5 star rated, best one!
---
da A M
2020-03-22T00:00:00
Excellent piece of kit, very competitively priced and easy to use for amateurs and experienced users alike. Very pleased with this purchase.
---
da Mr P
2017-07-28T00:00:00
I HAVE USED ONE FOR A LONG TIME BUT IT HAS STOP WORKING.
---
da Xander W
2017-04-19T00:00:00
Perfect tool, particularly for the price. I''ve been using this for automotive electronics and got every job done without a hitch.
---
da John A
2016-12-09T00:00:00
Purchased this as I needed a multimeter for a few small jobs that have been building up for a little while and decided now was the time to purchase it. Not only is it a very good multimeter it comes from a tried and tested brand and comes with a 3year guarantee included. I found a couple of small electric faults I had when installing a cd multichanger in the car but I also use it in PC repair as well and its as good as any out there that cost a lot more. This is not my first purchase of the silverline brand I also have others from cutting disks to hand tools and it is always a brand I look out for when purchasing tools. As i am trying to build my tool collection currently I am sure there will be a few more Silverline products to join the collection.