598496
Punzone autocentrante in ottone
130 mm
---
---
Punta in acciaio indurito
Tensione regolabile
---
Acquista Online
Trovare un negozio
Valuta questo prodotto
8 valutazione/i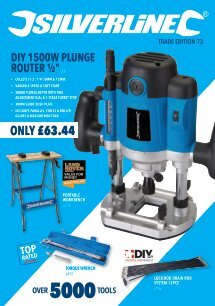 ---
Caratteristiche prodotto
| | |
| --- | --- |
| Indurito | Sì |
| Peso prodotto | 0,066 kg |
| Stile | Punzone autocentrante in ottone |
---
Caratteristiche chiave
Punzone autocentrante in ottone con punta indurita.
---
Valutazioni da parte dei clienti
da John
2020-01-29T00:00:00
I like their tools, whatever tool your looking for they are sure to have them
---
da Patrick
2019-10-18T00:00:00
Works well, however it doesn''t create as deep an indent as a hammer and centre punch would. Power adjustment doesn''t make much difference.
---
da Patrick
2019-10-11T00:00:00
Easy to use, although pressure adjustment isn''t obvious. On full power (end screwed on fully) the indent made isn''t as deep as when made with a hammer and centre punch.
---
da John G
2019-07-14T00:00:00
Excellent product recommend to anybody
---
da Gary H
2019-07-07T00:00:00
---
da Gérard D
2018-04-04T00:00:00
I received that tool one week ago, and I use it every day now!! It''s one of the most useful tool for me. If I calculate the ratio useful versus price, it gives an idea of infinite!
---
da NIck B
2016-11-21T00:00:00
Bought 2 of these centre punch''''s, the first stopped working after 3 days. we see how long the 2nd one lasts!
---
da Gerry H
2016-08-22T00:00:00
Perfect tool for a perfect price, do I have to say more?