633595
Pompa irroratrice a zainetto
20 litri
---
---
Lancia lunga in acciaio inox con ugello regolabile
Maniglia di trasporto e tracolla completamente regolabile
Blocco del grilletto per uno spruzzo continuo
Tubo lancia 1,2 m
Fornito con ugelli singoli e doppi
---
Acquista Online
Trovare un negozio
Valuta questo prodotto
21 valutazione/i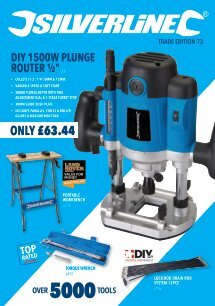 ---
Caratteristiche prodotto
| | |
| --- | --- |
| Finitura | Plastica |
| Peso prodotto | 2,174 kg |
| Capacità - volume | 20 l |
| Graduazione | Sì |
---
Caratteristiche chiave
Confortevole, sagomato spruzzatore a zaino con imbracatura e forte, maniglia di trasporto integrata. Grande apertura di riempimento con filtro integrato per ridurre al minimo i blocchi. Lancia lunga in acciaio inox con ugello regolabile e sicura del grilletto. Ideale per spruzzare acqua e diluito erbicidi, pesticidi, insetticidi e fungicidi. Include ugelli extra e kit di ricambi.
---
Contenuto della scatola
1 x Manico pompa
1 x Asta di connessione
4 x Anelli
1 x Chiusura a tenuta di ricambio
1 x Tubo flessibile
2 x Rondelle in acciaio
2 x Clip a R
1 x Clip in plastica a C
2 x Ugelli
1 x Tappo dispositivo diriempimento
1 x Manico lancia
1 x Lancia metallica
2 x Anelli di regolazione
2 x Raccordi di compressione
1 x Pompa a pistone
---
Valutazioni da parte dei clienti
da Judith G
2018-10-12T00:00:00
Although it took quite some time to sort out and correctly attach the straps (the bottom part of the straps were not attached and there was no instruction about them in the manual), once they were attached the backpack was ready and raring to go. This is so much easier than using the previous bottle with pump that I used to use - wish I had bought one sooner!
---
da Paul S
2018-07-04T00:00:00
The plastic nut securing the spray nozzle to the lance was defective resulting in a leak !!!!
---
da Davey
2018-05-18T00:00:00
Purchased as a client wanted a paddock spraying. Easy to asembly, Childs play to use, it made light work of the paddock. I would recommend this to anyone looking for a sprayer. A++++
---
da Dermot M
2017-05-06T00:00:00
Sprayer works well, nice to have a selection of nozzle sizes, sturdy and well made. Slight drawback is in fitting it on to my back as the pump lever and spray head lever need to be forward as they can''t be reached once the straps are around your chest.
---
da G. D
2017-03-10T00:00:00
Bought this item recently but have had to wait for a dry day to use it . The sprayer seems very well constructed and looks likely to last many years. When you assemble the parts be sure to take the bag of spares out of the container ,assembly is straight forward and takes only minutes. Once filled with the weed control I set to work on the front lawn . In the past I have used a 5 litre spray and the job would take the best part of an hour , several mixings and refills, stopping to pump up ,trying to remember where I left off .With the backpack however , one single mix did the whole lawn , no stopping to re-pressure the bottle and no loss of pressure as you walk.The job was done in 10 minutes and the coverage much more even, the pump is very easy to use and the job required very little effort . An excellent bit of kit , how they do it for such a low price I don''t know .Buy one and it will make your gardening even more enjoyable .
---
da sue k
2017-03-06T00:00:00
1st Class item. Well made and quite light.The only problem you need to make sure the lance is tight if not its leaks, but that was my fault. Nice product Thank you
---
da Mark B
2016-10-10T00:00:00
Good quality good price and easy to use....
---
da mark b
2016-10-10T00:00:00
Brilliant product has never let me down an good value for money
---
da derek b
2016-10-10T00:00:00
very good value for money
---
da ian r
2016-09-26T00:00:00
found this easy to use xcelent for the price
---
da Andrea F
2020-06-15T00:00:00
I bought last month a manual pump to vaporize a mosquitos repellent and im really satisfy because your product its top for Quality and for the price that i payed Thanks a lot
---
da Ariie T
2020-05-03T00:00:00
Ik heb een grote tuin met veel paadjes. Nu kan ik met dit deze geweldige spuit alle paden in een uurtje spuiten met schoonmaakazijn. Ik had 'm al jaren eerder moeten kopen.
---
da Fraser W
2020-04-30T00:00:00
This 20lt backpack sprayer was bought as an upgrade to a 1 year old 8lt which although a top brand basically was useless.We have a large courtyard area and private car park which requires regular weeding,This sprayer is easy the use and I can get it on quite easily and I am 6''2" I wish I''d bought one years ago
---
da Gwyn G
2019-09-18T00:00:00
The only improvement that needs to be are the shoulder straps they need to have more adjustment so the unit is comfortable to use
---
da Alastair W
2019-08-25T00:00:00
This is s quality item that performs exactly it should. It is well made and very goid value.
---
da Tim L
2019-08-24T00:00:00
I am a non-professional user. I recently purchased a large plot of land which is seriously overgrown with perennial weeds. Initially I borrowed a local farmers ''professional'' sprayer but decided to buy my own. I was very pleased with the Silverline backpack sprayer, am very impressed with its performance and have registered for a lifetime guarantee. I wouldn''t hesitate to recommend this product.
---
da David M
2019-07-19T00:00:00
Please buy this product with the highest recommendation from someone who has used one for several years and can't recommend Silverline enough Now like most products that you buy you will get some issue or failures of parts but the warranty offered by Silverline is fantastic I use my unit on my own garden which is fairly large but also on 3 OAP houses next to my home so it gets well used Please note that full it's a heavy item to handle but wowsa what a great job it does Fantastic product fantastic service fantastic price I need to make a small point though and even though they gave me a brand new unit I feel that keeping small parts like the seals would assist customers but most customers would welcome the replacement with a new unit be me being considering of waste just feel that to replace the unit for parts that cost pennies is nuts But I know customers will be in the mind that what warranty is for But I can and will strongly recommend Silverline for their lifetime warranty and customer service 5 plus stars from a very happy Silverline customer
---
da Gareth M
2019-06-06T00:00:00
Good for the money Can weap a little bit around the pump
---
da Adam H
2019-06-02T00:00:00
Best thing ever used not too heavy and easy to use
---
da Nigel A
2019-05-24T00:00:00
Threads on the cap very course and not a great seal when closed, got soaked while getting backpack onto my back. Sprays well
---
da David M
2019-05-19T00:00:00
Hi I bought the sprayer in 2017 for the garden to assist in keeping the weeds under control, so its had very little use since purchase, but the hose has perished and burst, and disappointed to find that silverline don''t supply a spare hose to replace this basic part, to be fair to silverline I bought from ebay and did not know to register the product for the warranty but not to supply a basic part like the hose is a very poor service from a disappointed silverline user