633753
Utensile per fissaggio a parete
170 mm
---
---
Metallo con prese in gomma e guardie antiscivolo
. Per il fisaggio di tasselli in pareti vuote in maniera veloce e accurata
---
Acquista Online
Trovare un negozio
Valuta questo prodotto
15 valutazione/i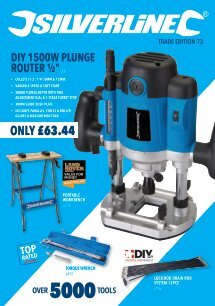 ---
Caratteristiche prodotto
| | |
| --- | --- |
| Impugnatura - principale - finitura | Liscia |
| Finitura | Verniciata |
| Peso prodotto | 0,393 kg |
---
Caratteristiche chiave
Metallo con prese in gomma e guardie antiscivolo. Per il fisaggio di tasselli in pareti vuote in maniera veloce e accurata. Lunghezza 170 mm.
---
Contenuto della scatola
1 x Utensile per fissaggio a parete
---
Valutazioni da parte dei clienti
da Dave
2020-02-12T00:00:00
Great Tool !! Made setting the anchor so much better, stronger and guarantees a secure fit.
---
da Andrew B
2020-01-25T00:00:00
Have had one before but only recently got a new one as I changed jobs, I''ve never had it fail on me and it''s very easy to use
---
da Gordon R
2019-11-08T00:00:00
We were recently converting my son''s garage into a home cinema. During the conversion, we had to fit a number of lighting units into a plasterboard ceiling. We used the plasterboard anchors which compress when you tighten the screw. 50% were fine, gripping the plaster and not spinning. However, the other 50% failed to grip the plaster and started to cut a bigger hole in the plaster. We finally got them in, but vowed never to use this type of anchor again, which meant that the couple of hundred anchors in my garage would be wasted. A friend suggested one of these tools. After checking the tool, I decided to buy one. The price suggested I would not lose too much as they are almost ridiculously cheap. Having got the tool I have to admit to being surprised. It is very sturdily built and looks as if it will outlast me. Better still, it actually does what it is supposed to do. It sets the anchor into the plasterboard without causing any damage and is very secure. Having bought many, many tools, I can''t believe I never bought one before. Brilliant device.
---
da Lee C
2019-08-28T00:00:00
Brill tool, does the job perfectly. No more screwing.
---
da Daniel
2019-08-09T00:00:00
Really happy with this product works a treat and delivery was fast and efficient!
---
da Stephen A
2019-07-08T00:00:00
Excellent product. Does exactly what it says on the tin
---
da Matthew W
2018-09-14T00:00:00
Product arrived intact on advised delivery date and, what a pleasure to use. i.e. Drill one hole to size, insert anchor bolt and administer one squeeze on Setting Tool. Very neat finish on joints both sides of wall (I checked it first on a sample of my wall). I have now purchased a load more anchor bolts and am going round the house looking for anything that needs ''proper fixing'' - Need I say more... Matt Weldon
---
da Rob H
2017-07-21T00:00:00
This handy tool feels good in the hand. Its strong and works well. My TV is now on the wall. Thanks.
---
da werley
2017-03-08T00:00:00
Fast delivery for a product coming from overseas
---
da Mike K
2017-01-26T00:00:00
Solid metal construction, good balance and feel in your hand. It is well engineered to get the job done. I had nothing but troubles with wall anchors before I received this tool, problems were easily solved. Very impressed. Great service and shipping, even overseas!
---
da Martin
2017-01-19T00:00:00
Yes, a great casting at the center of this tool. Easy ratchet action on the grips pull the hollow-wall anchor into perfect compression in the void, up against your plasterboard, ply, etc. The quick release then releases the tool. Install hollow wall anchors in seconds; right first time, every time.
---
da Phil B
2016-10-11T00:00:00
Can''''t believe how swiftly I''''m able to mount wall anchors. I''''ve gone from a 5 minute routine, down to around 30-45 seconds prior to actually mounting the screw for its ultimate use. Wish I had found this tool years ago.
---
da Charlie C
2016-10-11T00:00:00
This tool really sounded like it would be very helpful but I can''''t get it to work with US sized wall anchors. After trying several different anchors and brands I finally threw it in the bottom of my tool box. It''''s a great idea, just a waste of money for me in the US. I''''ll give it three stars because it might work on metric sized anchors.
---
da Donald W
2016-10-10T00:00:00
Eliminates "spinning" anchors ripping the sheet rock. Some care required to make sure fastener is centered in tool (for a straight pull). A time saver, if you are installing a lot of anchorsl.
---
da Don p
2016-09-29T00:00:00
Have set around 500 anchors so far , a real time saver . Worth the wait .