638542
Avvitatore ad impulso 10,8 V
10,8 V
---
---
Batteria a litio 1,3 Ah e caricabatteria
Guida esagonale 3/8" e retromarcia
Ingranaggi completamente in metallo
Impugnatura a presa morbida, antivibrazione
Include batteria, caricabatteria e adattatore
---
Acquista Online
Trovare un negozio
Valuta questo prodotto
13 valutazione/i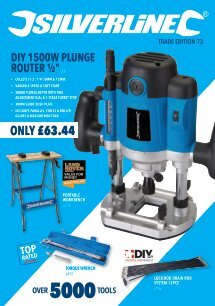 ---
Caratteristiche prodotto
| | |
| --- | --- |
| Potenza | 10,8 V |
| Carica batteria | Sì |
| Velocità a vuoto | 0–2400 giri/min |
| Coppia Max | 100 N m |
| Dimensioni mandrino | 10 mm |
| Tipo di mandrino | Senza chiave |
| Quantità batteria | 1 |
| Peso prodotto | 0,9 kg |
---
Caratteristiche chiave
Avvitatore-chiave ad impatto con caricabatteria intelligente e batteria al litio 1,3 Ah. Guida esagonale 3/8" e retromarcia e ingranaggi completamente in metallo. Grilletto per velocità variabile. Impugnatura a presa morbida, antivibrazione. Freno elettrico. Velocità a vuoto 0-2400 giri/min., coppia massima 100 N m.
---
Contenuto della scatola
1 x Avvitatore ad impulso 10,8 V
1 x Batteria
1 x Caricabatteria
1 x Manuale di istruzioni
---
Valutazioni da parte dei clienti
da Mark B
2020-03-05T00:00:00
Absolutely brilliant little gun, loads of power, LED light to show you what you''re doing, charge level indicator. And all for an amazing price, in comparison to my previous guns it''s brilliant and a 3-year guarantee sums it up👍
---
da William B
2020-02-28T00:00:00
A very handy impact wrench with Good power
---
da Mark G
2020-02-20T00:00:00
This is a great impact gun for the price , small and well balanced.i am a windscreen technician and this is great for wiper nuts and bolts found on scuttles ect
---
da Adam
2019-12-25T00:00:00
Good battery, Nice and compact and easy to get into tight spaces a great value for money
---
da Matthew J
2019-10-25T00:00:00
An excellent little addition to my toolbox. Surprised me how powerful it is. Makes my life that little bit easier. If your looking for a budget impact wrench, this is the one.
---
da David
2019-05-26T00:00:00
Quality is very good for the price. Perfect for small jobs only, it is also very light in the hand and battery life very good for its small size.
---
da jeffrey w
2018-11-19T00:00:00
bought pair with impact driver again good quality tool and helps speed up job on car used it putting together a shed loads nuts and bolts did the job effortlessly well worth money
---
da jeffrey w
2018-11-19T00:00:00
good quality nice feel and grip works well saved me a lot of time on job to be done used it on car and home good life in battery
---
da Nick
2018-10-30T00:00:00
Well bought this2 weeks ago and disappointed with the new style of it. The battery clips in the bottom and the clip has broken already . Poor design. The unit it self is good but I need a new battery as the clip has broken off and the battery is now loose. I am going to email silverline and ask how it can be resolved .!
---
da Steve
2018-03-21T00:00:00
Light and powerfull still being compact good product for the money
---
da Duncan M
2018-03-17T00:00:00
Great bit of kit good value for money
---
da David B
2018-02-25T00:00:00
Excellent value for money.cheaper and more powerfull than others brands on market around this price range.not too heavy and easy to use, makes light work of changing exhausts etc..
---
da Adrian G
2017-11-06T00:00:00
Bought as part of a kit with an impact wrench and driver. I have used the 3/8 adaptors before in drivers but they are classed as consumable, the wrench with buit in square drive is much better. Powerful enough for the job but not over the top on M6 or M8 fasteners like an 18V one would be. Good case, seem reasonably well made for the price and work well for the job they are for.