834832
Idropulitrice 1400 W 105 bar
Max. 105 bar
---
---
Motore a induzione raffreddato ad aria con funzione di stop/avviamento automatico
La funzione autoadescante è utile alla connessione a sorgenti d'acqua di qualsiasi genere
La lancia è dotata di un ugello a pressione e un dispenser di detergente
Supporto lancia e supporto cavo di alimentazione 5 m
Include ugello dispenser di detergente, tubo da 5 mm, lancia, ago di pulitura, ecc.
---
Acquista Online
Trovare un negozio
Valuta questo prodotto
17 valutazione/i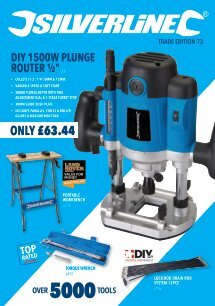 ---
Caratteristiche prodotto
| | |
| --- | --- |
| Finitura | Plastica |
| Protezione IP | IPX93 |
| Pressione massima | 105 bar |
| Velocità a vuoto | 3500 giri/min. |
| Potenza | 1400 W |
| Peso prodotto | 5,712 kg |
| Pressione di lavoro | 70 bar |
---
Caratteristiche chiave
Idropulitrice potente e compatta con motore a induzione raffreddato ad aria per una maggiore efficienza energetica e una maggiore affidabilità. Funzione di stop/avviamento automatico che disattiva e attiva la pulitrice ad alta pressione ogni volta che si preme il grilletto. La lancia è dotata di un ugello a pressione e un dispenser di detergente. Include lancia, ugello dispenser di detergente e tubo da 5 mm.
---
Contenuto della scatola
1 x Idropulitrice 1400 W
1 x Manico lancia
1 x Tubo flessibile ad alta pressione 5 m
1 x Dispenser del detergente
1 x Ugello
1 x Estensione lancia
1 x Connettore di ingresso
1 x Supporto tubo flessibile
1 x Spillo di pulizia
1 x Manuale di istruzioni
---
Valutazioni da parte dei clienti
da Krzysztof
2020-06-04T00:00:00
Great tool to use in house, garden and wash anything you need give good clean. 100 % recomended.
---
da Keith S
2020-06-03T00:00:00
Cracking piece machinery for what I need in my home life,keep producing and you will always be winning.stay safe
---
da Karl
2020-04-29T00:00:00
Delivered at the speed of light excellent peace of kit
---
da Caroline T
2020-04-18T00:00:00
Excellent, wonderful little machine for the money, a great buy,will buy more of this make in the future
---
da COLIN W
2020-04-17T00:00:00
Excellent value. Light and easy to use, cleans areas very well.
---
da john p
2020-04-16T00:00:00
Impressed with the quality of the fittings and casing. Easy to assemble and use. Did what I wanted. Good value for money.
---
da David M
2020-04-16T00:00:00
Bought this to clean my decking and drive plus to wash the cars. Great little machine at a budget price. Takes a few minutes to put together but easy enough. Easy to operate abd Change pressure and not too heavy. Good cable and hose length. Only downside if you have a large area to clean...my decking is 20ft by 10ft it will take a while. You have to pause every minute as instructed so it does not overheat.
---
da Costas
2019-12-15T00:00:00
Used it for the first time today 15/12/2019 and it performed perfectly, cleaned the car with no problems.
---
da nigel h
2019-12-13T00:00:00
extremely satisfied with pressure washer after first usage.seems to be very good value and carried out job i required of it.thankyou.
---
da David n
2019-11-04T00:00:00
Good value, works well. Budget price, quality product.
---
da DAVID L
2019-07-19T00:00:00
Just started using this pressure washer and it''s done a good job cleaning my patio. The 3 year warranty gives good piece of mind as washers generally work very hard cleaning.
---
da Anthony s
2019-06-28T00:00:00
Absolutely brilliant Power and quality of Karcher with a fraction of the price
---
da Alexander M
2019-05-08T00:00:00
Good machine for price paid and very compact dor storage
---
da John L
2019-05-01T00:00:00
This cold water jetwash is a real steal at the price; always meant to but jetwash for home use but price of other brands put me off, this machine has everything that the more expensive brands have but at a realistic price. Comes with all the accessories you could need but if found something needed the parts are readily available and thanks to universal attachments so easy to use with machine. A pleasure to use, so easy plus set up/ put away takes minutes NOT hours. My BESTBUY of 2019, 5*
---
da Paul T
2019-04-15T00:00:00
Really really impressed considering how tiny and light it is. Amazing power generated. Easily cleans the patio slabs and cars. Highly recommended if you''re on a budget as I was.
---
da Andrew
2019-01-14T00:00:00
Well built good pressure. Feeds out of water butt. Well pleased.
---
da P s
2018-09-19T00:00:00
Smaller than I expected but surprised by the power,easy to to assemble, excellent value for money