868731
Magnete di saldatura
---
---
Potente magnete
Mantiene pezzi in posizione a 45°, 90° e 135°
Blocca il pezzo da saldare in modo sicuro
Permette l'uso delle mani per un lavoro più preciso e accurato
Utilizzabile per saldare, assemblare e installare tubi
---
Acquista Online
Trovare un negozio
Valuta questo prodotto
10 valutazione/i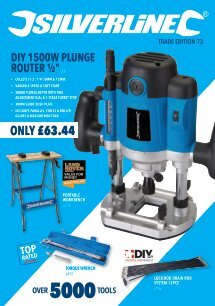 ---
Caratteristiche prodotto
| | |
| --- | --- |
| Angolazione | 45°, 90°, 135° |
| Capacità - peso | 13 kg |
| Finitura | Smaltata |
| Peso prodotto | 0,625 kg |
---
Caratteristiche chiave
Potente magnete per mantenere pezzi in posizione a 45°, 90° e 135°. Utilizzabile per saldare, assemblare e installare tubi.
---
Contenuto della scatola
1 x Magnete di saldatura 100 mm
---
Valutazioni da parte dei clienti
da Enrique G
2020-06-04T00:00:00
Esta escuadra magnética es excelente. Potente imán, válida para multiples usos, además de soldar. Resistente.
---
da Enrique
2020-06-04T00:00:00
impressive magnetic power, very useful. can''t work without it.
---
da Nick
2019-11-16T00:00:00
Good quality and powerful magnets for the price. Useful for welding as well as many other things involving working with metal.
---
da Fabio
2019-11-15T00:00:00
Benissimo. Funziona alla grande
---
da VILLETET
2019-10-25T00:00:00
solide et efficace, fait le boulot.
---
da John
2018-12-10T00:00:00
A good strong well-made magnet wouldn''t be without them, they are the second pair of hands you always need, you can use them for holding tools, nuts bolts, screws so they don''t roll off of the bench, hold your work at the angle you require for marking out or welding.
---
da Luigi R
2018-10-23T00:00:00
great product, arrived on time, excellent quality. I highly recommend it. I am very satisfied
---
da Mark H
2018-06-30T00:00:00
Got these magnets for welding a lot of frames together and are great very strong holds the pieces together firmly so can get a good tac of weld on great piece of kit.
---
da Paulo V
2017-09-22T00:00:00
---
da Jürgen H
2017-05-07T00:00:00