946680
Trapano a percussione ad azione combinata 18 V
18 V
---
---
Batteria a litio 1,3 Ah e caricabatteria intelligente 3-5 ore
Mandrino senza chiave di 10 mm
Impostazioni coppia 16+1 e funzione di cambio di senso di rotazione
Capacità di foratura: legno 20 mm, muratura 10 mm, acciaio 8 mm
Luce di lavoro LED integrata
---
Acquista Online
Trovare un negozio
Valuta questo prodotto
7 valutazione/i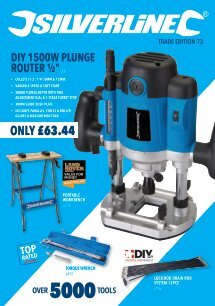 ---
Caratteristiche prodotto
| | |
| --- | --- |
| Lunghezza cavo | 1,8 m |
| Finitura | Plastica |
| Protezione IP | IPX0 |
| Tensione di entrata | 100-240 V~, 50/60 Hz |
| Potenza di uscita | 23 V, CC, 400 mA |
| Potenza | 18 V |
| Tipo di batteria | Agli ioni di litio da 1,3 Ah |
| Carica batteria | 3-5 ore |
| Velocità a vuoto | 0 - 400 / 0 - 1450 min-1 |
| Coppia Max | 30 N m |
| Dimensioni mandrino | Capacità mandrino 0,8 - 10 mm |
| Coppia variabile | 16+1 |
| Capacità foratura - max. in legno | 20 mm |
| Capacità foratura - max. in muratura | 10 mm |
| Capacità foratura - max. in acciaio | 8 mm |
| Quantità batteria | 1 |
| Peso prodotto | 1,2 kg |
---
Video
---
Caratteristiche chiave
Trapano a percussione18 V con caricabatteria intelligente e batteria a litio 1,3 Ah. Mandrino senza chiave di 10 mm. Impostazioni coppia 16+1 e funzione di cambio di senso di rotazione. Impugnature in gomma stampata. Freno elettrico. Luce da lavoro a LED. Numero giri a vuoto 0-400/0-1450 giri/min. Capacità di foratura: legno 20 mm, muratura 10 mm, acciaio 8 mm. Coppia max. 30 Nm. Tempo di carica 3 - 5 ore. Include batteria, caricabatteria e alimentatore PSU.
---
Contenuto della scatola
1 x Trapano a percussione ad azione combinata 18 V
1 x batteria 1,3 Ah
1 x caricabatteria 3-5 ore
1 x manuale
---
Valutazioni da parte dei clienti
da Eddie Bethell
2019-01-05T00:00:00
Very pleased with the drill. Works well, long lasting battery & even better with the extended 3 year warranty - would recommend this product
---
da PABLO AC
2018-05-14T00:00:00
My experience with the product has been great so far. Lightweight and quite useful to have a driller that can be used for screwing too. When used with the hammer feature it works reasonably well even with half battery, making a hole in concrete took seconds. Obviously it is not a heavy duty tool since the body is made of plastic so not recommended for everyday professional use.
---
da Adrien PISCIOTTA
2017-12-29T00:00:00
This little machine is well designed and well configured. It is light and very practical to use. The fact that it runs on battery and has lighting, makes it a product to recommend.
---
da Bev
2017-09-04T00:00:00
Purchased two of these in March 2016 and products have been fairly OK. However, first one packed up a month ago and the second packed up recently! These units have been kept clean, dry and regularly charged / discharged. Unfortunately, we didn''t register the warranties online, but I do have the printed receipt for these items but, Silverline flatly refuse to honour their 3 year warranty without registration - they just offered a chargeable repair... So BE WARNED, no registration within 30 days NO WARRANTY!
---
da christian mahé
2017-03-09T00:00:00
bon produit et esthétique
---
da mahé christian
2017-03-02T00:00:00
---
da Carlos Domingo Murilo
2017-02-22T00:00:00
- Para el precio que tiene esta muy bien,el funcionamiento es bueno.
---
Garanzia
Questo prodotto Silverline Trapano a percussione ad azione combinata 18 V è garantito per un periodo di giorni dalla data di acquisto contro qualsiasi difetto di materiale o di fabbricazione. Puoi registrare il tuo prodotto 3 anni online. Un articolo difettoso sarà riparato o sostituito senza spese.