MS110
Leva per ingrassatore
500 cm³
---
---
Pesante, per l'uso con cartuccia o grasso sfuso
Tubi rigidi e flessibili inclusi
Dotato di riempimento massa & pistoncino della cartuccia
Accetta 500cc di grasso sfuso o cartuccia di 400cc
---
Acquista Online
Trovare un negozio
Valuta questo prodotto
7 valutazione/i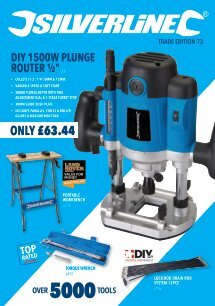 ---
Caratteristiche prodotto
| | |
| --- | --- |
| Capacità - volume | 500 cm³ |
| Finitura | Canna e scheletro - ricoperta a polvere 3005 C blu / finitura opaca |
| Peso prodotto | 1,101 kg |
| Volume | 500 cm³ |
| Materiale - impugnatura - secondaria | Acciaio |
| Materiale - struttura secondaria | Meccanismo in lega, stantuffo in plastica |
| Psi/Bar | Per il tubo flessibile: 4500 PSI max |
---
Caratteristiche chiave
Pistola ingrassatrice con leva di azione, resistente in acciaio. Può essere usato con cartuccia o grasso sfuso. Dotato di massa di riempimento a stantuffo e pistoncino della cartuccia. Include tubi rigidi e flessibili. Compatibile con Silverline pistola di grasso tubo di consegna (633868).
---
Contenuto della scatola
1 x Ugello flessibile
1 x Ugello solido
---
Valutazioni da parte dei clienti
da Anthony L
2020-06-08T00:00:00
Brand new ''grease gun'' came with a seized ball bearing in the coupler and leaked grease from every orifice except for the proper place. If I could have removed the fresh grease I bought separately and returned the product at no cost for a full refund I would have but it wasn''t worth the bother. I''ve used maybe 5 or 6 Silverline router bits and they were all just as poorly made and short lived. The only reason I bought the gun was because of the lifetime warranty but that was clearly misleading. Not even worth 1 Star because it''s such a waste of resources to consistently produce useless products. Never again for me.
---
da Gary M
2020-03-21T00:00:00
Really sturdy gun. Well up to the job with good pressure. Comes with rigid & flexible hose for all those greasing jobs. Great value product!
---
da Jens l
2019-05-09T00:00:00
Fast delivery and it works perfect
---
da Graham K
2019-04-21T00:00:00
Great product did the job perfectly especially with the included flexible nozzle
---
da Vasil M
2016-11-14T00:00:00
The greasing gun works perfect, arrived on time, well packed too. Thank you!
---
da John D
2016-10-25T00:00:00
On unpacking this grease gun I was very pleasantly surprised at the quality considering the very reasonable price. It is a solidly built tool; nothing flimsy. As I use a grease gun on infrequent occasions I was not looking for a top quality product, but I got one all the same in this Silverline product. Highly delighted.
---
da michael w
2016-09-28T00:00:00
really good value for money, very well built to take any punishment thrown at it, am very pleased with it