PC12
Set di cacciacopiglie 8 p.zi
8 p.zi
---
---
Acciaio indurito e temprato
Impugnatura zigrinata per un maggior controllo e una presa migliore
Consente la rimozione dei rivetti e perni
Include punzioni tra 2,4 e 9,5 mm
---
Acquista Online
Trovare un negozio
Valuta questo prodotto
8 valutazione/i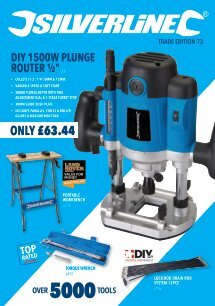 ---
Caratteristiche prodotto
| | |
| --- | --- |
| Indurito | Sì |
| Peso prodotto | 0,680 kg |
| Stile | Cacciacopiglie |
---
Caratteristiche chiave
Acciaio indurito e temprato. 200 mm di lunghezza. Include punzoni di 2,4, 3,2, 4, 4,8, 5,6, 6,4, 7,9 e 9,5 mm.
---
Contenuto della scatola
1 x Punzone (3,2 x 155 mm. 0,045 kg)
1 x Punzone (4,0 x 155 mm. 0,047 kg)
1 x Punzone (4,8 x 165 mm. 0,049 kg)
1 x Punzone (5,6 x 165 mm. 0,051 kg)
1 x Punzone (6,4 x 175 mm. 0,086 kg)
1 x Punzone (7,9 x 175 mm. 0,121 kg)
1 x Punzone (9,5 x 175 mm. 0.171 kg)
1 x Punzone (2,4 x 150 mm. 0,043 kg)
---
Valutazioni da parte dei clienti
da Tadeusz D
2019-11-03T00:00:00
Very helpful set, good quality and I have many set tools also I very happy to use them...
---
da Rob
2018-11-13T00:00:00
Great value for money nice range of sizes just the job.
---
da ruben
2017-04-25T00:00:00
los botadores vienen bien presentados..son pesados y tienen un mango largo...solo usé 2 de ellos y uno ya se marco un poco al darle unos martilazos para sacar el pasador..pero por el precio que tienen estan bien
---
da Moritz v
2016-12-11T00:00:00
I have been using the pin punches for some time now and i have nothing to complain about. They''re doing a good job.
---
da darren m
2016-10-30T00:00:00
Wasn''''t expecting much for the price but was very surprised at the quality and robustness of the punch set. They''''ve stood up to every task so far and they still look new. They have a deep knurled grip, which is easier to hold, much better than other punches I''''ve used in the past. And with a lifetime guarantee you can''''t go wrong. The product might have been better if they''''d come with a case but at this money it does''t really matter as its the punch quality that counts.
---
da Martin B
2016-10-12T00:00:00
They are well made and have proved to be very useful. The set contains all the sizes I require to carry out the various tasks on my restoration project.
---
da Nick E
2016-09-19T00:00:00
One of those sets you''ll always need eventually!
---
da philippe d
2016-08-22T00:00:00
hi i m from Paris, i ve bought some tools from SILVERLINE, for me it s the best choice ever. best price and great quality. a must have in any toolbox