128966
Doe-het-zelf 2200 W behangafstomer
2200 W
---
---
4,5 liter watertank voor een gebruikstijd van 70 minuten
3 meter lange, flexibele slang & gecontroleerde temperatuur
Verwijdert meerdere lagen behang
280 x 200 mm stoomkussen
Voor gebruik met kraanwater
---
Koop online
Vind een handelaar
Beoordeel dit product
6 review(s)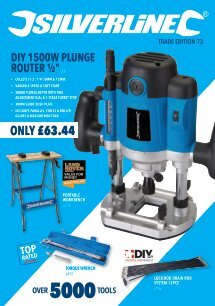 ---
Product specificaties
| | |
| --- | --- |
| IP waardering | IPX4 |
| Max. werktijd | 70 minuten |
| Vermogen | 2200 W |
| Capaciteit - inhoud | 4,5 l |
| Gewicht | 1,4 kg |
---
Product beschrijving
De afstomer warmt snel op, is te gebruiken met kraanwater en verwijdert meerdere lagen behang. 3 meter lange en gecontroleerde temperatuur. 4,5 liter watertank. 70 min gebruikstijd. 280 x 200 mm stoomkussen.
---
Doos inhoud
1 x behangafstomer, 2200 W
1 x flexibele slang, 3 m
1 x stoomkussen
1 x handleiding
1 x stroomsnoer met EU adapter
---
Klanten reviews
Door: Michal
2019-10-11T00:00:00
Silverline 128966 - 2200W DIY Steam Wallpaper Stripper 230V Easy to use and maintenance, absolutely perfect for wallpaper removing. For me its a really good quality and its really safe to use. That tool save me a lot of hassle with stubborn wallpaper. Can recommend in 100 %.
---
Door: Lorna S
2019-08-15T00:00:00
The Silver line wallpaper stripper made life so easy. Quick to warm up so I could get on with the job and the 3m hose provides plenty of reach to meet the ceiling without lifting. The steam delivery was good providing rapid removal of the ghastly wallpaper we ''inherited''. I thoroughly recommend this product. It appears well made, and has a lot of work ahead of it. Thank you.
---
Door: David W
2016-09-12T00:00:00
Worked really well and cut down the job to half the time normally taken.
---
Door: Gerry H
2016-09-12T00:00:00
Great piece of kit at a very reasonable price. The 4.5 litre water tank lasts around 70 mins and the machine does what it says on the tin. 100% recommended.
---
Door: Garry B
2016-09-12T00:00:00
Works good! I find it good to leave doors and windows shut and leave 2 full tanks to steam the room first before starting and nice n soggy that way. My rating is on value for money and not whether it is the best on the market!
---
Door: Dilys S
2016-08-08T00:00:00
Excellent makes my DIY so easy.