138785
Schrijnwerkers bankschroef, 2,7 kg
150 mm
---
---
Gietijzeren frame met sterke verf afwerking
Chroom geplateerd schroef handvat en uitlijningsstaven
Grote 125 mm kaakopening
Kan zowel tegen de werbank, als van de werkbank af gemonteerd worden
---
Koop online
Vind een handelaar
Beoordeel dit product
3 review(s)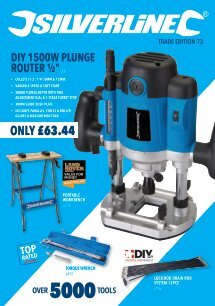 ---
Product specificaties
| | |
| --- | --- |
| Klemmethode | Draad kaak |
| Afwerking | Geverfd |
| Plaat dikte | 10 mm |
| Capaciteit - kaak | 150 mm |
| Klembeweging | 0-160 mm |
| Plaat breedte | 150 mm |
| Gewicht | 2,613 kg |
---
Product beschrijving
Gietijzeren frame met chroom geplateerd schroef handvat en uitlijningsstaven. Sterke verf afwerking. Openingswijdte: 125 mm. Op elke werkbank te monteren. Kan zowel tegen de werkbank, als van de werkbank af gemonteerd worden voor licht klemwerk.
---
Doos inhoud
1 x Schrijnwerkers bankschroef, 150 mm
---
Klanten reviews
Door: Charles P
2018-01-16T00:00:00
Not yet used will be fitted to bench in my shed but only when better weather arrives.Today its snowing and I''m not going to my shed,I''ll stay happy and warm watching snow from window. I have purchased several "Silverline " products and have came to rely on them for durability and ease of use,from bench drill,to bandsaw pressure washer (not registered forgot) and a variety of other tools all good.The wood vice is solid a good size,for me,other sizes available and I have NO worries on using any "Silverline" tools or machines.
---
Door: marotte
2017-02-03T00:00:00
cet étau fait très bien ce pour a été fait, il se fixe simplement , la course des mâchoires est très fluide se qui permet de serrer les morceaux bois sans forcer se qui abîme pas les pièces de bois .je recommande ce produit .
---
Door: Nathan M
2016-09-26T00:00:00
This vice works well. I''ve used it for a while now with no problems. It even clamps small pieces of wood tightly on just one side, firmly enough to saw with pressure without it slipping. The large flat plates don''t damage the wood.