244964
TCT fineer cirkelzaagblad, 80 tanden
250 x 30 - 25, 20 en 16 mm ringen
---
---
Voor fineer, gelamineerd spaanplaat, MDF en hardhout
TCT tanden
80 tanden
0° spaanhoek
30 mm asgat met 25, 20 en 16 mm reductieringen
---
Koop online
Vind een handelaar
Beoordeel dit product
14 review(s)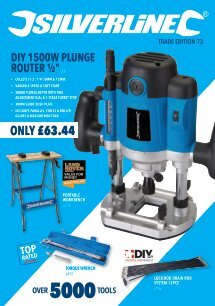 ---
Product specificaties
| | |
| --- | --- |
| Blad diameter | 250 mm |
| Max. toerental | 4600 min-1 |
| Blad hoek | 0° |
| Blad afmeting | 250 mm |
| Zaagblad breedte | 250 mm |
| Afwerking | Gepolijst, droge, roestbestendige coating |
| Gehard | Ja |
| Materiaal - punt | Hardmetaal |
| Plaat dikte | 1,80 mm |
| Gewicht | 0,63 kg |
| Tand/segment formaat | 4,5 x 2,4 mm |
| Materiaal - secundaire constructie | Hardmetaal |
| Constructie methode | Geponsd en gesoldeerd |
| Tand/segment vorm | TCG |
---
Product beschrijving
0° spaanhoek voor het zagen van gelamineerd spaanplaat, fineer, MDF en hardhout. Kan tevens gebruikt worden voor gipsplaat en beton. Gehard staal. 80 TCT tanden. 30 mm asgat met 25 mm, 20 mm en 16 mm reductieringen. Maximale snelheid 4600 min-1.
---
Doos inhoud
1 x 20 mm reductiering
1 x 25 mm reductiering
1 plastic blad bescherming
1 x 16 mm reductiering
---
Klanten reviews
Door: Gary H
2020-03-09T00:00:00
Considering the low price of this profile gauge, the quality is as good as any gauge at 4 times the cost. Great product
---
Door: Juan L
2019-11-20T00:00:00
Considero que es una buena herramienta. Una marca muy bien considerada y con vbuenos materiales.
---
Door: Mark
2019-09-18T00:00:00
Really good value for money blade! Performs and cuts well.
---
Door: wayne w
2019-07-17T00:00:00
NO GOOD also this form disappeared trying to submit Basically last less then 10 cuts, then smoked burning wood - DO NOT Purchase - used on a DEWALT DWS778 and specially purchased this blade changed to Freud , and did over 100 cuts and still going strong
---
Door: Hafid
2019-04-15T00:00:00
Produit correspondant à mes attentes. Produit livrer avant la date prévu. Scie de qualité qui donne une coupe nette sans éclat.
---
Door: luigi d
2017-12-10T00:00:00
---
Door: Paddy v
2017-11-09T00:00:00
It is amazing that one (well me!) would keep pushing back the inevitable! The blade of my table saw was done! I needed a blade and fast! I found the TCT veneer blade on Silverlinetools, no hassle ordering process and fast delivery! Happy camper!! Paddy
---
Door: trevor w
2017-11-05T00:00:00
VERY SATISFIED WITH BLADE. BOUGHT TWO OFF TO MAKE STACKED DADO . GREAT PRICE COMPARED WITH OTHER PRODUCTS
---
Door: Stuart g
2017-10-16T00:00:00
Brilliant cut highly recommend I fit bespoke kicthens and tis blade give a brilliant finish
---
Door: Ralf
2016-11-03T00:00:00
Laufruhig schöner sauber schnitt
---
Door: Kenny R
2016-10-24T00:00:00
Blades worked well on standard laminate flooring but struggled with waterproof/plastic backed (kitchen) flooring. Would certainly use these again.
---
Door: N P
2016-09-26T00:00:00
Hi. Very good value for money and good product.
---
Door: Rob v
2016-08-31T00:00:00
---
Door: Istvan S
2016-08-30T00:00:00
I bought this Silverline product to my radial saw and I am very satisfied with it. It has a very good price compared the others with the same quality. I am cutting with clear surface and in correct position. Plus value the extented warranty. Thanks.