250471
Hellingsmeter
100 mm
---
---
Plastic behuizing met een handige magnetische basis
Helder, gemakkelijk te lezen wijzerplaat in 90° kwarten
Voor dakbedekking, steigers en algemene hoekmetingen
---
Koop online
Vind een handelaar
Beoordeel dit product
5 review(s)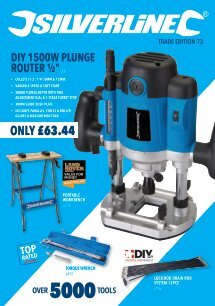 ---
Product specificaties
| | |
| --- | --- |
| Hoek | 0 - 90° in vier kwarten |
| Dikte | 16 mm |
| Gewicht | 0,139 kg |
| Afwerking | PP |
---
Product beschrijving
Duurzame, 100 mm plastic behuizing met een handige magnetische basis. Helder, gemakkelijk te lezen wijzerplaat in 90° kwarten. Voor dakbedekking, steigers en algemene hoekmetingen.
---
Doos inhoud
---
Klanten reviews
Door: Michael M
2019-05-29T00:00:00
I gave recently started modelling with a view to creating my own railway layout which includes a lot of scratch building. Silverline seems to have a strong grip on this market since my most recent purchases have been a glue spreader and inclinometer, a device which measures the angle of a roof pitch. Both items were built to a with strong materials and were easy to use. In the case of the glue spreader, it is easy to disassemble and clean the rotating glue spreader which makes the application of PVA glue a simple task. Similarly the inclinometer a device which measures the angle of pitch of a roof is equally, easy to use and makes a difference to the making of scratch build models. It is an accurate and time saving device which allows the user to make scale models with precision. In summary, Silverline Products are the go to supplier of practical, innovative and durable products that are inexpensive.
---
Door: GENDARME
2018-06-04T00:00:00
Very easy to use, its a pity that there is non conversion from degrés to % ou mm/m (only inch/foot), on te back of te inclinometer
---
Door: John S
2016-11-26T00:00:00
Could not be happier with this item, lightweight and accurate despite being dropped twice and the magnetic base means I only need two hands instead of three. Tip; if using with wood drive a couple of carpet tacks or any other short nail with a large head into the wood and the magnetic base will grip the nail heads.
---
Door: Terry P
2016-11-22T00:00:00
---
Door: Ian W
2016-09-26T00:00:00
An essential tool for measuring the slope of roads and footpaths in relation to accident investigation.