261792
730 W bandschuurmachine, 75 mm
730 W
---
---
Verstelbaar bandmechanisme
Stofpoort en afneembare stofzak
Ergonomische handvaten
Aan/uit trekker schakelaar met aan-stand vergrendelknop
Inclusief schuurband (75 x 457 mm), koolstofborstels en stofzak
---
Koop online
Vind een handelaar
Beoordeel dit product
21 review(s)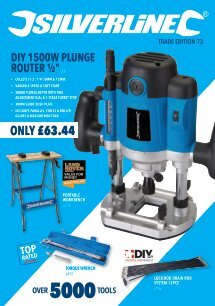 ---
Product specificaties
| | |
| --- | --- |
| IP waardering | IP20 |
| Schuuroppervlak | 75 x 140 mm |
| Vermogen | 730 W |
| Onbelaste snelheid | 260 min-1 |
| Gewicht | 2,8 kg |
---
Product beschrijving
Verstelbaar bandmechanisme, aan-stand vergrendelknop, gemakkelijke bandverwisseling. Ergonomische handvaten. Aan/uit trekker schakelaar met aan-stand vergrendelknop. Inclusief schuurband en afneembare stofzak. Onbelaste snelheid 260 min-1. Band afmetingen 75 x 457 mm.
---
Doos inhoud
1 x 730 W bandschuurmachine, 75 mm
1 x Schuurband 75 x 457 mm
1 x Stofzak
1 x Paar koolstofborstels
1 x Handleiding
---
Klanten reviews
Door: Andrew C
2020-05-20T00:00:00
Unlike previous Ryobi purchase this sander has been brilliant. I was shocked when the Ryobi I bought burnt out after about 15mins use. Been using this sander all week giving it hell and it's been absolutely spot on.
---
Door: colin m
2020-04-22T00:00:00
great sander was dubious about buying it because of review saying the rollers were wearing but keep an eye on the tracking and it is alright
---
Door: Harry G
2020-04-11T00:00:00
Brilliant, came with drill & made short work of what I was doing.
---
Door: Piran T
2020-02-15T00:00:00
A brilliant product and silver line have, yet again, delivered. I am proud to be a loyal customer of this company.
---
Door: Stephen D
2018-06-24T00:00:00
Purchased as a good price with a very good warranties. Seems a little noisy but easy to use and adjust. The biggest problem I found is the dust bag zip is complete rubbish and broke after Three openings. I had a complete replacement sent from Amazon and the replacement dust bag zip is not a lot better. Need to decide whether to keep it or return it as the zipper is completely unsuitable for purpose.
---
Door: Terence M
2018-06-20T00:00:00
Yes happy with belt sander excelent &amp would buy other tools from you. Good price
---
Door: Colin
2018-05-17T00:00:00
Good quality sander complete with belts would recommend to others.
---
Door: David H
2018-03-23T00:00:00
Excellent does the job, well worth the money.
---
Door: Michael G
2017-07-27T00:00:00
Good little machine, it made short work of leveling my project with just light sanding to follow by hand. Very pleased with the performance.
---
Door: Max M
2017-07-20T00:00:00
A sturdy tool that is built to do the job
---
Door: Max M
2017-07-12T00:00:00
Just as described, sturdy manufacture, all OK
---
Door: toni s
2017-05-04T00:00:00
excellent value for money it does the job its suppose to with ease ,easy to follow instructions would recommend to my friends & family
---
Door: Ryan H
2017-04-29T00:00:00
Great little belt sander, does the job well for the smaller DIY jobs. Excellent to have a 3year warranty!
---
Door: James m
2017-03-23T00:00:00
Good product plenty power very handy & light weight good value.
---
Door: James m
2017-03-16T00:00:00
This is a good working sander powerful but light weight good value.
---
Door: Keith D
2017-03-03T00:00:00
I bought this belt sander for my wife it''s just the right size and weight for her and with all the sanding belts that come with it its very good value.
---
Door: Steve
2017-01-11T00:00:00
This is an OK product, built to a price for the average DIYer. I have now had 2 of these and the 1st one failed with a sticking switch, the 2nd one failed last night... it just stopped working altogether. So unless you only want to do about 1 hours work every 6 months I cant see this lasting 3 years as warranty states
---
Door: J H
2016-11-07T00:00:00
Worked straight out of the box and still going strong many months later. Bought for sanding oak floors.
---
Door: Giuseppe m
2016-10-22T00:00:00
£30, does a good job and a 3 year guarantee. What more could you want! 👍👏
---
Door: Derek G
2016-09-26T00:00:00
Very pleased with this tool
---
Door: Terry W
2016-08-16T00:00:00
Excellent tool does the job and good value for money.