263511
Doe-het-zelf tafelslijpmachine, 150 W
---
---
Voorzien van 150 mm medium en fijn slijpwiel
Grote schutglazen ter bescherming van de bediener
Voor licht en middel zwaar schuurwerk
Stalen wielbeschermers, gereedschapssteun en rubberen poten
Inclusief 2 x verstelbare steunen, schutglazen, vonk- en wielbeschermkappen
---
Koop online
Vind een handelaar
Beoordeel dit product
48 review(s)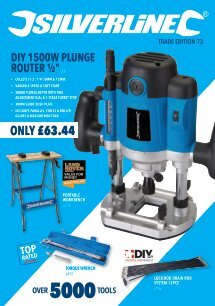 ---
Product specificaties
| | |
| --- | --- |
| Vermogen | 150 W |
| Onbelaste snelheid | 2950 min-1 |
| Gewicht | 5 kg |
| Schuurschijf diameter | 150 mm |
| Wielrotatie | 35 m/s |
| Max. werktijd | 30 minuten |
---
Product beschrijving
Tafelslijpmachine met 150 mm grof (36 korrelgrofte) en fijn (60 korrelgrofte) slijpwiel. De sterke gietaluminium behuizing draagt een duurzame 150 W inductiemotor met verzegelde lagers. Rubberen bevestigingsvoeten en boutengat voor werkbank montage. Stroomschakelaar met stofbescherming. Ideaal voor lichte en middel zware slijpwerkzaamheden als het slijpen van boor bitsen het slijpen van snijbladen. Een essentiële machine in elke werkplaats of garage. Inclusief 2 stalen gereedschapssteunen, grote oog, vonk en wiel beschermkappen voor gebruiksveiligheid.
---
Doos inhoud
1 x Tafelslijpmachine, 150 W
1 x Slijpsteen grof (36 korrel)
1 x Slijpsteen fijn (60 korrel)
2 x Steunen
2 x Schutglazen
1 x Handleiding
---
Klanten reviews
Door: Charlie S
2019-06-06T00:00:00
Super bench grinder, well made, really does the job and all at the great price you always get from silverline.
---
Door: Peter D
2019-05-31T00:00:00
Cannot expect the performance of brierley for £25! All the reviews of people saying its too weak or stops spinning with ease, they don''t know how to use a low power machine. It''s a speed tool not a torque tool, i.e. light pressure, slow motions. Perfect little machine for a low price and long guarantee, what more can you ask for?
---
Door: Gaetan
2019-04-20T00:00:00
Le montage des protections est facile Très simple d''utilisation. La notice est suffisamment détaillée. Je voulais celui avec la meule à eau mais je me suis trompé lors de l''achat. J''utilise celui-ci pour affuter mes outils de jardinage.
---
Door: Richard W
2019-04-15T00:00:00
Really not powerful enough for even the smallest DIY task.. But for the cost it was worth a try.. Well built, looks good, but more than slight pressure and you can stop the motor.. I would go for double the power future..
---
Door: mick
2018-07-14T00:00:00
great tool easy to us grind easy
---
Door: C.Price
2018-07-11T00:00:00
This bench grinder is doing well so far (a few weeks). It has helped me sharpen old knives, an axe, some garden tools - and done a very good job of it. It is easy to set up and straight forward to use. The instructions are reasonably clear (but in very small print; and in all the European languages so you can be multilingual in your work.)
---
Door: Robert J
2018-05-18T00:00:00
The grinder was delivered promptly and is operating satisfactorily.
---
Door: Geoffrey F
2018-05-08T00:00:00
Great machine just what you want for the DIY people
---
Door: Tom
2018-04-22T00:00:00
I bought this to sharpen a collection of old rusty gardening tools. The bench grinder does a fine job, no vibration. I found the angle of the tool rest wasn''t adjustable, so I couldn''t use it, ground the tools in hand. For under £25 I can''t really complain about that.
---
Door: David
2017-10-30T00:00:00
This is a really good bench grinder,now all of my DIY and garden tools have a like new cutting edge.Really pleased will look for Silverline brand again when I need a new tool.
---
Door: Arnold H
2017-10-23T00:00:00
Great product and cheap item for beginner diy.
---
Door: John W
2017-05-31T00:00:00
Excellent performance and extremely competitively priced
---
Door: Will R
2017-04-18T00:00:00
straightforward to use and simple to operate, but initially beware when finished working as it still runs on silently, and you can hurt yourself if touched, best bolted down.
---
Door: Mr A
2017-03-18T00:00:00
This D.I.Y Bench grinder is a great piece of equipment and an absolute bargain at this price,, I have purchased several Silverline tools over the years and have always found them to be great products and value for money,, this bench grinder is no exception. its reasonably quite,, smooth running and works well.. and with 3 years warranty,, how can you go wrong??
---
Door: Roy t
2017-03-05T00:00:00
Prompt delivery. Item arrived well packaged and in excellent condition. Easy to assemble, just a case of screwing on the safety guards, plug into power socket & it''s ready to go. Item appears to be well made & of good quality and fit for purpose. Motor is quieter than my old bench grinder! Comes supplied with 2 grinding discs. Would recommend to others.
---
Door: Mr R
2017-02-18T00:00:00
A very good merchine for the price! As long it''s used for what it''s intended for light work not putting to much pressure on the motor which it causes it to labour, grate for sharpening knifes ect . Just one problem I found is that I fitted a buffer wheel one end , it rubs on the side of the casting as it spins needs a spacer.
---
Door: Ray B
2016-09-15T00:00:00
With a long employment record of construction behind me I am sorry to admit that I had not previously owned, or cared to use, a personal bench grinder for those awkward or difficult grinding, shaping or polishing jobs. Choosing instead to prefer the hand worked elements of filing and cleaning. But then I found myself drawn to the Silverline 150w Bench Grinder and realised that I had been my own worst enemy, suitable jobs now took seconds to perform. And now I am content to use such simple means to perform delicate and for the most part more accurate job finishing. Win-win, I save time and money and enjoy mastering such a small machine which just keeps on giving to me. Well done Silverline for providing such a versatile tool.
---
Door: Wayne A
2016-09-14T00:00:00
I brought this grinder as I needed a small grinder for sharpening chisels and plane blades, and I wanted to convert a grinder into a sharpening station. I have taken off one of the stones and replaced it with a blade honer. I have also mounted the machine onto a lazy Susan so I can turn it around because I needed the wheels to be able to rotate both ways. The reason I brought this machine because of it''s size and price, in case my idea didn''t work then I hadn''t wasted too much money. As it is I will be keeping this machine as it does a great job and I don''t need to upgrade to a more expensive grinder.
---
Door: Ralph M
2016-09-13T00:00:00
This great little grinder has served me well for over a year now. It''s not high-tech but it does what it''s designed for very well, sharpening tools and garden implements with ease, and at a bargain price.
---
Door: Sarah
2016-09-13T00:00:00
Excellent machine, I removed the grinding disc and replaced with polishing mops for silver jewellery. Lasts for ages, motor does get hot after a while but only after continuous use. A great hobby bench tool. I would buy again as great value for money.
---
Door: David M
2016-09-12T00:00:00
Was given this bench grinder as a present and have found it to be very good for polishing up the stainless parts of my 1981 Honda CB650z. It is absolutely great for all the other uses that I have found for it too, including grinding. I have used it quite a lot and it has never let me down. The grinding disc that I still have on it is showing very little in the way of wearing down. The only downside is that it vibrates quite a lot but that is down to the fact I don''t have it in its own stand. Future purchase now on my list.
---
Door: Keith M
2016-09-12T00:00:00
As a diy bench grinder you can''t go wrong with this. Cheap to buy and will do all the things you require it to do in the home environment but if you require something a bit more industrial (in a workshop) then you may want to spend some more money. If you work it too hard the motor does tend to slow down quite easily (and get warm) but I''m happy with the purchase as this will do everything I need it too.
---
Door: Dennis S
2016-09-12T00:00:00
The bench grinder is now a vital part of my work shop . I''ve modified the tool rest to more like a proper one (as shown in illustration) . , pity it does not come that way. Would give it 5 stars if it did .
---
Door: Dale
2016-09-12T00:00:00
This grinder really is a hobby buy. if you need to grind anything other than precision it really doesn''t have the power. Also I have used with a Silverline wire wheel and it was off balance so had to remove due to vibration.
---
Door: geoff
2016-09-12T00:00:00
looks ok ,not worth the money, spend a bit more and buy better
---
Door: Steve S
2016-09-12T00:00:00
Excellent tool at a realistic price. Great for all types of grinding and sharpening. Really pleased
---
Door: richard c
2016-08-15T00:00:00
powerful grinder for its size,works well for grinding chisels. really good value
---
Door: Rick
2016-08-08T00:00:00
This little bench grinder is perfect for my jewellery and watch/ Clock bits. I can polish and grind without taking too much bench space. with the variable speed control and useful little precision tool attachment get into the akward little spaces. maybe could do with a little more power and for a little more money throw in a brass brush wheel but very happy with the purchase and has not let me down even with pretty much constant use. one happy owner here.
---
Door: Paul
2020-05-25T00:00:00
Bought this for sharpening lawnmower blade and it did the job nicely.Easy to install and operate.
---
Door: Malcolm R
2020-05-21T00:00:00
---
Door: Clifford B
2020-03-28T00:00:00
This a fantastic bench grinder for the money
---
Door: Shane
2020-03-28T00:00:00
---
Door: colin c
2020-03-25T00:00:00
I was so surprised how fast you dispatched my grinder am very pleased with the way it grinds I have sharpened all my chisels and the blade on my grass mower, All in all a very satisfactory purchase
---
Door: Mr S
2020-03-23T00:00:00
Bought this through Amazon and for the price I am more then impressed I have used it already and it sharpened what I needed very easily. Happy with purchase.
---
Door: Chris S
2020-03-15T00:00:00
The machine is fine, reasonably quiet and ideal for sharpening drills etc. However the fine grit wheel is quite distorted, the balance appears to be ok once up to speed, but the wheel is certainly distorted. Takes rating down from 5 too 3 stars.
---
Door: Steve H
2020-02-02T00:00:00
Great product, and a great price
---
Door: Steve H
2020-01-28T00:00:00
Great value bench grinder, it''s absolutely brilliant
---
Door: Malcolm C
2020-01-22T00:00:00
Great product, looks good works great
---
Door: Catherine B
2019-12-09T00:00:00
Really good grinder for the money idea for my needs.
---
Door: Stuart
2019-10-21T00:00:00
For the price it's great. I've sharpened everything in sight. Works well. It's not for heavy duty work but for diy it's perfect.
---
Door: Martin
2019-09-10T00:00:00
Brought this Bench Grinder for doing small jobs but can tackle quiet a few of the larger bits and pieces . Good speed cycle. Would recommend this product.
---
Door: Dave C
2019-09-02T00:00:00
Cracking little machine, I should have bought one years ago!
---
Door: ian w
2019-08-27T00:00:00
excellant product for the DIYer, great value and good construction well balanced grinder
---
Door: Robert
2019-08-09T00:00:00
Great little bench grinder especially at the price. Comes with rubber feet but they do not absorb the vibration, so be sure to secure it to your bench. Saves me a lot of time.,,
---
Door: Clive M
2019-08-08T00:00:00
This is the second sander I have bought. The first lasted 5yrs before the flexible plastic mounts snapped, if I could get replacement spares it would be an easy repair and still be working!
---
Door: Joseph C
2019-07-26T00:00:00
Great item for the price and very easy to set up. I like the the fact it can be bolted down, makes it more stable. Wheels are quick and easy to change - an excellent first time bench grinder and perfect for DIY.
---
Door: David O
2019-06-26T00:00:00
You need a tool that will cheer you up - and the Silverline 150W bench grinder did just that for me. I needed to sharpen a load of HSS drills, reform some chisels and a plane iron, and in no time at all, I was sorted. Always wanted a bench grinder, and I''m so pleased I found this one because as a DIYer and hobbyist the price point and performance is spot on.
---
Door: Charles S
2019-06-12T00:00:00
Really good bench grinder and great value for money.