268819
1500 W SDS-Plus boormachine
1500 W, UK
---
---
Boor-, klopboor-, & rotatiestop beitelstanden
SDS-Plus & standaard 13 mm spankoppen
Variabele snelheid & ingebouwde veiligheidskoppeling
Boorcapaciteit: hout 40 mm, metselwerk 32 mm, staal 13 mm
Aparte sleutelspankop, accessoire-set & spuitgegoten opbergkoffer
---
Koop online
Vind een handelaar
Beoordeel dit product
24 review(s)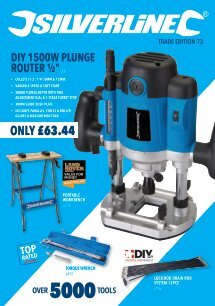 ---
Product specificaties
| | |
| --- | --- |
| IP waardering | IPX20 |
| Vermogen | 1500 W |
| Stootkracht | 5,5 J |
| Slagen per minuut | 0 - 4350 min-1 |
| Onbelaste snelheid | 0 - 880 min-1 |
| Boorhouder grootte | 0 - 13 mm |
| Boorhouder type | SDS-Plus |
| Variabele snelheid | Ja |
| Boorcapaciteit - Max. voor hout | Ø 40 mm |
| Boorcapaciteit - Max. voor staal | Ø 13 mm |
| Gewicht | 5,5 kg |
---
Product beschrijving
SDS Plus boren werden over de jaren ontwikkeld tot de robuuste gereedschappen die ze vandaag de dag zijn. De term "SDS" vindt zijn oorsprong in de Duitse uitdrukking "steck, dreh, sitz", wat in het Nederelands zoveel betekent als "breng aan, draai, past".
Dit kopsysteem klemt het bit stevig in, en voorkomt het loskomen ervan, waardoor beschadigingen aan of het breken van het bit voorkomen wordt.
De SDS Plus boor wordt aangedreven door een robuuste 1500 W motor, speciaal ontworpen om in metselwerk te boren en om metselwerk af te bikken wanneer de klopwerking geactiveerd is. Het spreekt voor zich dat, als de boor in staat is om in metselwerk te boren, datzelfde geldt voor hout en metaal, maar dan in de standaardwerking en met behulp van de meegeleverde 13 mm kop. De beitelwerking wordt geactiveerd door eenvoudigweg een schakelaar om te zetten, en maakt het de gebruiker mogelijk om materiaal af te bikken met een gemotoriseerde versie van een handbeitel en hamer.
Met een gewicht van 5,5 kg dat bijdraagt tot de productie van 5,5 J, kan deze Silverstorm nagenoeg welke uitdaging dan ook aan. De onbelaste snelheid is variabel tussen 0-880 min-1, en de hamerwerking produceert tot 4350 impacts per minuut, terwijl de ingebouwde veiligheidskoppeling schade aan de bits en aan het werkstuk voorkomt, alsook persoonlijk letsel van de gebruiker.
Compatibel met alle metselwerkbits, -punten, en -beitels met een SDS Plus fitting, met inbegrip van Silverline 930164 en 633750. De Silverstorm SDS Plus boor wordt geleverd met een assortiment aan accessoires, met inbegrip van 3 x metselwerkbits (8, 10 & 12 mm), 1 x beitel, 1 x punt, een 13 mm boorkop met sleutel, een stofbescherming en een spuitgegoten draagkoffer.
---
Doos inhoud
1 x SDS-Plus boormachine 1500 W
1 x Spankop
1 x SDS-Plus puntbeitel
1 x SDS-Plus platte beitel
3 x SDS-Plus boorbits (8, 10, 12 mm)
1 x Spankopsleutel
1 x Pot smeervet
1 x Stofbescherming
1 x Handleiding
---
Klanten reviews
Door: Nigel J
2020-09-11T00:00:00
I was using my drill yesterday to drill through a concrete slab and the chuck fell apart. I put it back together and it happened again, only this time a part of the inner moulded part broke off too. This left me most unhappy with the product. Apart from that I was very happy with my purchase.
---
Door: Cliff V
2020-03-12T00:00:00
I found the product reasonable priced, good quality and easy to use good value for money
---
Door: geoffrey
2020-03-08T00:00:00
---
Door: Derick D
2020-02-22T00:00:00
Only just purchased this drill and have used it for a few days but seems to be as efficient as my previous Bosch sds plus. The over advantages of silverline are the lot cheaper price and also the 3 year guarantee to give peace of mind. So far would recommend
---
Door: John P
2019-08-27T00:00:00
A handy product for the average D I Y person. It is quite easy to handle and copes well with the usual round the house tasks. One disappointment is that I paid £85 for my machine just 3 weeks ago and now it is down to £75. 99!! Shan't be so quick to buy a Silverline product in future.
---
Door: James M
2019-05-31T00:00:00
just the job great piece of kit
---
Door: Duncan S
2019-05-24T00:00:00
I bought the drill mainly for the chisel function to help chip out a trench in concrete. I was expecting a slow task but was surprised at how well the drill worked. I have drilled a few tough holes but the unit is pretty heavy so it will only come out for the heavy tasks. For the price though this is a good investment.
---
Door: Hesham h
2018-12-14T00:00:00
Not bad suitable for wall Very strong Not heavy
---
Door: Michael H
2018-06-29T00:00:00
A sturdy and powerful tool indeed. So far I have used the drill and Hammer features with very encouraging results. Not too heavy, has easy to use features, trigger sensitive speed control and ranges easily from big jobs to small. A very good drill.
---
Door: Christopher J
2017-10-29T00:00:00
---
Door: Derek G
2017-05-22T00:00:00
I bought this SDS drill for its power, I found I sometimes struggled using an 800W SDS drill with Diamond Core Drill, especially using 107mm, 117mm, and 127mm core drills. This 1500W has the power to drill any hole. It is fine for breaking up screen floors and breaking down brick wall. This 1500W SDS plus drill will save me lots of time and money. D. Guy
---
Door: Michael R
2017-03-13T00:00:00
I recently purchased the Silverstorm 1500w SDS Plus Drill as my Makita SDS was a little out dated/under powered. As my previous drill was three times the price of the Silverstorm one I did not hold much faith for the Silverstorm. How wrong I was, this drill performs every task I throw at it, whether it be chiseling through 4 inch thick concrete or drilling out 14mm holes for anchor bolts into masonry. I would strongly recommend this drill to anyone who requires the use of such a drill. I will most definitely be purchasing more Silverstorm tools in the future after this experience!
---
Door: Lee P
2017-03-02T00:00:00
I bought this for a house renovation, I had to remove plaster and render from all the walls for insulation, I already have a Bosch hammer sds and needed a one job drill so my son could help me.The chisel action on this is much better than my Bosch, what a suprise! I have finished all the walls and its still going strong. the only down side to this drill is that when you drill using the hammer action is it spins too quick for the hammer to work properly so you have to turn the speed down a notch or two, oh dear never mind! all in all a brilliant drill for the money and three years guarantee.
---
Door: Adrian D
2017-02-04T00:00:00
Had one of these before but from another make. Unfortunately it and most of my stuff were destroyed in a flood. Good little cheap work horse, does what it says in the box, you get what you pay for.
---
Door: Keith D
2016-11-16T00:00:00
Hope this is more reliable than previous model which burnt out after only three 12mm dia holes. Silverline not interested.
---
Door: Peder P
2016-09-19T00:00:00
---
Door: Ross S
2016-09-13T00:00:00
I am an electrician with 20 years experience and decided to buy a cheaper drill when my bosch breaker blew up, this drill is every bit as good as that one at a fraction of the cost!!!! it''s solid and packs a real punch when chasing , would definitely recommend for tradespeople on a budget !!
---
Door: james h
2016-09-12T00:00:00
purchased this sds drill to use hammer chisel to remove floor tiles. this is a good drill does the job with ease, did not run it continusely allowed to cool for a few minutes. would be good if it had a boulster chisel.
---
Door: Richard D
2016-09-12T00:00:00
I''ve use my Silverstorm 1500W SDS now several times and found it to be a perfect tool for my requirements. It chops through brickwork, chases out really well and is great at removing old plaster. Also handy for those drilling jobs that require a bit more power.
---
Door: Alastair P
2016-09-12T00:00:00
So far I''ve used this drill for lots of different jobs - from a 6-inch extractor fan hole to drilling holes in mortar to breaking out chunks of concrete in preparation for a door. No problems at all; drill just keeps on going :) Only minor gripe is the lack of a fixed position hammer mode (which would have been useful when I was chipping up floor tiles). Not the end of the world, though - especially for the price.
---
Door: Melvyn j
2016-09-12T00:00:00
---
Door: Jason P
2016-08-08T00:00:00
Excellent tool. Since purchased used at least twice a week
---
Door: Mariusz
2016-08-08T00:00:00
---
Door: Phil t
2016-08-08T00:00:00
Very good valve, it got me out of trouble when I needed to drill some concrete and knock down a wall. For the price I think it was great!!