282589
'Heavy-Duty' derde hand
60 mm, 3x
---
---
Veelzijdige eenheid met gietijzeren basis en 2 'Heavy-Duty' klemmen
Soldeerijzer houder en spons
Zet voorwerpen vast en houd uw handen vrij
Ideaal voor elektronica, knutselwerk en modelbouw
Vergrootglas met 60 mm diameter lens
---
Koop online
Vind een handelaar
Beoordeel dit product
8 review(s)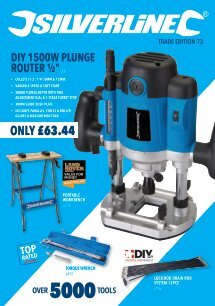 ---
Product specificaties
| | |
| --- | --- |
| Afwerking | Geverfd |
| Gewicht | 0,549 kg |
---
Product beschrijving
Veelzijdige eenheid, voor het vast klemmen van voorwerpen bij bijvoorbeeld solderen. Met het gebruik van dit gereedschap houd u uw beide handen vrij. Vergrootglas met 60 mm diameter lens. 'Heavy-Duty' gietijzeren basis, 2 'Heavy-Duty' klemmen, soldeerijzer houder en spons. Ideaal voor elektronica, knutselwerk en modelbouw.
---
Doos inhoud
---
Klanten reviews
Door: Giovanni
2020-04-22T00:00:00
The product is perfect for small works and there are vero nice material
---
Door: Ron
2019-07-12T00:00:00
Great value. Just the job, would recommend.
---
Door: Robert B
2018-10-05T00:00:00
I could not have done the soldering job without it. Excellent piece of kit.
---
Door: Bob A
2018-05-05T00:00:00
Good value for the money. The magnifying glass is optically poor however. I intend to replace it with a better one.
---
Door: Patrick S
2017-07-03T00:00:00
Was given this as a gift. When opened found soldering sponge missing. Registered for Guarantee and faulty item immediately from Silverline''s website. No response whatsoever. Not prepared to go to the expense of posting back for a replacement. Manufacturers fault. Easiest and cheaper simply to supply missing part. As Silverline appear unable to do this or respond to my request you can be sure I, and the person who gave me the gift, will avoid their products in the future! Non existent customer service in this day and age is unacceptable.
---
Door: Stephen F
2017-06-03T00:00:00
This does exactly what it says on the tin! Perfect for holding small wires prior to soldering. The soldering iron holder is a really useful addition to this already useful tool
---
Door: Stephen F
2017-05-27T00:00:00
These helping hands are very good. Much heavier than others. It is stable and hold electrical boards firmly. Great for soldering all types of materials
---
Door: Adrián F
2017-03-11T00:00:00
This helping hand with magnifying glass, achieves all the expectatives. However, i found two problems: first, the magnifying glass was lightly scrached, and in the photo of the product, appears a sponge to clean the solder, but in the box, there wasn''t anything. Those 2 problems can''t make me thing that is a good tool.