395020
5-delige mengkraan aansluitmoersleutel set
8/9, 9/11, 10/11, 12/13 mm
---
---
Roestbestendig, zink-geplateerd
Lang bereik voor het gebruik op nauwe plekken
Voor 8/9, 9/11, 10/11 en 12/13 mm aansluitingen
Voor het vastdraaien van moeren op mengkranen
Inclusief aandrijfstaaf
---
Koop online
Vind een handelaar
Beoordeel dit product
11 review(s)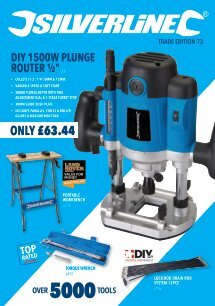 ---
Product specificaties
| | |
| --- | --- |
| Afwerking | Verzinkt |
| Dikte | 1,5 mm |
| Capaciteit - kaak | 8/9, 9/11, 10/11, 12/13 mm |
| Hoofdhandvat afwerking | Gegalvaniseerd |
| Gewicht | 0,41 kg |
| Constructie methode | Gepersd koolstofstalen stang |
---
Product beschrijving
Roestbestendig, zink-geplateerd staal met een matte easy-grip afwerking. Voor het vastdraaien van moeren op mengkranen. Matte afwerking voor grip. Inclusief aandrijfstaaf. Lengte 180 mm.
---
Doos inhoud
1 x mengkraan aansluitmoersleutel 9/11 mm
1 x mengkraan aansluitmoersleutel 10/11 mm
1 x mengkraan aansluitmoersleutel 12/13 mm
1 x aandrijfstaaf
1 x mengkraan aansluitmoersleutel 8/9 mm
---
Klanten reviews
Door: Stuart M
2020-04-07T00:00:00
Excellent spanner's a must to fix monobloc sink taps.
---
Door: Mr K
2020-02-20T00:00:00
This was a very good buy, made the job a lot easier to do. Well pleased with the product.
---
Door: Belaid
2019-12-27T00:00:00
Correspond à mon utilisation, produit de qualité
---
Door: Keith
2019-11-18T00:00:00
Great tool for getting to those hard to reach places under the sink. A must have for plumbing in monoblock taps.
---
Door: Justin M
2019-10-12T00:00:00
These spanners are nicely finished and look pretty strong. I don''t think that they will let me down. Good that they do not get narrower by the holes for the bar - this is a problem with a lot of them and means that the threaded rod that you are working on cannot extend into the spanner.
---
Door: Alan C
2019-08-11T00:00:00
Good range of sizes to cover most applications. Strong enough to do the job. Good price.
---
Door: Alan C
2019-08-04T00:00:00
Excellent product, well made and good range of sizes.
---
Door: Anthony S
2017-07-28T00:00:00
These box spanners are very good, well made, because they are a decent length they allow you good access to the tap when you are in a tite area under a sink.
---
Door: Nikodem K
2016-11-06T00:00:00
I found the nuts to be very helpful in mounting taps. Without them, it was a disaster!
---
Door: Paul D
2016-09-26T00:00:00
The perfect tool for an awkward job. These spanners get into places other spanners cannot get into.
---
Door: Mr A
2016-08-31T00:00:00
Excellent tool, well made life time guarantee useful in future, happy with this product.